Jeffrey Brown and Susmita Mukerjee Talk 'Sold,' Putting a Stop to Child Trafficking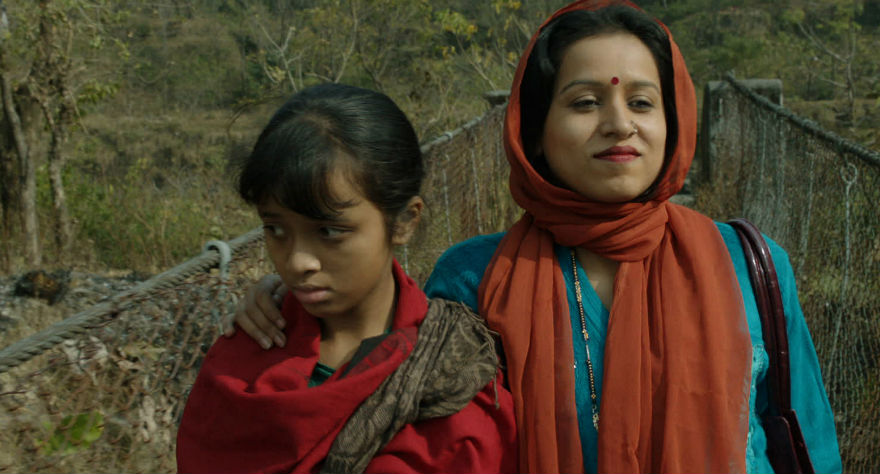 Sold, an adaptation of the Patricia McCormick novel of the same name, follows a Nepalese girl named Lakshmi (Niyar Saikia) who falls into a world of sex trafficking and abuse when she travels to India. She's imprisoned in a brothel called Happiness House with several other children, watched over by their tyrannical brothel madam (Susmita Mukerjee). Life becomes a constant struggle as Lakshmi suffers the harrowing brutality of her dire situation, though she never gives up hope that, one day, she and her new companions will find freedom.
The film also stars Parambrata Chatterjee, Gillian Anderson and David Arquette.
A movie designed to raise awareness about the rampant child trafficking going on around the world, Sold will see a limited theatrical release this weekend, where audience members will be encouraged to bring the film to their hometown, college, high school, or private group. For more information, visit soldthemovie.com
We spoke to Mukerjee and director Jeffrey Brown in San Francisco, where the film is opening this weekend at Sundance Kabuki Cinemas.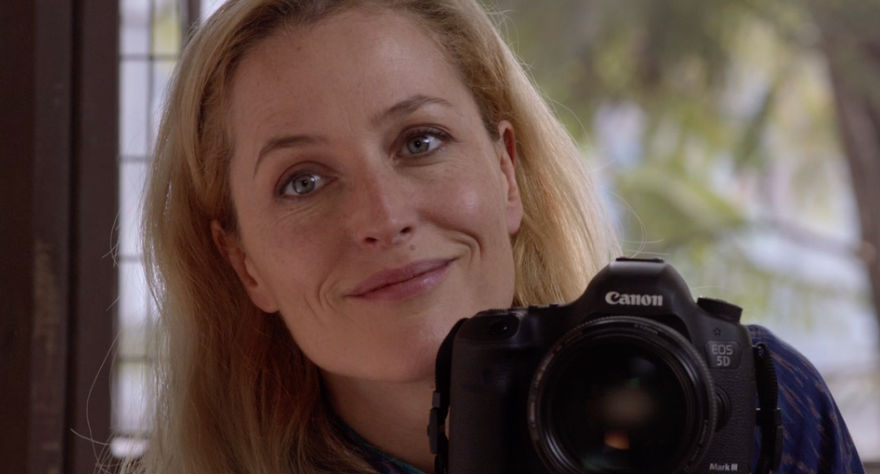 I'm interested in getting your input on this considering the film's unique strategy to spread awareness. The movie market has started to squish, in a way, over the past several years. Blockbusters are doing well and small, independent pictures have more avenues to find an audience than ever before. But mid-sized productions are sort of going away or not doing so well at the box office. It's an interesting time.
Jeffrey: It's very interesting. It's a very different world than ten years ago, five years ago. For us, the theatrical distribution of this film is a way for everyone to learn that they can bring our film to their community. Our film was really created as a weapon for change. You can watch it at the theater and bring it to your high school, your college campus, your faith-based community, and you can start using it as a fundraising tool. On our website, soldthemovie.com, you can learn about our partners and you can learn about the fund that we're creating. We're channeling money to survivors of trafficking. What we want to do is shine a light on child trafficking. Every year, 1.8 million kids—and I think that's a massive underestimate—are trafficked every year.
I'm sure the research process was…well, I'm sure it was many things.
Jeffrey: We followed the same track as [Patricia McCormick,] the author of the book that we optioned and turned into a movie. We did the same research she did. We went to the same organizations and went to many beyond that as well to really understand the issue. We took our cast and crew into red light areas, and they had long, in-depth conversations with survivors.
Susmita: I went to the red light areas because I was playing the part of madam. I needed to see what it would be like to be in the head of a person like this who would so ruthlessly sell thirteen and twelve-year-old girls. It was a very difficult and dark journey. The perception of the brothel madam…it's not what it is in the Bollywood movies. That's very glittery…it wasn't real. It was a very difficult thing to go through the head of such a woman. Meeting several of these women helped me connect to them. I was privy to very, very intimate stories. Not all of it was used in the film's narrative, but to me, as a subtext, I could understand very clearly the kind of dark character I was playing.
It must have been something else entirely to step into the shoes of someone like that.
Susmita: It was so devastating. I watched a screening the other day…there's a schism. I cannot feel that, oh, I did that particular scene that way. I don't know who she is. It's very overpowering. It's something rancid. Decay. And yet, from this decay, a flower can be born. It can become so big that it destroys the darkness.
If somebody looks at this movie as a propaganda film…so be it. If to do propaganda is to be able to make a difference, so be it. Who says art has to be something intellectual, something where you just see visuals and soak into the beauty of the frames and feel happy? You're not paying money just to be happy. If you want to be happy, go dance in the rain, soak in the sun.
Jeffrey: Our film is about a very heavy topic, and we spent a lot of time aesthetically figuring out how to tell the story in a way where people would be inspired to action and not overwhelmed and depressed. You can enjoy the movie as a piece of art but also be inspired to take action. We use all the tools a filmmaker has. There's a Banksy quote I love. He says, "If Michaelangelo and Leonardo and DaVinci were alive today, they'd be making Avatar, not painting chapel ceilings." He said, if you really want to change the world and not simply redecorate it, make movies. It's democratic, and it's the art form that will change the world.
I feel like our film is already doing that. We've literally built 20 schools in Nepal. Nepal had 5,000 schools destroyed in the earthquake. We built 20 with one showing of our film.
It sounds like the amount work you guys are doing is a pretty big sacrifice on your part.
Jeffrey: Susmita came on her own dime from Mumbai. Another actress came from London on her own dime. From L.A., New York. Everyone who's worked on this film has been touched by meeting these kids, who have gone through this harrowing experience. We're in the service of them. No kid should be treated as a commodity.
As you said, you want to inspire people with this film. I imagine making it inspiring was difficult considering the awful things we see and hear. It's a challenging film, too.
Jeffrey: Structurally, I think it's most similar to The Shawshank Redemption. An innocent is forced into a prison situation. The person who runs the prison is incredibly powerful and corrupt. The innocent person is helping others while trying to figure out how to get out of there. There are many movies about disenfranchised children. Imagine if Slumdog Millionaire had a social agenda. How powerful would that be? We could have gotten thousands of kids educated and out of the slums of India. Why aren't we using the most powerful art form for good? For me, this is a massive experiment to see how much we can do to help kids.
Susmita, you said something that caught my ear. You mentioned that, if people think this is a propaganda film, then so be it. I think people have certain expectations of what a movie can and should be or do, and they don't know what to do with movies that exist outside of their definition.
Susmita: It's not just about that Friday on which a film releases and you're counting how many people see it and how much money is coming in. This movie was not made for that. The director and producers were very clear from the outset that this movie is not about making them billions. It's a tool of social change. It starts from your the heart, not your pocket.