Interview: Megumi Sasaki and Dorothy Vogel of Herb and Dorothy 50X50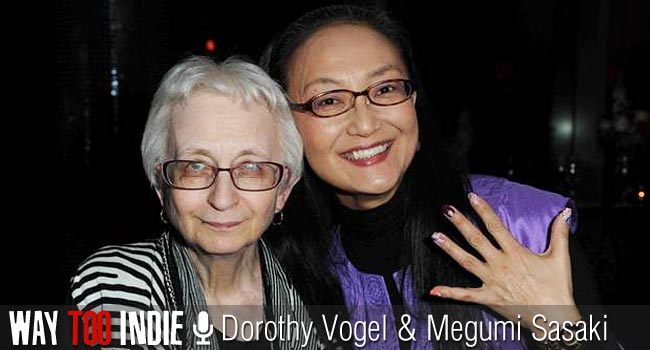 Herb & Dorothy 50X50 (our review) follows the titular legendary art collectors as they set up the Dorothy and Herbert Vogel Collection: Fifty Works for Fifty States, an unprecedented sharing of their world-class personal collection of conceptual art pieces they'd amassed over the course of 45-plus years with the entire country. Director Megumi Sasaki follows Dorothy and Herb (who passed away last year) as they tour some of the museums participating in the 50 states project, witnessing their act of generosity come to life.
Megumi and Dorothy sat with us in San Francisco's historical Roxie Theater to talk about the collection, Herbie's initial trepidation about the project, over-thinking art, the art world in SoHo in the '60s, and more.
Herb and Dorothy 50X50 is playing now at the Roxie Theater in San Francisco and at the IFC Center in New York.
Can you two remember the first time you two met?
Megumi Sasaki: I heard about Herb and Dorothy in 2002. I used to work for Japanese public television, and they assigned me to produce an educational program for their station. They had an exhibition held at that time at the National Gallery in Washington D.C., so I went there with a crew to shoot. All of the works on display were a part of Herb and Dorothy's collection. I was totally moved by (Herb and Dorothy) and couldn't believe it was a true story. Two and a half years later there was some kind of Gala and Herb and Dorothy were there.
Dorothy Vogel: We were at Gracie Mansion in New York, where the mayor of New York lives. [A friend introduced] us to Megumi, and I remember Herbie said what a beautiful woman [she was].
What did you think of Megumi?
Dorothy Vogel: I thought she was quite attractive too. I thought she wanted to do something for Japanese television, which is something we'd done before. She got the idea of doing a documentary. We've had offers before to do documentaries, but money had to be raised. The filmmaker would say, "Let me raise money and I'll come back and do a documentary about you", then we'd never hear from them again. Megumi offered to do it and didn't know that you had to raise a lot of money, so she just started shooting with no money.
Megumi Sasaki: I was ignorant!
Dorothy Vogel: She got some grants, but she did it on a shoestring. My husband always liked the underdog. She's not an underdog now…
Right. She's a big dog!
Megumi Sasaki: I hope so! (laughs)
Dorothy Vogel: She is, but we thought she was the underdog. We felt that we were underdogs too. The reception we got in the art world made us feel like we were underdogs. We weren't wealthy collectors and we didn't go into the social circles of wealthy collectors.
My husband always wanted to collect art. When I met him, abstract expressions were too expensive. Pop art quickly became too expensive. The only interesting work being done was conceptual art. We knew the artists who were doing it, so we were at the right place at the right time with the right financial ability. We lived on my salary and spent [Herbie's] on the art.
What was the New York art scene like back then?
Dorothy Vogel: It was a lot smaller. We went to galleries every week. We knew a lot of people. When we went to an event or party, we knew a lot of people. We hardly see anybody now. There's too much. It's too hard to keep up with the art world. There's a lot of media, a lot of places to go. At one time, all the artists lived in the SoHo, but then they moved away to Williamsburg, New Jersey, Hoboken. It's a different community now.
Do you miss those days in SoHo?
Dorothy Vogel: Yeah. It was a fun time. I do miss it, yeah. But you can't replicate it. You go to SoHo now and it's all stores. If you want to go to Chelsea where all the galleries are, it stretches all the way from 13th street to the 20's. You can't do it all like you used to. It's a different world now.
The first film inspired so many people. Why did you feel you needed to continue the story, Megumi? 
Megumi Sasaki: The gift project is very significant and needs to be remembered by generations to come. The gift project wasn't announced until a couple months before I finished the first film.
Dorothy Vogel: We didn't come to a decision until the end. We weren't allowed to talk about it.
Why's that?
Dorothy Vogel: Because we wanted to wait for it to go through. We didn't really tell people about it. I was convinced early, but it was a radical idea for my husband. He wanted to keep the collection together. I realized that that was impossible and this was a wonderful opportunity to deal with what would become a problem if we didn't do it. He died last year, and if we hadn't done this project, I'd have an enormous task to figure out what I'm going to do with all this work in a meaningful way so that people enjoy it. This was the perfect solution.
Why was Herb opposed to the idea?
Dorothy Vogel: He wanted the collection to all be in one place. This was our intent, but we didn't intend for it to grow this big. The scope of it became unrealistic to keep all together. The ideal, ideal, ideal was to open up our own museum, but we didn't have the resources for it. We had to find another way to keep [the collection's] integrity.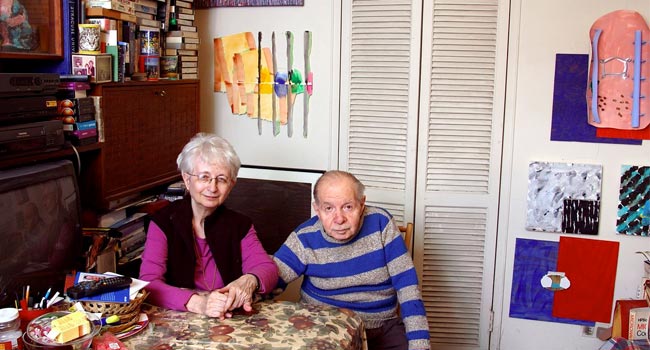 When you were collecting all these works over the 45 years, did the thought ever float around that the art would end up in other people's hands?
Dorothy Vogel: We thought we'd go to a museum. We really buy for ourselves, not to give away, but we met Jack Howard, who is the head of the 20th century art department at the National Gallery, who convinced us to do it with the National Gallery. It turned out to be a good idea.
You and Herb gave so much to this country, with you working for the city as a librarian and Herb working at the postal service. Now, you've gifted the country something incredible. You're very giving people. Where did you learn to be so generous?
Dorothy Vogel: Actually, I don't feel like I gave anything away. It's still our collection. It might be in different places, but I don't feel I've given anything away. I don't think I'm a generous person. I'm very stingy.
Megumi Sasaki: That's not true! (laughs)
Dorothy Vogel: I don't feel philanthropic in other words. That might be how some other people view it, but to me it's not. It is sharing, but it's still mine. When art is loaned to an exhibition, my name has to be there.
Megumi Sasaki: I think that's what makes Herb and Dorothy so great. It's so unassuming; they just did what they wanted. As a result, their collection was shared with so many people, but that wasn't their goal. They just did what they wanted.
Dorothy Vogel: It was fun.
So that's the whole point. It was fun.
Dorothy Vogel: One of the questions someone asked was, "What do you do for fun?" The whole thing was fun! We went to parties, openings. The whole thing was fun. I don't know what he expected us to say. (laughs) It just seems like an odd question. Our whole lives were fun. Like I said in the first movie, when it stops being fun, I'm stopping. It stopped being fun when my husband was so ill, so I stopped.
Was filming this movie fun?
Dorothy Vogel: Yes. We liked Megumi a lot and we got to meet some interesting people. It's very exciting to work on a film. Imagine, poor old me has two films! I sat next to a lady on a plane. She asked my why I was coming to San Francisco, and I said I was coming for a screening. She said, "For what?", and I said, "For Herb and Dorothy 50X50." I said, "It's about an art collector." (laughs) I didn't say it was me!
You never told her?
Dorothy Vogel: No! (laughs) It was very funny! She didn't ask.
When Megumi approached you about the second film, were you on-board?
Dorothy Vogel: Yeah. We agreed.
Megumi Sasaki: We didn't give you a chance to say no!
Dorothy Vogel: She came to Indianapolis and all of a sudden she had the footage. Megumi actually saw more of these art shows than I did because it was too hard for Herbie to travel. We did go to Indianapolis and that was the last time I took him on a plane. Every other show we went to was by automobile, which wasn't many; Buffalo, New Jersey, Delaware, Pennsylvania.
Indianapolis was the first opening for the 50 state project, correct?
Dorothy Vogel: That's correct. We saw that and Megumi was there to catch it.
Talk about some of the Herb and Dorothy installations that have impressed you or you really enjoyed.
Dorothy Vogel: I didn't get to see many of them, so when I did see one, it was very exciting. I love them all. One of the different ones was in Montclair, New Jersey. They set up a living room type of environment. They brought over the idea catalogues and I selected the furniture to be in that room. They installed works as if it was a real living room. They had a stuffed cat. Herb had been declining severely at that time, but somehow, in installing that room, he came alive. That was quite a moving segment of the movie that Megumi captured.
Herb was a pro at installation. He could've been a curator, installing works. He was so good at it.
Did he ever have any interest in pursuing that?
Dorothy Vogel: Not as a profession. Friends would ask us to come over when they were putting up a show and wanted his advice. He was a pro at that.
What's your favorite memory of shooting this film?
Dorothy Vogel: A highlight was in Miami, where they screened the first film at an art fair. We'd never been to an art fair before because we started collecting before the days of all these art fairs. We never got around to going to them because it was too hard to travel. It was fun being there, and the response we got was amazing.
Megumi Sasaki: That scene in Montclair was a really touching moment.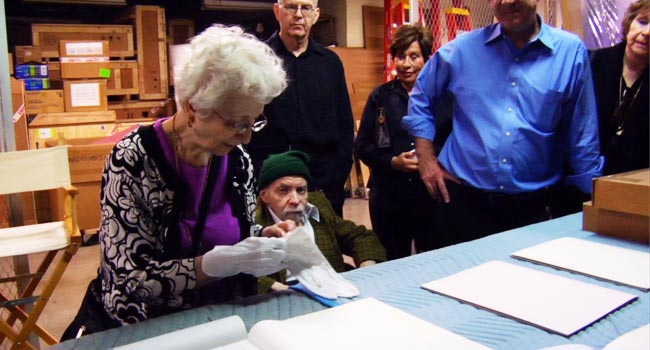 Is that the moment you're most proud of?
Megumi Sasaki: That's probably the greatest moment, yeah.
Right. Herb isn't the most verbose personality in the film, but he really lights up there.
Dorothy Vogel: In his heyday he couldn't stop talking. He went on and on and on. A lot of times I didn't know what he was talking about. He used to have these long conversations with Richard Tuttle about art. I'd be sitting there falling asleep, no idea what they were talking about.
Tuttle was of the same mind as Herbie, in that he didn't think the collection should be split up, right?
Dorothy Vogel: Yes, but in a practical way, it was impossible not to. He was very upset when we did this.
At that time, had Herb come around to the idea?
Dorothy Vogel: Yes.
But Tuttle had not.
Dorothy Vogel: Yes. But it's Herbie's collection, not Tuttle's. We saw some of these installations and Herbie was very proud of them. If we hadn't done this project, I don't know what I would do. I'd have to put these works in storage, and I'm too old for that kind of thing. This was a perfect solution.
There's a moment in Hawaii where a museum-goer says that he prefers art that's more "finished".
Megumi Sasaki: People seem to pick that up! "I tend to like pieces that are more finished." It's very funny.
You go to modern art museums and you always see these people standing in front of these works, completely detached and confused. What are they missing?
Dorothy Vogel: I'd say go on to the next piece. Maybe you'll find something in the next piece. It isn't for everybody. It's not that universal. Everybody doesn't have to appreciate [contemporary art], but I think it's good they have the choice.
Megumi Sasaki: I think they're trying to think. In the first film, Tuttle talks about how special Herb and Dorothy are because they don't process the information that they take in with their eyes to the brain. There's no explanation of why something is a work of art. They just look very hard at artworks and take whatever comes from their eyes and it goes straight to the soul instead of the brain.
It's a feeling.
Dorothy Vogel: Yes. Yes.
Megumi Sasaki: I think people try to "get it" or understand it…
Dorothy Vogel: They over-think it.
Megumi Sasaki: That's where the problem comes from. I think a piece can be "think-able", but I think you have to like it first instead of trying to understand it.
For more information about Herb and Dorothy and screenings, visit herbanddorothy.com