Interview: Mark Lobatto of Silent Treatment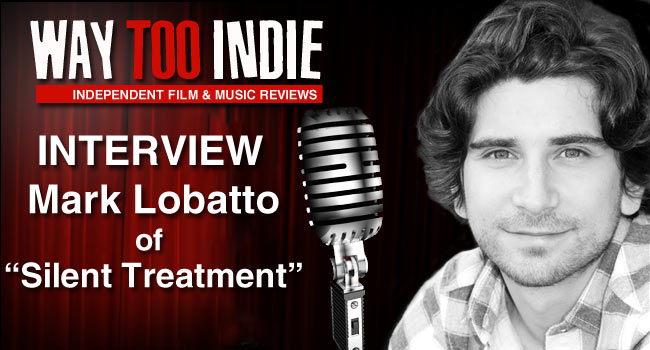 Sat in Granary Square in central London (just a few minutes away from Kings Cross/St Pancras Station) I meet with Director Mark Lobatto to discuss his recent short film Silent Treatment.
Silent Treatment is a "boy meets girl story where actions literally speak louder than words" – set in a dark and dingy waiting room where the characters are "sinking with gloom, two strangers are compelled to connect with each other."
Mark talks to us about how he got into filmmaking, the problems UK and universal filmmakers face in a tight fisted industry and how he winds down from the stresses of a production.
When did you first start getting into filmmaking?
Quite early on I guess, from about 15/16 I just started trying to get work on very small shoots just helping out, lending a hand, writing, production running, making teas and that kind of thing. I then went to University to do a non-vocational degree but through the summers I tried to get more work and more ambitious roles. Off the back of that I tried to spread myself across a few different departments over the years with the end goal to make something myself, but I wanted to get like a shorthand dialogue and know the different departments and know the ins and outs a little better.
Do you feel like you're influenced by any other directors?
For this short in particular I'm not sure. I'm a big fan of the Coen Brothers, Wes Anderson and P.T. Anderson, but like most directors, you pick up stuff that you like. You watch so many [of their] films it's hard not to take references.
So where did you find the inspiration for Silent Treatment?
It came about quite quickly, in that I'd written three other overly ambitious short films that were going to be done in different countries actually. I had to some funding that sort of came and didn't come through for a couple of them, one was going to be in Japan, the other in Eastern Europe shooting for the mid states of America and then it kind of dawned on me that I was perhaps shooting myself in the foot too early. I needed to reel it in and do something local that I could handle feasibly. So I wrote it quickly and sent it to Lilly (who I'd worked with on Wrath of the Titans) and she was really interested. So from there it got off the ground really quickly.
The chemistry between to the two actors was really quite cute, did it take you a while to cast?
Well I came across Lilly whilst working on Wrath of the Titans, [but] with the smaller roles it took me a while to circulate. The role that ends up with Bart [the main male lead], we saw a few people but it was actually Lilly's recommendation as they'd worked together a few years ago. I think they went to the same drama school a while ago, so it was nice that they knew each other. They hadn't acted with each other in a while, but it was definitely a lovely chemistry.
What were your intentions for the films message?
I wanted to do something that was about a single encounter rising up from a bleak world and a sort of heightened reality place where things are very dower and miserable and this one connection can pull you and it's a new start from that. Chloe, our production designer, did a great job because it was quite a shell of a building so we put a lot of work into trying to bring it to life. We took some inspiration from Brazil and their industrialism.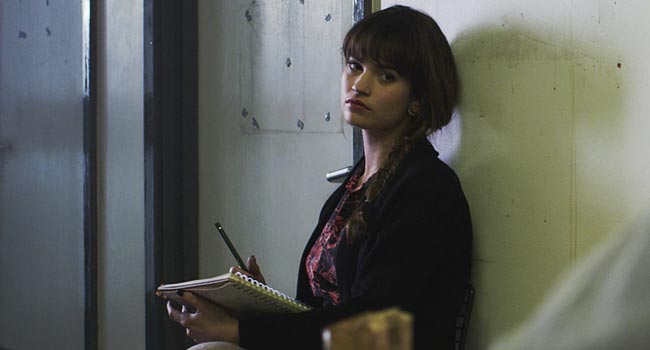 Did it take you a while to find the location?
It did actually. Mostly because it physically takes you a while as I was doing a lot of the search myself and it takes a lot of time to go across London. The Council Borough's were actually really helpful in the end. I managed to get in touch with a few people that specialised in finding locations within their areas. Once I set my budget, it narrowed it down a great deal.
The end of Silent Treatment feels like it could be open to a feature – is this your intention?
Definitely wasn't what it set out to be. I've got aspirations to make features, but not off the back of this story. It's open ended in the sense that it's a beginning for them, but I'd like to leave it as a question mark than take it further.
Is your plan to hit the festival circuit with Silent Treatment this year or next year at all?
Well, it's the tail end of this year by the time we start hearing back. But maybe from October onwards we'll know something. It's new to me and everyone has so many specifications. But yes, hopefully.
Mike Figgis recently stated that he feels UK filmmakers find it impossible to film their productions because the BFI doesn't have any room to be creative and therefore, filmmakers feel quite stifled in their reach for funding – have you found that to be true in your experiences?
Well, my experiences have been extreme. Meaning that I've worked on some very big budget, mostly American films, so they haven't gone through the same system. Trying this on my own has been okay due to the network of people I know as UK independent filmmakers, but there is definitely a struggle. The film bodies are there but a certain proportion of that money will go to the already established filmmakers rather than emerging ones. If you're able to use favours with people there are other ways to get money, but it is always a struggle.
Did you hit any barriers that jeopardised the production schedule?
On the whole it was pretty smooth. There were only three shoot days and we had a lot of shots to get in. We were able to get them done thanks to my first AD and the cinematographer who did a great job getting everything looking good. Finance was the biggest hurdle, trying to finance the film myself and getting as much as we could out of every department was difficult. In post-production, it was all favours so it was working to everybody's different time tables rather than your own. So it might have been on the festival circuit earlier if I'd had a surge of money.
Movie making is quite a time consuming job, what do you do for your hobbies?
A great deal of my time is spent watching good TV and films and I'm a big fan of the city, I like to explore new parts of London. I'm also a big art lover. I like attending galleries and every now and then try to read a book. I also enjoy travelling. Like everyone, I'm just trying to fill their time well and not feel guilty about procrastinating until the next thing comes along.
Finally, do you have any other project lined up for the future?
Yes, the next one is another short film, but it's going to be a weightier, longer short around 20 minutes. [The film] will be about the feeling of anticipation when you're expecting someone to arrive and you keep checking. It's very different to Silent Treatment. It's set in 1940's London in a doss house and all the residents are under house arrest, it's an interrogation process. It's written and I'm in the early stages of finding funding so I can take it to the next stage.
Silent Treatment trailer: