Interview: Garrett DeHart – If I Am Your Mirror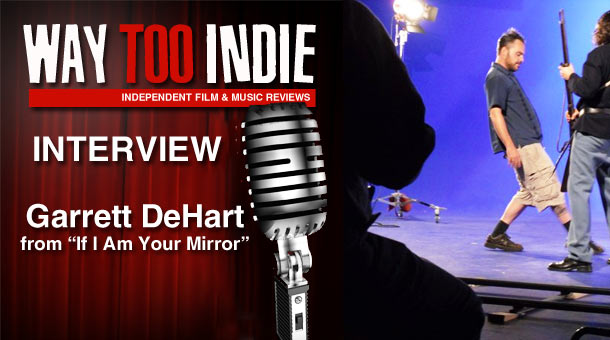 If I Am Your Mirror, a short film inspired by Edgar Allen Poe's The Tell-Tale Heart is a must-watch for its rich, painterly visual style, thrilling non-linear storytelling, and a stirring performance by the late Larry Holden (review). Director Garrett DeHart took some time to talk with Way Too Indie about the process of making the film.
What was the impetus for you choosing The Tell-Tale Heart as the subject for you to build your film around?
I've always loved Poe, and as I had been playing around with this technique and wanted to create a film that looked like an animated oil painting I thought it would be a compelling experiment to attempt to tell Poe's story through the lens of the predominant painting style of his time. I had all pre-production done and was ready to shoot and make that film.
The visual style is truly unique and fits the tone of the story perfectly. Explain the choice to utilize this style and the process behind the animation.


The actors were shot on green screen at a small studio at Georgia State University. Aside from a few chairs, luggage and misc. props everything else was added in post. I developed a process through Photoshop to stylize the actors' frames and ran each frame through Photoshop to add the effect. Many of the shots have multiple layers on each actor and the layers were then rotoscoped in to create lighting effects, shadows and a greater depth of field with the paint effects. The backgrounds were developed from stills, paintings and created graphics. Those backgrounds were then layered and animated in After Effects. Some of the shots have hundreds of layers in them. The final shot of the film took over 30 hours to render. I pushed the capabilities of After Effects in working in a 2D for 3D world. I did all of the post for the film on my MacBook Pro. The computer was running full speed around the clock for over 2 years. I'm typing this now on the same machine.
I started the project with the idea of interpreting Poe's story through the art medium and style of his time. We kept with that style even as the story changed. I think the color and composition of Romantic painting is very well equipped to tell a story inspired by Poe's voice. I added a bit more dirt, grim and blood and I think, with that, it's a style that lends itself well to my voice as well.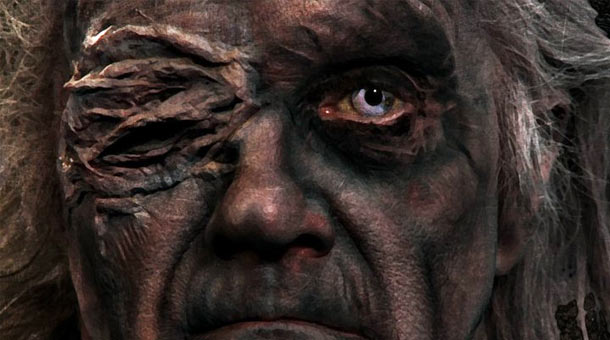 How did you approach expanding the story and themes of the original short? Was it difficult to decide what to add, subtract, or change about the original?
As I got Larry Holden interested in and then brought him onto the project he convinced me that The Tell-Tale Heart films had been done enough and that it might be more interesting to take Poe's story and it's themes and let those inspire a new story. After some research, I realized, while a modern Tell-Tale done well could be really compelling, he was right and I needed to develop something new, something that would express my voice. So I dug in, and with the help of a couple friends, developed a script that I thought respected Poe's legacy but might expand on who his characters were and the world they may have inhabited.
I had the blueprint of all that pre-production I had done for the Tell-Tale script, but I was convinced we were making something new now, something certainly more challenging for me. So it wasn't really a difficult process in deciding what to add or subtract. Poe's story works really well in its minimalism and focus. He excludes all details that don't lend directly to the development of the protagonist's obsession and insanity. I was working on a new project; a film inspired by Poe. I think that "inspired by" gave me the freedom to expand on Poe's ideas and imagine circumstances that may have brought his characters to the situations they experience in his story, and in that imagining I was creating my own story, a story that explored some slightly different, maybe more contemporary themes.
I actually did not tell my graduate advisors that the plans had changed before we began production on the film, for fear that my entire graduate thesis project would fall completely apart. I was lucky; they appreciated the changes I had made when I showed them the first rough cut of what the film had become.
How much of your interpretation of the story did you have to cut, or is what we see in the film the extent of what you added to the original story?
My first edit of the film we shot was almost 50 minutes. It was really more about pacing than it was about cutting scenes. But many of those quick shots, that last only a few frames, were 5, 10 or even 30 seconds long in the first cut. I was very much inspired by Terrence Malick and Lars Von Trier in the pre-production process. I imagined the film as a very slow, melodic PTSD nightmare. But as I worked with the film more and more I found something of a thriller in it and it seemed a bit pretentious to let the scenes linger like they were. I loved the 30 second wide, static shot of the train driving across the horizon, or 30 seconds of his wife walking through a burning wheat field, or a 5 minute flashback of the civil war, but as I lived with the film day and night for two years I realized; this was a short, not a feature, and I felt the audience might find it a bit tiring, and I wasn't sure the long shots and extra scenes were really helping to propel the narrative. I'm happy with the decisions I made in cutting the film down.
How was it working with the late Larry Holden and the rest of the cast? Larry puts on a great performance.
Larry was an amazing cast member to have on set. The experience and vitality he brought to the set really energized everyone working on the project.
For most of us on set he was the biggest name we had worked with, but he was incredibly humble and was really dedicated to working with and teaching everyone on set. And it wasn't even that he was a really big name. He had been in Christopher Nolan's film's and a lot of TV, but he was really what I respect as a living artist. He was making his own films whenever he could, and when he had time he would travel across the country, for little more than expenses, to help and teach those who were trying to learn the craft. He stayed with some friends of mine up the street from my house during the shoot. He was not only incredibly influential to all of the crew that he worked with for less than a week but many folks in the neighborhood became very close with him in that time as well. My neighbors traveled across the country to go to his funeral. I was not able to make the trip at that time. It's an incredible loss. He was an amazing artist and an amazing person and we all feel very fortunate to have had the opportunity to spend some time with him.
Looking forward, what kind of films would you like to make? Are you interested in making more horror films or venturing into other genres?
I'm very interested in doing more live action films in the near future. I've been working on some non-profit docs lately and kicking around some scripts for some new shorts and maybe a web series.
We're playing with a steampunk story right now that I'm very interested in. I'm hoping that getting If I Am Your Mirror out into the world will facilitate connections with other writers and filmmakers and lead to new project sin the near future. I'd be interested in reading scripts.
Watch "If I Am Your Mirror" in full:
Check out a making-of-clip: