Bill Pohlad On the Soundscapes and Spontaneity of 'Love & Mercy'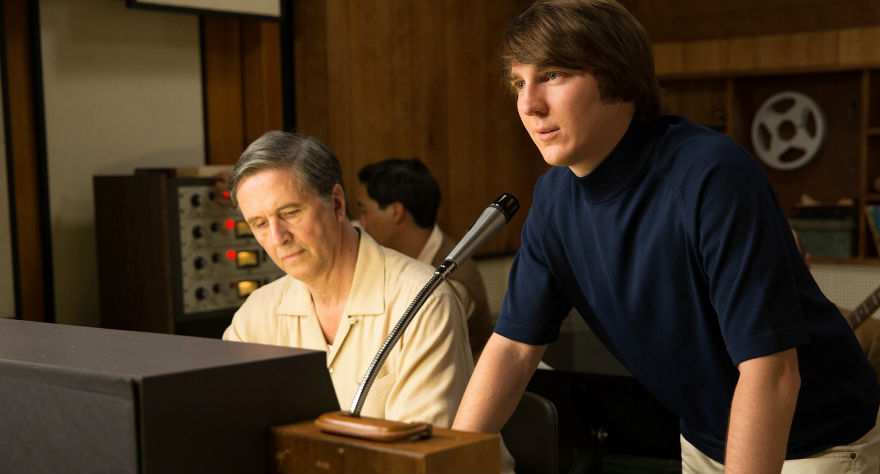 I'd been fearing for years that, once a film about Brian Wilson was made, it would be one of those painfully formulaic biopics that have become so stale as of late. The Beach Boys frontman deserves a more artful big screen tribute than that; aside from being a veritable musical genius, he's lived one of the most turbulent, awe-inspiring lives in documented rock and pop history.
Bill Pohlad's Love & Mercy, I'm relieved to report, is no soup-to-nuts hagiography, but rather an abstract, moody interpretation of two very important slices of Wilson's life. Paul Dano plays a young Wilson in the process of writing the songs that would become Pet Sounds. An older, more mentally damaged Brian is played by John Cusack. Paul Giamatti joins Cusack's half of the film as Dr. Eugene Landy, who in the '80s exploited Wilson's wealth and health, overmedicating him while he shacked up in one of Wilson's mansions. Elizabeth Banks plays Melinda Ledbetter, Wilson's soul mate who attempts to wrest Brian from Dr. Landy's poisonous grip.
The film's fragmented approach allows it to reach a stunning level of intimacy with Brian and his mind. During his visit to San Francisco this past April for the San Francisco International Film Festival, I spoke with Pohlad about the film and his experiences with Wilson, as well as the shining contributions of the rest of his team. Love & Mercy opens wide tomorrow, Friday, June 5th.
What did you like about Oren Moverman's script that drew you to the project?
To be honest, it happened the other way around. There was a script floating around about Brian called Heroes & Villains that came to us. I read it and didn't really like it, but I liked the idea of doing a movie about Brian Wilson. I met with Brian and Melinda and got a sense for trying to tell this story in a different way. I was never really interested in doing a biopic. In meeting them, I learned that she actually did meet him without knowing who he was and was kind of attracted to him, even though he was a bit quirky and odd. Then, she learned who he was and that all this weird stuff was going on around him. I thought it was a great way to get into his story. I was intrigued by that chapter of his life and the Pet Sounds period when he was so super-creative. It felt like those two strands would be the way to go to tell a story. We interviewed a bunch of writers, but Oren was a standout. It was one of those things where you immediately connect with somebody. We got along very well. It kind of took off from there.
I remember in high school buying the big Pet Sounds Sessions box set. The green one. I loved it. I listened to it front to back over and over. It had all these different versions of songs and Brian getting annoyed with everyone. [laughs] It was emotional for me to see those studio session recreated.
I did the same thing, buying that box set and being entranced by it and listening to it all the time. It was exciting to think about trying to recreate that. It was a magical time during the shoot, and the whole shoot honestly had a magic to it that doesn't always happen in film production. We shot that studio section first, and it was great to be able to be in that studio, which is the actual one he recorded most of Pet Sounds in. I wanted it to have this spontaneous feel that I had appreciated in years growing up with Let It Be or Sympathy For the Devil, films like that where you're able to get an inside look at what it's like in the studio when guys are creating music like that. We actually hired real musicians, not actors, and gave them sheet music like they would get in a session. Paul would go in after listening to the Pet Sounds sessions over and over to get a sense of how Brian works, and we'd just let him go. We had two 16mm cameras and shot it like a documentary.
At my wedding my wife walked down the aisle to "God Only Knows." That scene where Paul's writing that song at the piano killed me; I got very emotional.
Shooting that was emotional, but the whole project was emotional, to be honest. The second thing we shot was the scene when he's writing "Surf's Up" at the piano. Paul sat and played "Surf's Up" for, like, three hours in front of the crew. He was amazing. That was really emotional because I knew what Paul and all of us had invested in this. We were kind of doing this shot-by-shot recreation from a documentary. The "God Only Knows" thing was equally emotional because, yes, I love that song. It's such a great song. I wanted to capture this progression of moments. When you first see him it's like he's just coming up with this song, and then it develops. He gets more sure of it, and by the end he's playing it for his father. Showing that progression was really special.
Is it tricky selling John Cusack as Brian Wilson since, frankly, he looks nothing like him?
First of all, he does kind of look like him.
You think so? I don't see it.
He just looks like him from another period. If you look at shots of Brian from the '80s, he's this big, bearded behemoth, almost. Then, he'd look like this skinny, emaciated guy. He was working with Landy, and his weight was going up and down. We were really trying to figure out which look we'd go with and who would portray him. I watched the Don Was documentary I Just Wasn't Made For These Times, which was shot in the early '90s. There's a shot early on of him in a leather jacket, and he looks like John. People say they don't look alike occasionally, but Melinda and Brian say to them, "Yes he does!"
But I didn't want them to be doing things like using prosthetics to make John look more like Brian or Paul. I also didn't encourage John and Paul to work together. I wanted them to find their own, organic way into the character. You kind of let them find it. John did it by spending time with Brian and the Smile sessions. Paul did it by spending time with the Pet Sounds sessions and trying to get a sense for Brian back in that time. He said working with Brian wouldn't have been as productive as John working with Brian.
John got Brian's walk almost exactly, with his arms turned forward.
I've had psychologists and doctors say that the way John walks and the way he holds his hands are all indications of when somebody is over-medicated or getting the wrong medication.
Paul resembles Brian so much.
It's spooky at times.
What was it like meeting Brian for the first time?
It was amazing. The first thing I'll admit is that I grew up as a Beatles guy, and I think that's good, in a way. There were a lot of people who wanted to be involved in the picture because they loved Brian, but it's almost like they were too close, too big of fans. I've gotten more into Brian and his music over the years, and very into it about 15-20 years ago through Pet Sounds. But I think it's good to have some objectivity. When I met Brian, it was a thrill, but I didn't fall over. The key thing is to represent the human side of him. The celebrity and musical genius side is important, and we want to get that across, but what I want more than anything is to be able to relate to this guy. If you want to put him up on a pedestal and survey his life, you do that in a biopic. I didn't want to do that. I wanted to relate to this guy. I think the mental health issues he went through carry a more important message than saying how great a guy he is. It's about how we treat people and how we make assumptions about people who have those challenges.
Giamatti is killer.
It's tough, because a character like Landy…[pauses]. I couldn't find anybody who had anything positive to say about him. He's dead, so we don't have a lot to go on, but you don't want to create a one-dimensional character. You want to relate to what drove him to this and brought him to this place. There are a lot of subtleties, and having Paul Giamatti navigate those waters is huge.
One of my favorite moments in the movie is when Elizabeth Banks opens that office door in Paul's face. She looked like such a warrior.
All of that happened [in real life]. She was in the office with the door locked and he was yelling outside. Honestly, with Brian's story, there are so many things that happened that you would just never put in a script because they're unbelievable. [laughs] At the end when Brian walks out in front of Melinda's car, we struggled with that for a long time. We thought, nobody's going to believe that! It sounds like a movie thing! It literally happened that way. Brian walked out in front of the car and she almost ran into him. As a filmmaker, it's hard to pull it off without people thinking it's a movie convention or something.
Favorite Beach Boys song?
"God Only Knows." But it's tough. "Don't Worry Baby" would be up there.
"Good Vibrations" is my number two.
"Surf's Up" is really great. I could go on and on.
Talk about your approach to sound. I assume that's high priority in a film like this.
Oh, totally. Brian has aural hallucinations, not visual. Your default thing in a movie is to put all these weird things on-screen and create a "trip." But this is what he's hearing in his head, all these disparate chords and harmonies. They're a part of his genius, but he can't turn it off, so it becomes part of his nightmare as well. I wanted to figure out a way to depict that so people understood it. I thought "Revolution Number 9" off the Beatles' White Album would be a good model. We sat down with Atticus Ross and he got it immediately. Beyond the "mind trips," the score itself is Brian's music, just rearranged. We've taken the stems from the original recordings, taken one from one song and one from another, and weaved them together. I hope Atticus' story of what he did on this movie comes out, because it's extraordinary.
I loved how audacious those hallucinations are. You'll hear a weird sound mixed very hard to the right, and then a loud chord all the way on the left. Crazy stuff.
Our sound mixer Chris Jenkins' contributions are as valuable as Atticus' or mine.
What was the hardest thing for Brian to watch?
Brian's quite hard to read. He's very asocial. It's not his thing. But I wanted to make sure he was onboard and made sure the film [was credible], so we had a table read for him early on, just the script. At times I thought he wasn't paying attention at all or that he was sleeping. An hour later, he'd come back with these really insightful notes. The guy was listening the whole time! When he saw a rough cut the first time, he watched it alone. I heard he liked it, but I didn't get to watch it with him until Toronto. He never shared what the hardest thing about it was, but he says reliving that whole process is hard for him.
He's a curious guy. if you ask him about Landy now, he'd say, "I wouldn't be here if it wasn't for Landy," even though he knows everything Landy did to him. He still sees it in a childlike way, a purity that's just fascinating. But then, for the rough cut, he said we were being too kind to Landy. He thought our portrayal was a little softer than he actually was.