Hannah Murray Had Two of the Happiest Months of Her Life Making 'God Help the Girl'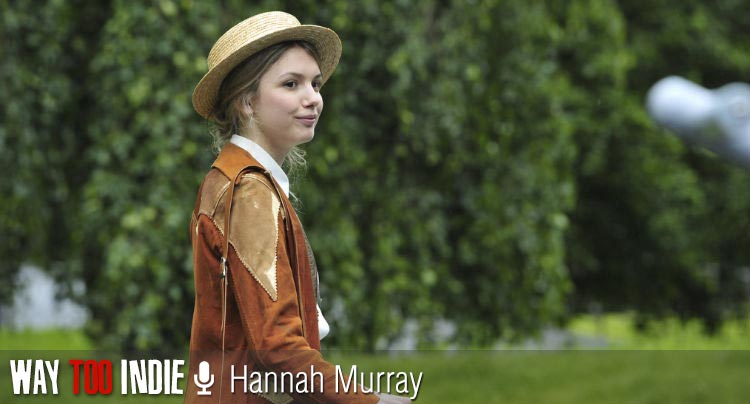 Belle & Sebastian frontman Stuart Murdoch's indie-pop fantasy God Help the Girl is a musical that's been in the works for a good decade or so. In 2009 he finished and released a concept album of the same name he'd been working on since 2003, and now with the film (his directorial debut), he's brought his vision to life visually as well as sonically. The film follows three young musicians in Glasgow (played by Emily Browning, Olly Alexander, and Hannah Murray) who form a band and spend a summer writing songs, playing random gigs around town, and ruminating about the virtues of artistic integrity.
We spoke to Murray about Julie Andrews, being a Belle & Sebastian fan, being in her first musical, her favorite songs in the film, the two happiest months of her life, Stuart's natural knack for directing, and more.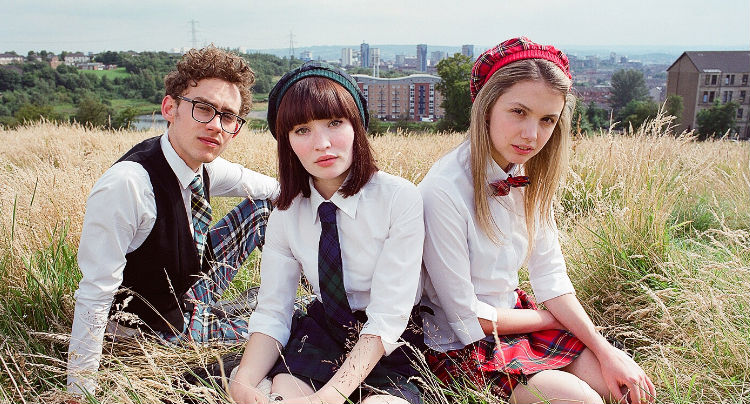 This was obviously a big passion project for Stuart. A very personal film. What was your first conversation with him like about what he wanted from you in this role?
Hannah: He told me to be like Julie Andrews! [laughs] I auditioned for Eve initially, but looking back on it, I think he was always thinking about me as Cassie. He wanted me to be very posh and energetic. He was like, "Think of Julie Andrews in The Sound of Music!" I was so excited to meet him at all. Every now and again, you have these auditions that sort of feel like, "Even if all I get to do is audition, what an amazing experience it's been to have met this person." I was really nervous to sing in front of him. Like you say, it was such a personal project for him, so he had so much to say about the characters and the story, and he was always so engaging when he talked about the project.
Stuart said in an interview that deciding on the final cast was one of the most difficult decisions of his life. That's got to feel good.
Hannah: It makes me happy. Of course you want to make your director happy on any job you're doing, but I think on this, the three of us felt such an increased desire to impress him because we had so much respect for him because of Belle & Sebastian. I always think about this film like…there were only three people that got to have the experience we had, and we're so lucky. It's so flattering that Stuart wanted me to be a part of it.
Do you think you'll look back at this making this project as one of the most special times in your life?
Hannah: Absolutely. It was one of the most incredible, emotional experiences I've ever had. It was two of the happiest months of my life. Really brilliant. I also feel like, whatever else happens in my life and career, I think I'll always feel so lucky to have been a part of this.
What was it like doing choreography and singing on camera? Was this a first for you?
Hannah: Yeah, definitely a big first for me. It was really fun. It's one of those things where, you get the job, and you're like, "What an exciting challenge!" Then, two weeks in, you're absolutely terrified and hating it. [laughs] But by the end, it's gone back to being really, really fun again. All those days when we did the musical numbers felt so magical. I never thought I'd get to be in a musical, and it's such a joy to sing and dance for your job. And to do it with people you really get on with and don't feel so self-conscious around because you're all in the same boat is great.
What's your favorite musical number in the film?
Hannah: I love them all so much! [laughs] "I Just Want Your Jeans" was sort of my song. It was incredibly special, and that number was the last thing that I shot. It felt like the culmination of working on the project, and it was really exciting to have a solo. It think that song's beautiful, and I love the stuff that it talks about. It's really unusual subject matter. I love "Musician, Please Take Heed" as well. I think that's a gorgeous song, and Emily does such an amazing job with it. Of the parts of the filming I wasn't involved in, that was one of the things I was most excited to see, how that whole sequence came together. It's so impressive.
What was it like watching yourself sing and dance with an audience for the first time?
Hannah: It was really amazing. I got to see it at Sundance, and I've never felt so proud of something I've done and been so excited to have other people see it. All of us kind of feel like we had such an amazing time making it that it doesn't really matter if people like it. It's like a bonus, really. I'm really excited for it to come out because I feel such a warmth toward it. It's nice to feel that way, and it's a new feeling for me. I know that I love the film, and that kind of stands on its own.
You obviously gelled with Stuart and your co-stars quite well. Is there an itch to work with them again, or was this experience something so dear that you just sort of put it away?
Hannah: I worked with Olly on a TV job just a couple months after shooting. I also got to do a Belle & Sebastian music video about a year after we did the film, which I was so flattered to be able to do. I had to sort of act with Stuart, which was a fun experience. [laughs] I would love to keep working with all of these people again. They're the best.
What made this project different from others you worked on? What did Stuart, Emily, and Olly bring out in you?
Hannah: I always used to believe that good work came out of being miserable and angst-y and tortured and that if you were playing someone that was unhappy, you had to be as unhappy as them. I thought creativity had to be hard, with a lot of conflict. My career has progressed to the point where I really don't buy into that anymore. This film was probably the biggest thing that made me switch that off. I felt so supported by the people I was working with, and I felt really relaxed and safe. Because of that, I could try anything. We did quite a lot of improvisation, which terrified me in the past, but this was fine because I knew these guys wouldn't judge me. It was the freedom they gave me that allowed me to take risks.
Stuart's a first-time director, but anyone who's familiar with his music knows that his songs are quite cinematic already.
Hannah: Absolutely! I really agree with that. He's such a great storyteller, and he creates these characters in his songs, so it feels like a very natural progression for him to make a film. I really hope he does more films, because he's really naturally gifted at it. He didn't really know what the "rules" were, and he had a bit of a different approach, but that was very exciting. Also, he loves cinema, and he has such an incredible knowledge of movies. He gave us so many references to think about, introducing me to films I never knew about. He obviously shouldn't give up being a musician, because he's brilliant at that, but I think he's very strong in both disciplines.
I kind of miss movie musicals. I wish there were more of them.
Hannah: Me too! I'm a huge musical fan, and early on when I was 12-years-old and wanted to be an actor, I thought I only wanted to be in musicals. It seemed like the most fun way of doing it. There definitely aren't enough musicals out there. I think what's great about this film is that we've shown that you can make a musical on a much smaller budget than people would have necessarily thought. I hope that's going to open up people making more and more smaller musicals that aren't exactly Les Miserables or Chicago. Not that I don't love those films, but I think musicals are having a renaissance right now, and people really love them. I hope people make more and more.