'Experimenter' Director Michael Almereyda On the Life of Stanley Milgram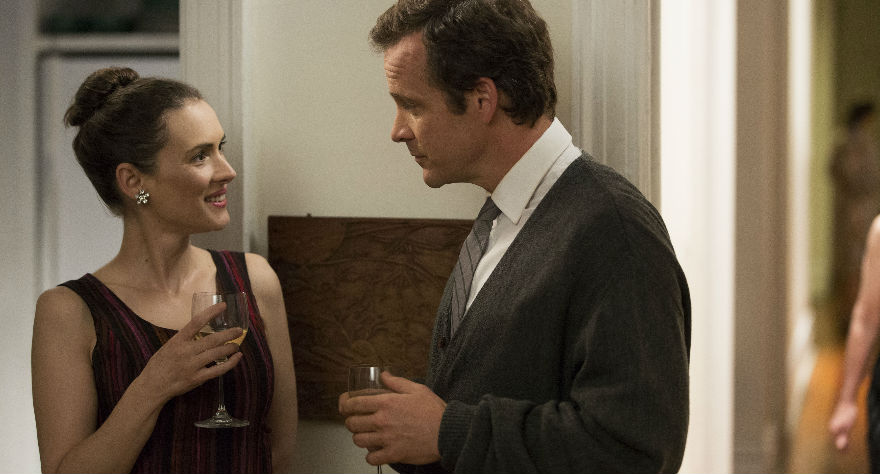 Based on the life of Stanley Milgram, Experimenter pokes and prods at the mind as the late social psychologist did in his controversial obedience experiments conducted at Yale in the 1960s. The reality-bending film stars the charismatic Peter Sarsgaard as Milgram, who intermittently addresses the camera directly, commenting on his unlikely life story as we watch it unfold. Milgram's obedience experiments—which involved a subject administering electric shocks to a second volunteer—changed the landscape of social psychology, though Milgram's career would suffer due to many of his colleagues disagreeing with the ethicality of the experiment. Odd, mesmerizing and wildly inventive, Experimenter is one of the most unique things you'll see this fall.
We spoke to director Michael Almereyda about the film, which also stars Jim Gaffigan, Taryn Manning, John Leguizamo, Anton Yelchin, and Winona Ryder (as Milgram's wife, Sasha).
Experimenter is out in theaters and VOD now.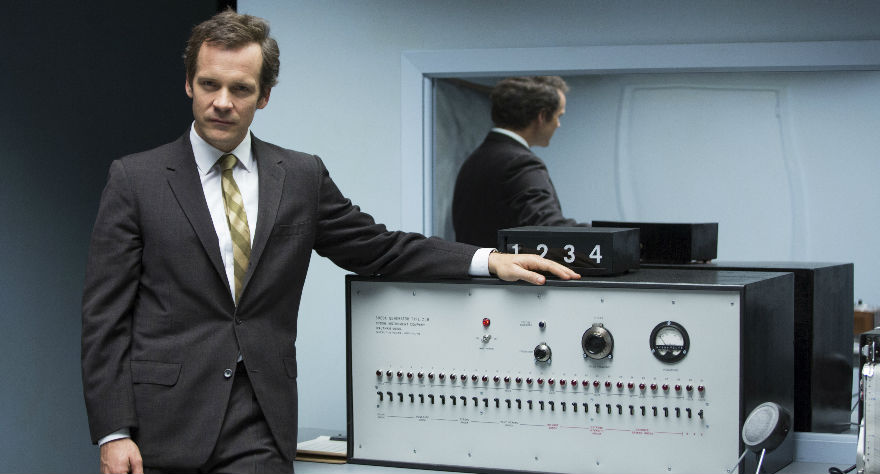 How were you introduced to Milgram's work?
It's called Obedience to Authority: An Experimental View. It has transcripts from the experiments and a detailed account of its genesis and execution. It was very compelling to me and I thought it would make a good movie. The more I read and researched, I began to recognize there was a bigger scope than those experiments. His mind was reaching past those experiments, but they kept creeping up on him from the shadows.
How long ago was this?
2008. I'd heard of [the experiment] before, but not with attention or definition. I didn't know how clever, rich and exhaustive it was. I didn't know he worked on it for two years. I also didn't realize the controversy and repercussions.
I like the way the movie slips between different planes of reality.
I'm grateful that you say that, but in some ways it's a pretty straightforward movie. It's pretty chronological, there's one flashback, and otherwise it's really broken into three sections. It's more flexible than most movies because there's a playful recognition that it is a movie and he can talk to the camera. That idea was part of the original thought I had for the movie, before House of Cards happened, but not before Ferris Bueller. Talking to the camera has been with us for a long time, but it felt appropriate that someone as self-conscious and self-confident as Milgram would do it. In fact, Milgram made a series of films in which he talked to the camera. Milgram was aware that reality shifts and we have different ways of interpreting things.
Talk about your use of rear-projection.
It was meant to reflect the way that a lot of situations in life are staged, that we're constantly acting. There's a level of reality that feels distanced from our more immediate experience. Going to see an old mentor with your new wife can be a play, almost. You're dressing up and trying to be somebody bigger than you are. Throughout the movie, there are these elements of staged reality where I wanted to be candid about it and allow the audience to see that there's an element of play and performance.
Peter is very likable in the movie, and I think that's critical.
I hoped he'd be charming and compelling. I'd known him for a while, and the key to casting this role was that he had to be agile with language. You had to believe he could write a book. Peter's a really good writer on his own, and I think he'll be directing movies soon. The last shot of the movie was his idea, and it wasn't in the script and it wasn't meant to be the last shot. When we were shooting, he said, "It could be interesting if I tried to wave to Sasha but she doesn't see me." I was grateful for that and it ended up being a very poignant way to end the movie.
How did you decide which aspects of Milgram's life outside of the experiments to show?
Almost nothing in the movie is made up. The biggest liberty I took was that he never visited the set of the made-for-TV movie. I simply took what I thought was compelling. I thought it was pretty organic and cohesive that one experiment led to another and they reflect back on each other and his own experience being a human in a city. We often have these barriers that are unspoken, and he tried to make us more aware of them.
You said you wanted to make the kind of movie Milgram would make himself.
I was trying not to make a plodding, literal-minded biopic. He was a talented filmmaker. He made two films that I think are truly wonderful films. One is called Obedience, which was shot during the last two days of the experiment. It's very compelling and Roger Ebert called it one of the ten most important documentaries ever made. The other is The City and the Self, where he was roaming around New York with a camera, staging experiments. It's a city portrait from the '70s, a very lyrical documentary. In 1974, he was approached by a BBC crew to talk about the experiment and he was apparently so authoritative and compelling that they let him write his own movie [instead of being the subject]. It's called We Do As We Are Told.
Talk about casting known actors in the roles of the subjects as opposed to more obscure names.
To me, they weren't that well known. I wanted interesting people who were compelling. I wanted each role to have an impact. Part of the luxury of making a low-budget film is that I asked the best people I know if they had anything better to do, and they said yes. There's another version of the movie where everyone is more anonymous, but I didn't think it served the story any better.
I thought Jim Gaffigan was great.
He was an early choice. I didn't know about him. I'd thought about Philip Seymour Hoffman, who I'd asked to be in about seven of my movies and who kept not being in my movies. He was actually signed, but he got a better offer. He looked like the real guy. Gaffigan was recommended and I started watching these Youtube clips and I was completely captivated by him.
Sasha Milgram is in the film. What did she think of it?
I think she liked it. She's frail and she's so supportive. I showed it to her at her house on DVD. What was touching was, at a certain point, when her character comes up she turns to me and says, "That's Winona Ryder!" She was very excited. She's great.
What do you think Stanley's greatest fear was?
I think the real Stanley was probably more prideful than he is in my movie. But at the same time he's smart and aware of his own foibles. There's one quote of his I didn't put in the movie that had something to do with that, to be a good social scientist, you have to have courage. I think, whatever fears he had, he was pretty good at mastering them.