Chiemi Karasawa Shines a Light on Stage Legend Elaine Stritch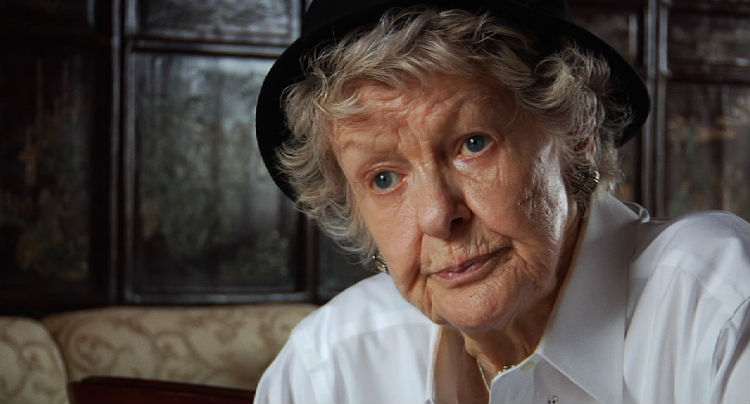 Chiemi Karasawa didn't know much about Elaine Stritch before shooting Elaine Stritch: Shoot Me, an authentic, honest look at the day-to-day life of the 86-year-old Broadway icon. Stritch, who's also had a sprawling film career (she was in A Farewell to Arms AND Paranorman), is the definition of larger-than-life, exuding in real life the same dramatic, in-your-face bombast she pours out on stage and on screen.
Karasawa, a veteran of the film industry who worked for years as a script supervisor (Adaptation., Where the Wild Things Are) and now produces documentaries (Elevate, Billy the Kid). Shoot Me is her first directorial effort, and she spoke with us about meeting Elaine for the first time, convincing her to do the project, introducing her legacy to a new generation, and more.
Elaine Stritch: Shoot Me opens in select cities this Friday, March 14th.
What was it like meeting Elaine for the first time?
Chiemi: I did meet her on set for one day. She was cast as James Gandolfini's mother on a film called Romance & Cigarettes, which my friend John Turturro directed. I remember that day very clearly, because she's like a tornado of activity and drama. We were all very excited, and John was thrilled to have her do this cameo where she blows into a hospital room and tells her son off for a procedure he had done. Steve Buscemi plays his friend, and when she blows into the scene he tries to interrupt her, and she says, "Shut up!!!" I remember that you could hear the craft service guy in the next stage over drop his knife. (laughs) It was such an astonishing moment. Nobody expected that out of this diminutive older lady. That was my first taste of Elaine Stritch, and it sort of hasn't changed since that moment.
I would have been scared shitless at the thought of approaching her with the idea of following her around, like, in her bedroom and things like this. What was the process of bringing her onboard this project like?
Chiemi: The idea came about at the hair salon I go to, which is Vartali on 57th street. I saw her there, and I asked my hair dresser if it was her, and he said yes. A few minutes later, he said, "You should be making a documentary about her." He doesn't say very much, and he certainly doesn't make assertions like that. I went home and secretly did my web-stalking, googling, and I watched Elaine Stritch At Liberty and was completely blown away. I thought, "How is it possible that I don't know more about his woman?!" That's when I started approaching her and figuring out how to make it happen. It's like trying to ask somebody out when you see them at the coffee shop, you know what I mean? (laughs) It was this weird courtship where I'd keep running into her, mentioning it, and she'd kind of get rid of me with as much politeness as she could.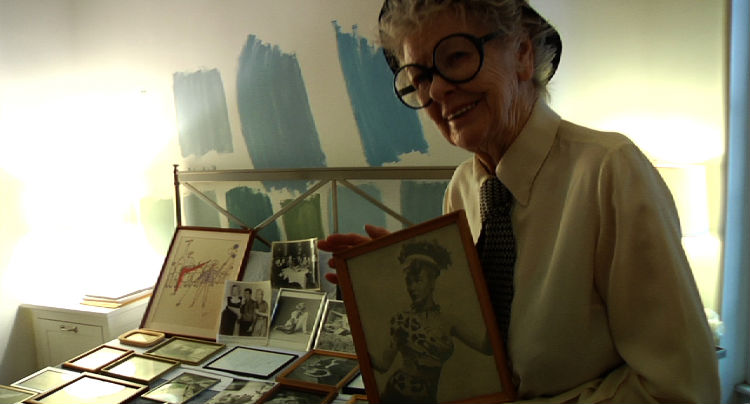 Rob Bowman (Elaine's musical director) and I happened to be at a dinner party together arranged by the salon owner. I think once he sussed me out and probably reported back to her, she decided it was okay. I was asking her to do the project, showing her my work, and talking about what it would be like. She was pleasantly accepting of the chat, but it wasn't for four months that she said yes.
You've produced a lot of documentaries, and this is your first time in the director's chair. Docs wouldn't ostensibly seem to jibe with Elaine's nature. She's such a performer, and a theater legend no less. What was her reaction to the idea of you following her around, filming her eating donuts and stuff.
Chiemi: (laughs) By giving her go ahead to actually be involved in this process, it meant that she wanted it to happen on some level. If Elaine wants something to happen, you're 95 percent of the way there. If she doesn't want it to happen, there's no way in hell it's going to happen. The first couple of weeks was earning her trust and allowing her to know me and my cameraman as people and developing a friendly relationship. When you work in the theater, you have to become comrades. I think she has that ingrained in her blood, that we are doing something together. It's not just me following her around with a camera: we're hanging out. We're family.
That was the approach she took, which was really refreshing. I kind of thought I was going to do the fly-on-the-wall thing, but there's no way she's going to allow you to be a fly on the wall. She needs to know who you're dating, why you're wearing that top, why you bought those shoes. "Tell me something about your family," you know? Once you're in, you're in. You can call the doctor for her, carry her bags…she liked having us around. If you're 87, you're independent, and you live alone, there's something validating about someone bearing witness to your life and having someone to talk to about that stuff.
I imagine you got a ton of interesting footage, considering there's never a dull moment when Elaine's around. How did you choose which footage to use to tell your story?
Chiemi: Every moment was a process of discovery for us. Because I was very familiar at that stage with At Liberty, I was sure that I didn't want to make the story of an artist performing what their life was, you know? I wanted to do what I would consider the inversion of that, showing the behind the scenes, real life of an 87-year-old performer day to day, with glimpses of her stage performance. We don't see enough examples in the media of what it's like to be an actor or performer over the age of 60.
The fact that she was living independently, living this lifestyle, to me was worthy of a documentary, number one. Number two, the fact that she was touring with a one-woman cabaret show…what is that like? And I knew that she had donated her photo archives to the Stella Adler school for them to put on their walls. She was going to have to go through and choose photographs to give to them, and if you're a documentarian, what a gift! You're going to be watching a woman of her age going through 30 years of archival photographs. I mean, that's the spine of a film.
Those were the motivating factors to follow. Once I recognized the stage she was at in her life–that her memory was starting to be a problem, that her health was a problem–I realized that it was probably heading toward some kind of critical mass. By the time I'd been in the hospital with her several times, and she gave me that poignant interview about it being time for her, I realized that that would be a huge moment in the film and started constructing the film backwards from that moment. It would be this universal story of aging. She was finally having to admit that the end was in sight for her life as she knew it, and she was going to have to start making changes. I kept thinking of my own parents, who are 80 and 90, and the fact that Elaine can put a voice and face to that experience in a way that's humorous, poignant, and compelling.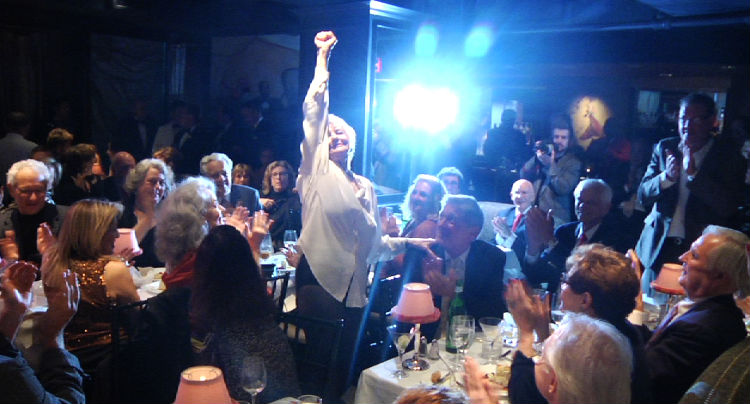 What was the thinking behind including the english muffin scene, in which she's directing your cameraman as if it were a scripted scene in a narrative film?
Chiemi: When she called me to tell me that she was going to be doing a rehearsal with Rob that afternoon, I was in Toronto, so I sent over a cameraman. I got this call later in the day from my DP saying, "I don't think it went very well! She was trying to direct me, and I didn't want to argue with her!" When I came home and watched the footage, I felt so bad that I'd sent this lamb to slaughter, my cameraman, and I could barely watch. Later on, when we were trying to find examples of how difficult she could be, and yet how it's really about getting something right and that she can be her own self-saboteur in a way, that moment just popped out. It's also quite funny, and a true depiction of her nature.
I didn't know much about Elaine going into this film.
Chiemi: Great! You're exactly the audience I made it for.
Was that one of your major goals, to send young people on this journey through Youtube, discovering her work?
Chiemi: That's exactly what I wanted. I was very uneducated about Elaine, and I really wanted to save people the humiliation I felt. (laughs) Once I finally figured her out, I was like, "God, this woman is an institution!" Everyody should know who she is because she's so unique. She's not traditional on any level. She's a survivor. She's from an age of theater that just doesn't exist anymore, but she's also timeless in that she's so honest, frank and sharp. In a way, she's this remarkable time capsule with a completely modern attitude. I wanted not only to expose her to a new generation, but just show off this incredible person who lives here in New York at the Carlisle Hotel. It's evidence that this incredible person exists.