Way Too Indie's 20 Best Films of 2015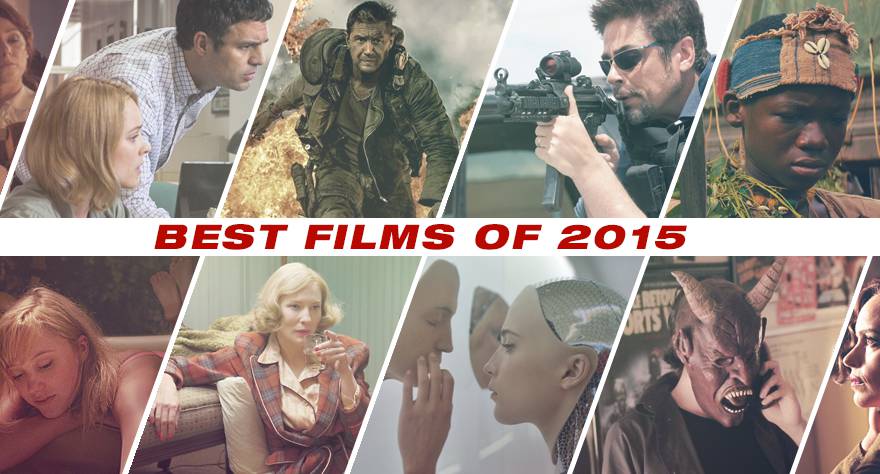 It's easy to look back over the past 12 months and try to find a common thread, a trend or recurring idea that can make sense of the mass of films unloaded for public viewing. Everyone loves a good narrative, and in a world where chaos reigns, it's nice to see some order. Indeed, look at the list of our 20 films below and you can see similarities pop up all over: stories of struggles both internal and external, whether it's fighting the patriarchy of the past, present and postapocalyptic future, facing down the most powerful institutions in the world or the narrative of history itself, escaping captors, making it through wars both sensical and nonsensical, trying to just pay the bills or unshackling oneself from the past. They all share a common bond of people trying their damnedest to succeed, overcome and survive.
But this theme doesn't apply to every film here, nor does it apply to everything that came out in 2015. Our list also has films that melted our minds, dragged us through the mud, awed us with their grace, and entertained us with their pure, visceral delights. Summing up the year through a neatly packaged narrative is nice, but it's also far from a true representation of what cinema brings. It's a messy, chaotic world of movies, and when we put together a list like this the real unifying aspect is their high quality.
From the big, daunting universe of cinema in 2015, Way Too Indie is proud to present what we think are the 20 best films of the year.
Way Too Indie's 20 Best Films of 2015
#20.
Room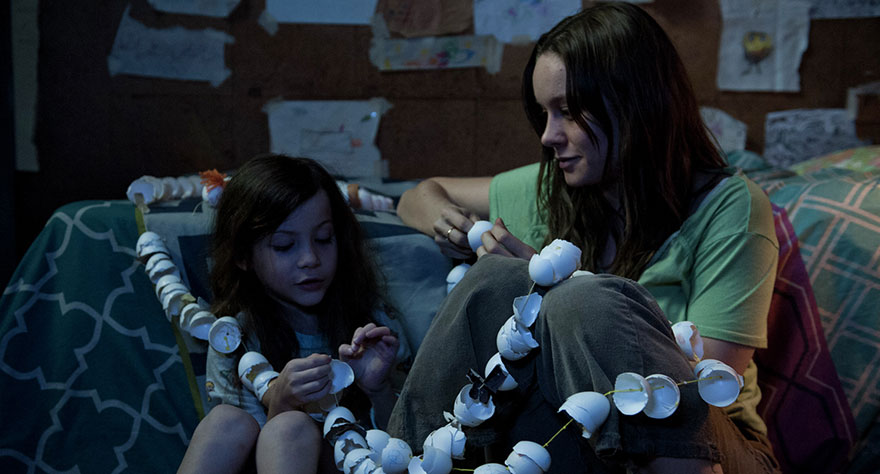 In Lenny Abrahamson's Room, there are no limits to love. A film as simple as it is emotionally sweeping, there are few films released this year that evoked such a visceral emotional response from its audience. The film is an exhilarating thriller portraying a modern nightmare of captivity—a scenario that never ceases to grip the public's attention when it pops up in the news—but is entirely focused on the will of the human spirit, and the ways we not only survive in such heinous situations but thrive. In the story of Ma (Brie Larson, a career-best performance), and the world she builds for her five-year-old son Jack (Jacob Tremblay, also mesmerizing) within the walls of a tiny room, we are given an example of the purest sort of love. One of sacrifice, fierceness, and audacity. By seeing the universe through the eyes of a small child—a universe at first only four walls wide and then suddenly much, much larger—it's impossible not to form a renewed appreciation for the simple things in life. But more than that, it's impossible to walk away from Room and not find oneself profoundly introspective about what it means to actively live and actively love. [Ananda]
#19.
Steve Jobs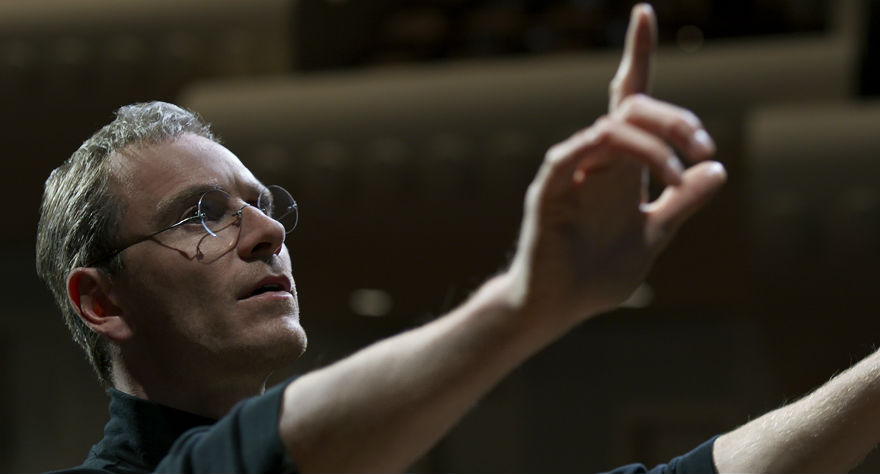 Somehow, Steve Jobs became persona non grata this fall. Between the box office performance, the fatigue surrounding the subject matter and the behind the scenes issues exposed by the Sony leak, nothing seemed to go quite right for the film. Do not be mistaken, though: Steve Jobs should not be missed. It's a biopic with an utterly unique structure and breakneck pace. Aaron Sorkin's script commands the spotlight even more than Michael Fassbender's stirring performance. The three-day approach proves effective as Sorkin intelligently navigates the inherent limitations, managing to capture the essence and scope of one highly influential man's life. His conversations are verbally balletic, never ceasing to surprise in their wit, but never stooping to overly showy, self-serving writerly panache. Steve Jobs is a whirlwind of a film, exploding with thunderous brio and making its piercing impact with the ink-dipped arrowhead of a skilled writer's pen. Its imperfections don't change the fact that it's a landmark in biographical filmmaking. [Byron]
#18.
Gett: The Trial of Viviane Amsalem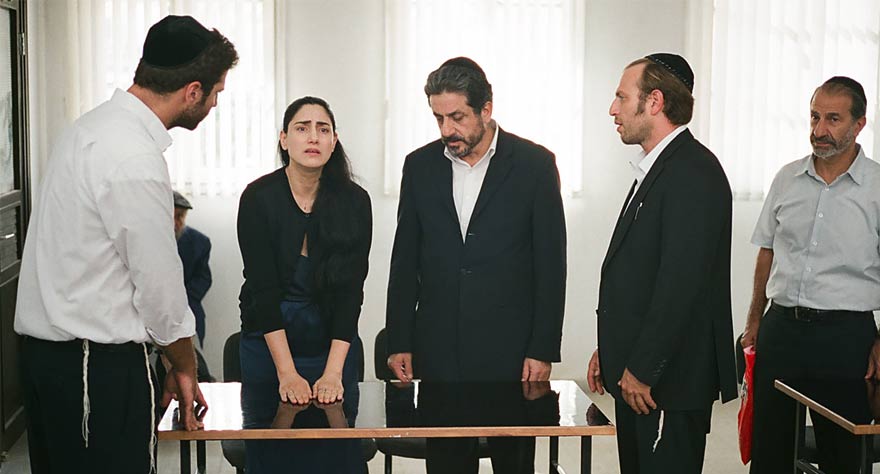 In Gett: The Trial of Viviane Amsalem, Ronit Elkabetz stars as the title character, a woman seeking a divorce from her husband. It sounds simple enough, but the Amsalems are Israeli, and in Israel there is no such thing as a civil marriage; all marriages are granted by Orthodox rabbis in a religious ceremony. Ergo, all marriages must be dissolved the same way. That means the husband give his full consent for a marriage to be dissolved. If he doesn't want it, she doesn't get it, and Viviane's husband doesn't want a divorce. This turns the film into a fascinating courtroom drama, but not in the traditional sense; rather, it becomes a drama that takes place almost entirely in a courtroom, with the occasional scene occurring in an adjacent waiting room. This gives the film contrasting feelings of intimacy and claustrophobia. Elkabetz is superb as Amsalem, conveying the frustration of a woman trapped in an unhappy marriage and finds herself trapped again, this time in a system that stacks the deck against women and all but ignores them in the process. [Michael]
#17.
Hard to Be a God
Rarely have I seen a film's atmosphere so gorgeously and meticulously realized to the extent of Aleksei German's final masterwork. Hard to Be a God follows a civilization of men and their out-of-sorts, peculiarly human god. They represent man as a whole, embodying his struggle through the early stages of primality. When do we leave behind beasts and garner the right to call ourselves men? More pressingly, do we ever, or have we been kidding ourselves for the last few thousand years? Hard to Be a God works so well chiefly because it cements itself into a primal world, one dominated by sludge, blood, and shit, so unbelievably well. Furthermore, in lieu of the film's obvious rejection of sentiment, it is intriguing how it integrates the idea of God into its narrative. It doesn't suggest that he doesn't exist or has neglected us, but that he is struggling alongside us and, even more frightening, that he's just as helpless. German's magnum opus is a rattling, maddening three-hour journey into the depths of man's darkest sensibilities. [Cameron]
#16.
The Assassin
The moving image is rarely as entrancing as it is in Hou Hsiao-Hsien's The Assassin, the Taiwanese master's first film in over seven years. Expensive in its design, methodical in its every graceful move, the film penetrates the mind as swiftly and silently as Shu Qi's Nie Yinniang disposes of her first target in the picture's opening moments. Shot on film by Ping Bin Lee and designed by Huang Wen-Yin, Hou's regular collaborators, The Assassin has a mise-en-scene that's second to none this year. The subtle phenomenons of nature play a vital supporting role, one in which animals and flora are treated as sharing the same atmosphere with humans. More than any other film of the year, The Assassin shines the brightest light on the unique and boundless nature of its artform. It is spellbinding in every sense of the word. [Nik]
#15.
Son of Saul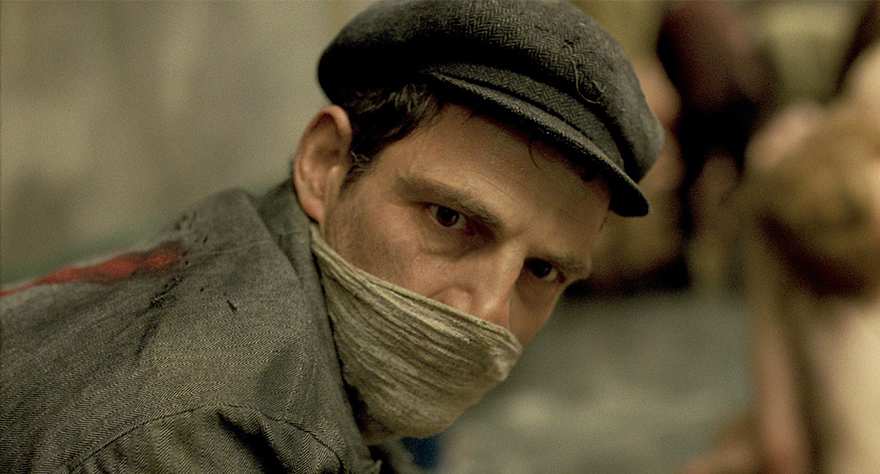 Son of Saul is a wonderful debut film of filmmaker Laszlo Nemes, which tells the story of Saul (Geza Rohrig), a prisoner and Sonderkommando member at Auschwitz who his searching for a rabbi so he can give his son's body a proper burial. The film is incredible, from Rohrig's outstanding performance to Nemes' fantastic direction (all the more impressive considering it's his first feature film). But I want to pay special attention to the work of cinematographer Matyas Erdely and the team behind the sound design of the film. Erdely beautifully shoots the film in a tight 4:3 frame, often putting Saul at the center and keeping the eye focused on his actions with most of the settings around him hard to fully take in visually. This is where the sound design is key, as it forces us to imagine the horrors around Saul. Together these elements create a truly unique experience adding up to one of the most powerful films to be released this year. [Ryan]
#14.
The Forbidden Room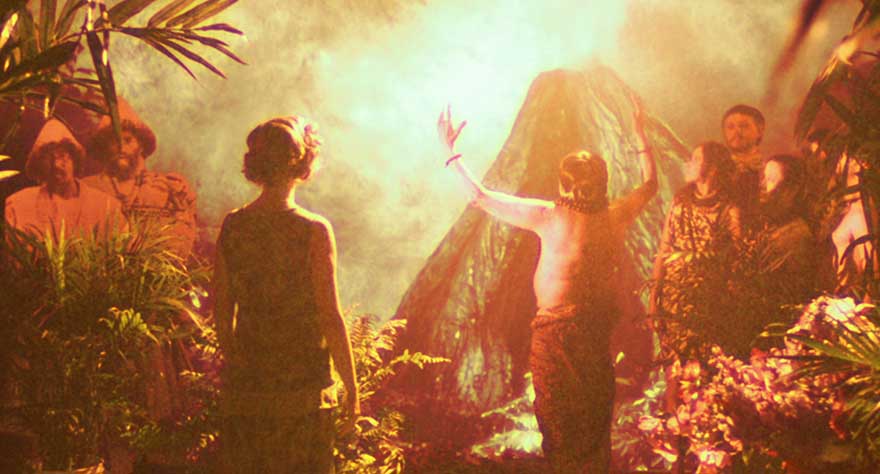 Guy Maddin and Evan Johnson's sensational hodgepodge of silent-movie storylines are maniacally cut up into dozens of threads, then re-assembled by two drunk, blindfolded men with a brilliant sense of humor. The Forbidden Room is unlike anything you'll ever see. Ever, not just in 2015. Studded with stars from all over the world, from the well-known like Charlotte Rampling, Roy Dupuis, and Geraldine Chaplin, to more local faces like Louis Negin and Gregory Hlady, the film is full of greedy volcanos, aswang bananas, catchy musical numbers, delusional doctors, scorned lovers, men breathing oxygen through flapjacks, and mustaches with a life of their own. Relentless with its pacing and editing, it's not something that's easily recommended (it broke the record for walk-outs when it screened at Sundance earlier in the year). But, it's on here for a reason: through the unique structure and absurdist tone lies one of the most heartfelt odes to the wonders of cinematic storytelling. [Nik]
#13.
The Look of Silence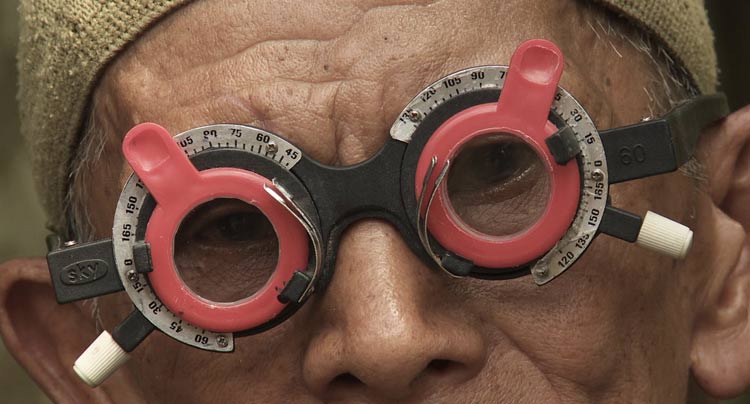 The Look of Silence is every bit the masterpiece its companion piece, The Act of Killing, was. Joshua Oppenheimer returns to the residual horror of the Indonesian genocide, this time through the eyes of a victim. An optometrist named Adi Rukun confronts his brother's killers under the pretense of testing their failing vision, and through his careful questioning the remorseless thought process of a monster is slowly dismantled. If there is any surreal sensibility left over from Oppenheimer's last film it is in the shadow of death that haunts an eerily quiet land teeming with ghosts crying out in vain. The "silence" of the title is all around, both in the insightfully observed environment and the empty murmurings of men submerged in denial. The capacity human beings have to rationalize and normalize wickedness is on full display, and it's mesmerizing in a terribly morbid way. Powerful, sobering and absolutely essential. [Byron]
#12.
Inside Out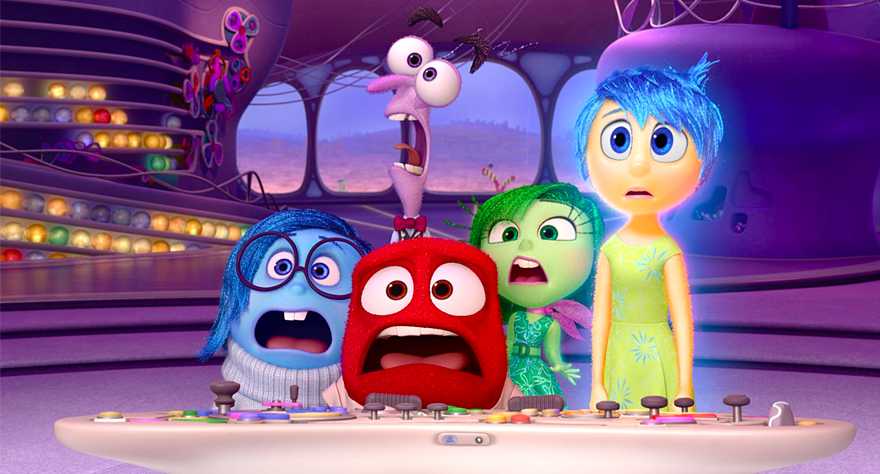 Inside Out is a tearjerker, which comes as no surprise—Pixar has been making us cry like babies for two decades. That's sort of their whole deal. What makes this particular movie so special is how impossibly elaborate it is, conceptually. To represent one cognitive experience, visually, is a feat in itself. What Pixar's done here is visually represent dozens and dozens of cognitive experiences and made them work in concert. It's a tender, inventive, entertaining study on human emotion that speaks to the heart despite being so brainy. It's also unique in that someone can watch it at five years old and then again at forty and have two wildly different and yet equally profound experiences. Next year, Pixar's engaging sequel mode again with Finding Dory, but they took a big risk with an out-there movie like Inside Out and proved that there's no shortage of new ideas coming out of the trailblazing East Bay studio. [Bernard]
#11.
Mommy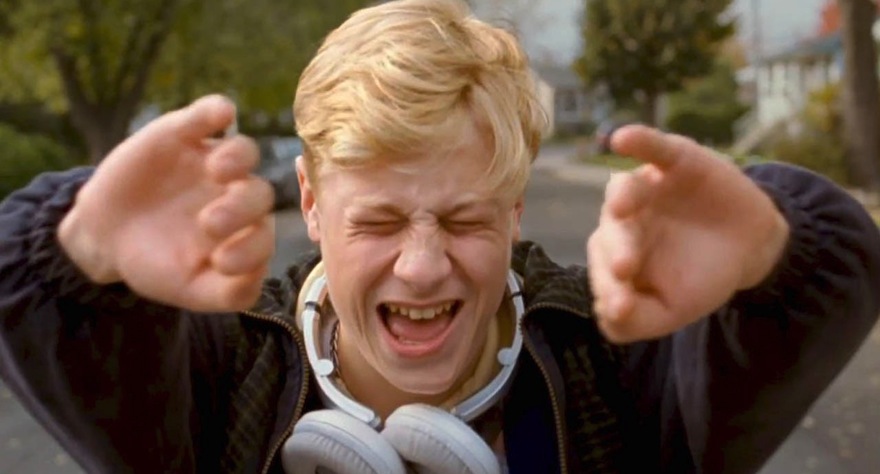 Young Canadian filmmaker Xavier Dolan came into filmic fruition when he was only nineteen with the release of I Killed My Mother. Almost seven years and five films later, one of the youngest directors in the industry has created one of the most moving films of the 21st century. Despite its 2014 premiere at Cannes, the film did not receive a proper US release until January of 2015, meaning most people didn't get a chance to experience its profundity until this year. Mommy focuses its narrative on the widow Diane (or "Die," for short) and her difficult son, newly discharged from a behavioral rehabilitation facility and potentially suffering from a number of psychological disorders that cause him to have angry, violent outbursts. It's shot in the unique 1:1 aspect ratio, which at first may seem like a peculiar decision, but once you've fallen deep into the emotional abyss of this heartbreaking tale, you'll understand how a stylistic choice can transform into an emotive choice within a matter of seconds. [Eli]
#10.
Phoenix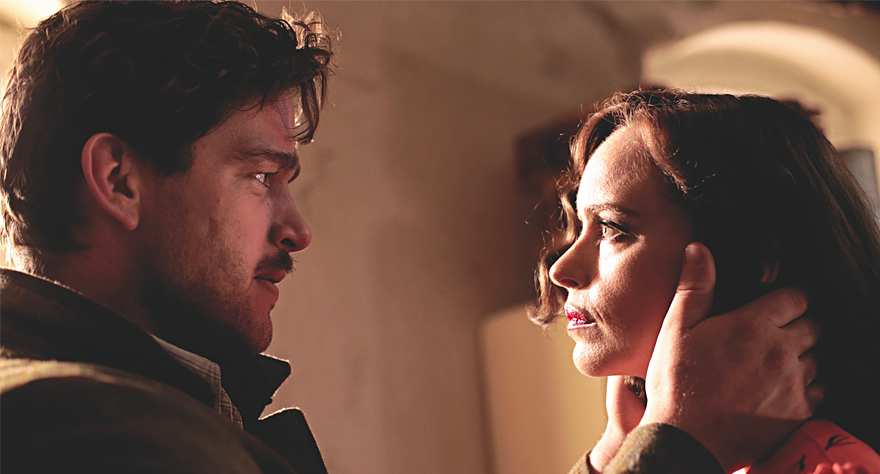 Christian Petzold's Phoenix is perhaps the best film since the post-war era that deals with the holocaust, even though it's not as interested in dealing directly with the images and happenings of the holocaust as that statement suggests. Instead, it's about the scars of tragedy, and how great tragedy has the terrifying power to rob individuals of their identity. The film follows Nelly, a Jew from Berlin, as she returns to her home and her husband after living through the concentration camps. We never see flashbacks of what she went through. She tells us all through the expression stained onto her reconstructed face. Floating through the frame like a ghost, Nelly attempts to piece together her past, and Phoenix is a harrowing testament to how emancipation from tragic circumstance doesn't erase the psychological wounds said tragedy has inflicted. It also deals with the idea that friends of those affected have absolutely no idea how to respond. How does one respond to such an atrocity? Though not technically a ghost story, Phoenix registers as an emotionally draining portrait of a wandering soul knocking on the door of a world from which she's been exiled. [Cameron]
#9.
Buzzard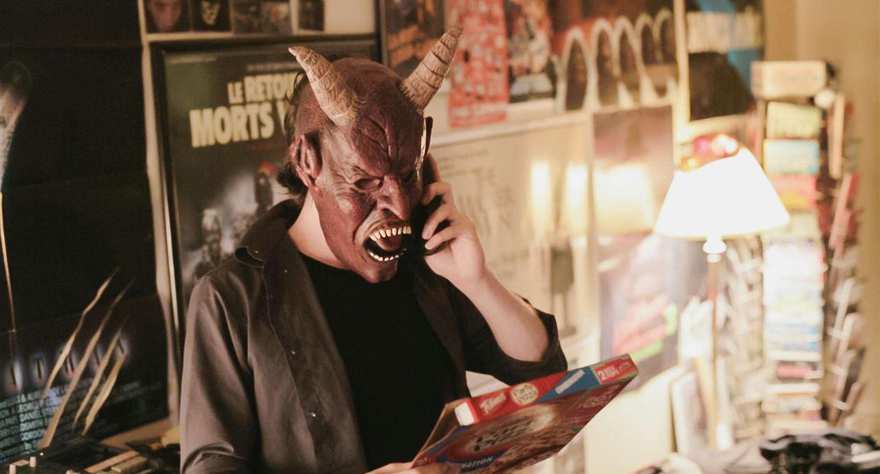 Accurately describing Joel Potrykus' Buzzard is a difficult task. The film doesn't really fit into a specific genre, and the loose storytelling structure only complicates things on that end. Still, there's something undeniably captivating about the tale of a millennial burnout that decides to rebel against his routine life. It's not that the film is particularly relatable—Marty, the protagonist, is the embodiment of the worst society has to offer—but Buzzard takes viewers on a journey that gets far too real at times. Marty's frustrations with his dead-end job, the boring people around him, and his way of living have the ability to cut very, very deep. From the beginning, Potrykus views a mundane subject with a bizarre lens, and Buzzard only gets weirder and weirder as it progresses. By the conclusion, it's apparent just how effective the film is, despite its relatively low-key nature. Unlike any film you've seen this year, Buzzard is strangely comedic, unexpectedly dark, and certainly worth checking out. [Blair]
#8.
Beasts of No Nation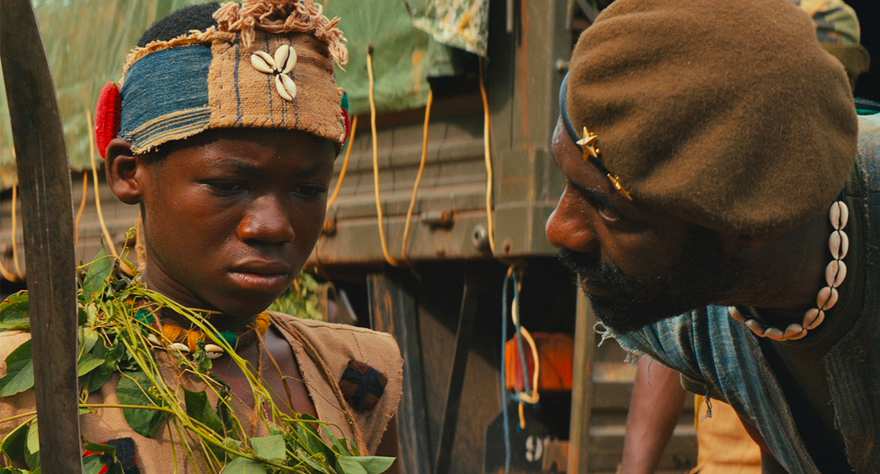 Beasts of No Nation is a special convergence of extra-textual information. Being the first major fiction feature release from streaming outfit Netflix is a big deal, especially since they clearly had aspirations for awards with its purchase. More fitting, it is the first feature film from writer-director Cary Joji Fukunaga following his incredible breakout success with the first season of True Detective. Those already following Fukunaga's career, however, know just how talented of a storyteller he is. Beasts of No Nation is his highest effort production, an absolutely beautiful film with often intense subject matter. The film studies the rise of young boy Agu (Abraham Attah) through a rebel group of fighters in an unnamed, nondescript African country. Through the eyes of Agu their war is truly unknowable—and the film purposefully makes no effort to help the audience understand what this group is really fighting for. This can be frustrating at times, but Fukunaga is persistent in his focus on tone and the specific actions of its main character. This creates a more ethereal movement, which is all the more frightening given the film's horrendous nature. Along with Attah, who gives a fantastic and difficult performance for a young and inexperienced actor, Idris Elba's towering role as the rebel group's Commandant is among the most complex characters of the year. [Aaron]
#7.
The Duke of Burgundy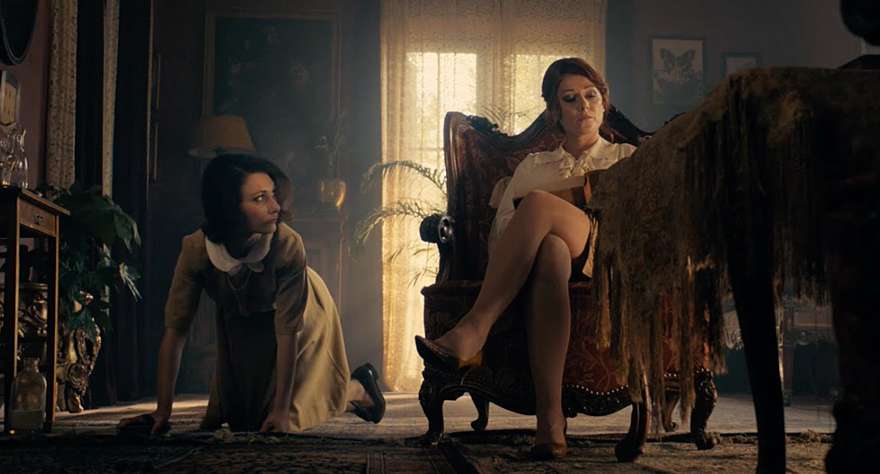 Love is love, and few films express that statement as strongly as Peter Strickland's The Duke of Burgundy. Starting out as a cutesy homage to the European erotica films of the '70s (Jess Franco fans need to run, not walk, to this movie), Strickland explores the BDSM relationship between Cynthia (Sidse Babett Knudsen) and Evelyn (Chiara D'Anna), two women whose "roles" in the relationship don't exactly match their true selves. With cinematography, production design, and a mood that feels lifted straight out of a dark fairy tale, Strickland's dreamlike elements work together to heighten the universal truths at his film's center. Here is a film that understands the work and compromise that comes with a relationship, the constant push and pull between selfishness and selflessness that can threaten to tear people apart, and it's all shown through a hazy realm that leans more on the side of fantasy than reality. Yet Strickland puts emotions at the forefront, and by doing so lets the strength of Cynthia and Evelyn's undeniable feelings for each other overshadow the luscious world they reside in. Love stories this original and beautifully realized are so rare, we should feel lucky we even have the chance to see them. [C.J.]
#6.
Sicario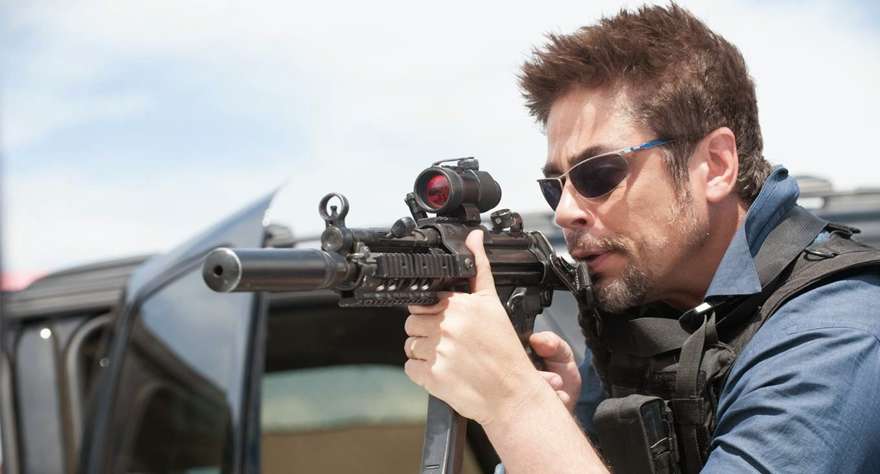 After directing a slew of extraordinary films who would have thought cinematic genius Denis Villeneuve's latest effort would be his strongest and most politically resonant film to date? Well, maybe some, but it's going to be a daunting task for Villeneuve to keep his streak of brilliance up for much longer; if he does, he'll be reaching the unspeakable heights of consistency only names like Kubrick and Kieslowski have attained. Sicario concentrates on an FBI agent (Emily Blunt, in a gorgeously realized performance) who pulls herself into quite the plight when she accompanies a government task force on an enigma of a mission along the United States/Mexico border. To say any more about the plot and the manner in which it unfolds would be a disservice to a film with such an airtight narrative structure and masterful pacing. It's a socioculturally relevant thrill-ride that you'll have to experience for yourself, but its shocking and increasingly tense nature may be too extreme for some viewers. [Eli]
#5.
It Follows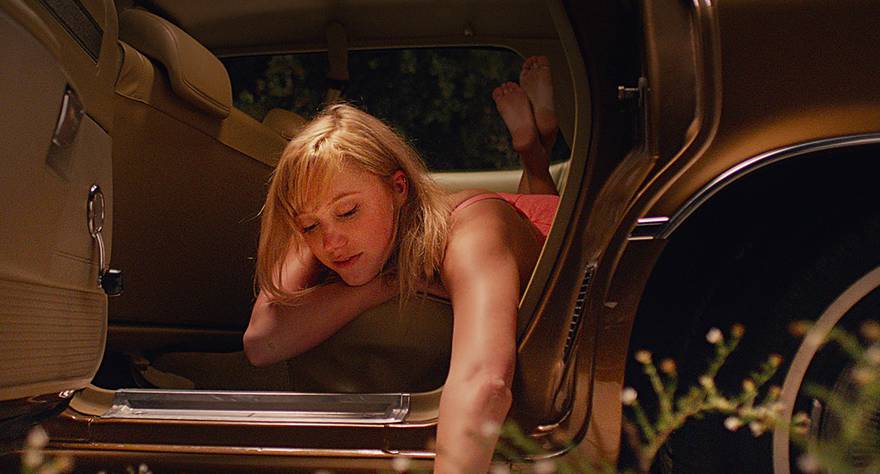 What can be said about It Follows that hasn't already been said a million times before? It's one of the greatest horror films to come along in years and a movie that works on multiple levels, with a new discovery being made upon each new viewing. A sexually transmitted monster has all the potential in the world to come across as cheesy, tacky, and otherwise ineffective, but director David Robert Mitchell approaches the subject matter with such a level of genuineness that it's impossible not to take seriously. Featuring excellent, naturalistic performances from its young, often inexperienced cast, there's a subtle nature to almost everything about It Follows. From the romance to the horror and even the humor, it's all downplayed, which makes it all the more effective in the end. Many horror movies fall apart because their characters aren't relatable, but in the It Follows universe, teenagers behave like teenagers—not like horror movie characters—and the film is all the more impressive because of that. From top to bottom, it's easy to see why It Follows has been so well-received by audiences and critics alike, and its theatrical success serves as a beacon of hope for the future of independent horror. [Blair]
#4.
Carol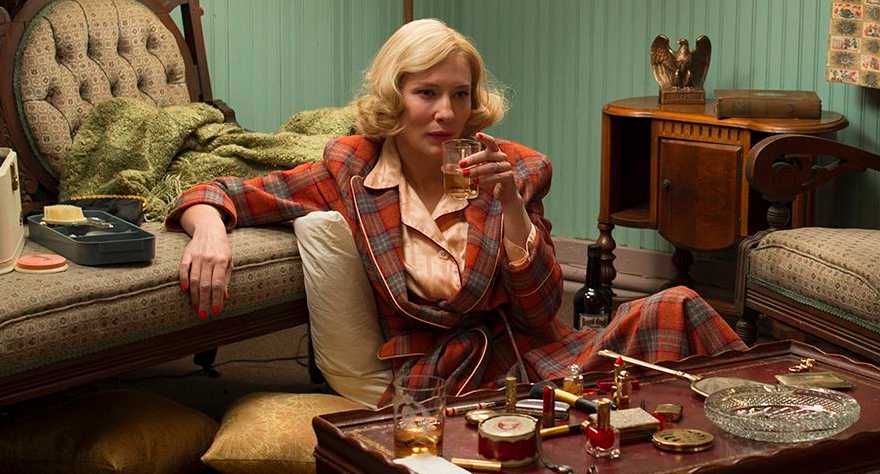 There are so many exquisitely composed elements to Todd Haynes' achingly beautiful new movie Carol that it becomes difficult to single out the aspects that make it so great. There is Phyllis Nagy's delicate script, adapted from the Patricia Highsmith novel The Price of Salt, which allows the film's central romantic plot to unfold in a patient and deliberate way. There are the wonderfully ornate period sets and costumes, with bold red accents that jump off the screen thanks to Edward Lachman's stunning cinematography. And, of course, there are the performances—not just from the always-excellent Cate Blanchett or Audrey Hepburn-esque Rooney Mara—but an earnest Sarah Paulson, a scorned Kyle Chandler, and a sleazy John Magaro, as well.
The first of Haynes' six feature films in which he didn't contribute to the script, Carol is the director's most precise work to date—from its production details to the performances. While the filmmaker's movies often focus on LGBT identity, the striking thing about the intimacy in Carol is its universality. Therese and Carol are more than women in a lesbian romance affected by the obstacles of a bygone era; they're people stifled by the expectations placed on each of them.
As Blanchett stares across at Mara over a cocktail or a shop counter, you'll want to lean in closer, too. The pair's carefully chosen words tease out the affair. Watching them slowly go back-and-forth, with alluring smirks and guarded looks, is among the most entrancing pleasures in film this year, as is the sound of Cate Blanchett simply saying, "Therese." [Zach]
#3.
Ex Machina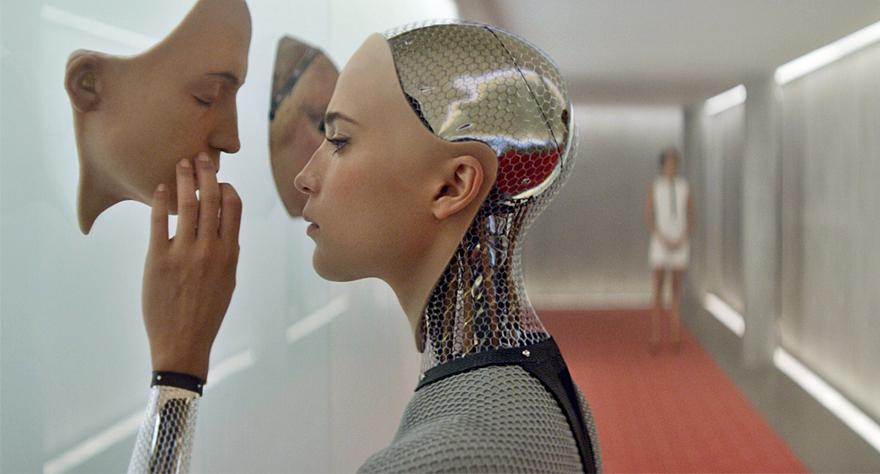 The trio at the heart of filmmaker Alex Garland's directorial debut, Ex Machina, represents an intricate blend of old and new. Invoking memories of past great fictional characters like Doctors Frankenstein and Moreau, Pinocchio's creator Geppetto, and even Willie Wonka, is Nathan (Oscar Isaac), the inconceivably wealthy and immeasurably intelligent inventor of a fictional Google-like search engine. Representing the future is Ava (the spellbinding Alicia Vikander), an artificially intelligent robot created by Nathan. Caught between creator and creation is Caleb (Domhnall Gleeson), a whiz of a programmer whom Nathan recruits to test Ava's believability as an AI, but a simple man nonetheless and the pivotal completing part of this most bizarre of love triangles. As Caleb studies Ava and gradually becomes taken by her, so too does Ava study, and fall for, Caleb. Watching them both is Nathan, whose motives for recruiting Caleb become cloudier as the days pass. What first presents itself as a futuristic drama laced with themes of morality and anchored by a peculiar alpha-male (Isaac is terrific as the genius recluse), gradually becomes a riveting psychological thriller that keeps the viewer captivated and drives to a bold ending. Sci-fi noir is alive and well and is not to be missed with Ex Machina. [Michael]
#2.
Spotlight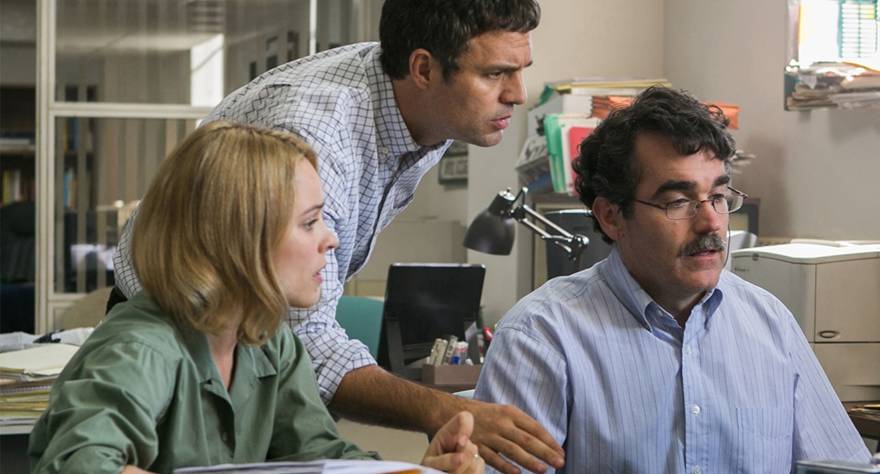 Tom McCarthy has done the unthinkable. Just one year after directing the horrific flop The Cobbler, McCarthy turns in a film that not just rinses the bad taste out of our mouths from his previous effort, it puts him in the conversation for one of the best films of the year. Spotlight is a gripping newsroom drama based on the Catholic Church's sex abuse scandal uncovered by the Boston Globe. Though despite the grim subject matter, watching Spotlight unfold is utterly entertaining. That's because the film keeps its foot on the acceleration for the whole ride, providing plenty of energy and tension without wasting a single moment.
Spotlight is a well-oiled machine firing on all cylinders. Not only does the electrifying pace carry the neatly arranged script, but the ensemble cast puts on a clinic on how to act as a team. It also doesn't hurt that the cast is comprised of A-listers like Stanley Tucci, Mark Ruffalo, Michael Keaton, Liev Schreiber, and Rachel McAdams, each performing at the top of their game. Any one of them could have stolen the show by flexing their acting muscles; instead, they show discipline by working together, creating incredible chemistry and making the entire film better in the process. Without being exploitative (which would have been easy given the subject), Spotlight exceeds by focusing on the teamwork of its investigative journalism case. The film doesn't just do a few things right, it does everything right, which is why Spotlight is one of the best procedurals in years. [Dustin]
#1.
Mad Max: Fury Road
There are many things I expected from George Miller's long-awaited next installment/reboot of his Mad Max series. I knew there would be explosions. I knew there would be cars embellished with crazy apocalyptic garnishments. I knew there would be a lot of sand. And I figured there would be a fair amount of zooming vehicles flipping and being walked on as though the laws of physics don't apply in this futuristic world. I did not expect there to be larger themes than your garden variety hero tale. And I certainly did not expect the hero to not be Mad Max. Waiting 30 years to create the next vision of his gasoline-fueled future, Miller proves he has ungodly amounts of patience. Patience to ensure that technology would catch up with his vision, and patience to ensure that when he told his next story it would be to an audience who could fathom that even in a world of chaos, the significance of equality is fundamental to our humanity and worth fighting like hell for. Not everyone has embraced the surprising themes of Fury Road, but those tickled by just how exciting, fun, and road raging this action film is can't help but admit that what raises it to perfection are the kick ass ladies leading the charge and the deeper issues they face. Mad Max: Fury Road closes with a quote from the future: "Where must we go…we who wander this Wasteland in search of our better selves?" Miller pushes us to consider our place and responsibility, no matter the wasteland we call home. And like his War Boys, his mouth shiny and chrome, Miller presents his film as though to say "Witness me!" Turns out an action film can be a visual extravaganza and hold itself up with a stiff backbone of ethics and morality. Witness the bar being raised. [Ananda]