The Underdog: March 2015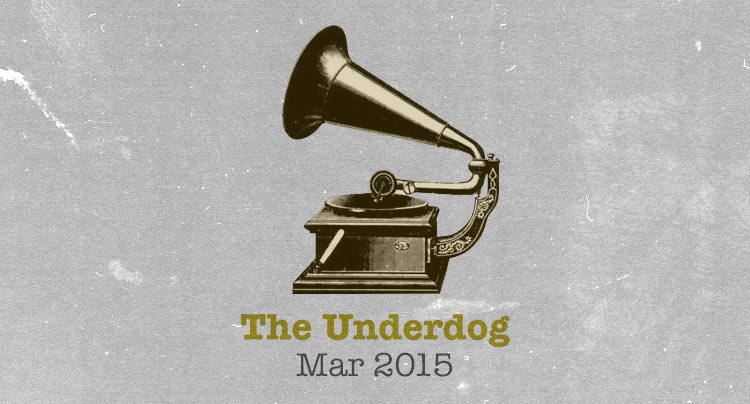 The past couple of Underdog features have begun with some sort of mini-rant about the lack of music that's typically released from December through February, while also presenting the positive outlook that March tends to be a return to the normal, rapid-fire pace of album releases. This March proved no exception; whereas the past couple of Underdogs each had less than ten albums featured, since there just weren't enough to find, for this edition, it was tough to narrow the crop down. It's a complete reversal within The Underdog, one that should compel you to search for music beyond what'll be written about here. Aside from the releases we'll focus on this month, March has played host to many excellent off-the-radar releases; however, here are the ten that, to our ears, are the best.
If you're on Spotify, you can follow along all year as we add to The Underdog's playlist to constantly be sampling some of 2015's best indie music. 
EULA – Wool Sucking
You probably didn't know that "wool sucking" is a thing that cats do (Google it), which is exactly the point. EULA turn ordinary things into unsettling images, making some of the most eerie music in recent memory from just guitars, bass, drums, and whatever instruments or computers are responsible for the noise and creaking ambience surrounding their songs. These songs sound like they were recorded in a basement with barely any light, using just the most basic of technology, and this sense of dread pervades these minimal, encapsulating songs. "Like No Other" is a restrained post-punk yelp that reminds listeners why everyone used to love the Yeah Yeah Yeahs; the punchy unease and doom-laced bass of "Aplomb" compares nicely to similar contemporaries The Wytches; "Orderly", previously released as a 7″, features unsettling percussive stomp, poisoned guitar lines, and hauntingly off-pitch vocal delivery reminiscent of Milk Man-era Deerhoof. Sure, EULA have precedents, but their music is some of the most refreshingly and experimentally demonic post-punk to come around in a while.
Fluoride – Material
If your newly founded record label's first three releases (which, in this case, were all released on the same day) are each tough to classify by genre, you're probably doing a good job. Fluoride, the industrial-noise-hardcore-dance-who-knows-what side project of Beach Fossils' Dustin Payseur, is one of the flagship bands of newly founded Bayonet Records, which Payseur owns and operates with his wife. There's no one descriptor that can confine Fluoride's sound, and any that might apply to one song on their debut, Material, isn't all that likely to apply to another. The blurry, monstrous chug and scathing scream of "Glass Bricks", for example, stands in remarkable contrast to the thrust and groove of the snowy, static-heavy dance tune "Clay." Likewise, the pulsing glitches and buried shouting of "Mass Mind" stand starkly opposite the loopy industrialism of "Who Loves Me – Who Loves You." Although we're only blessed with 23 minutes of Fluoride's difficult, intense music at the moment, it's nice to see a new record label starting so strongly.
Ghost Camp – Tamal
When trying to describe Ghost Camp's music, look to their self-written Bandcamp biography for help: "witch pop" and "witch punk" rank among their tags. These terms fit pretty well: there's a moody underbelly to these songs, accounting for the "witch" part of things. The energy, tempo, and intentionally horrendous recording quality of Tamal, this New Brunswick quarter's debut, falls directly in line with the punk aesthetic; the sunny melodies (which, yes, quite effectively contrast the witching darkness that lies beneath) share similarities with dream pop or surf pop, depending on the moment. It's hauntingly blurry throughout as well: the individual elements of "Body Language" are tough to discern through its six-string drone, and the rhythm guitar line on "Soft Eyes" bleeds directly into the percussion. But "Soft Eyes" indicates the sharp future Ghost Camp may have ahead of them: the lead guitar melody outlining the chorus remains Tamal's most memorable moment. Although all eight of the album's songs are great, the melody of "Soft Eyes" leaps forward, and its vocals aren't buried as deeply into the mix. Avoiding clarity may be what makes Tamal a worthwhile listen, but when Ghost Camp embrace it instead, the results are truly spectacular.
Happyness – Weird Little Birthday
Hudson County, NJ record label Bar/None can seem to do no wrong. Best known as the springboard for The Front Bottoms' now hugely successful career, the label also includes lesser known greats such as DRGN KING, Breakfast in Fur, and, most recently, Happyness. This British trio is the newest signing to the label, and their reverence for the soft, warm warble of early 1990s lo-fi rock compares to fellow England blokes Yuck (for more Yuck comparisons, check out Lost Boy ? below). Their sound is familiar and friendly; despite its rock rhythms and instrumentation, it's so quietly recorded and full of slow-moving reverb that it feels like it's being broadcast from underwater. These songs sound like basic tape recordings, and their simultaneous intimacy and oddball charm ensure that they'll leave lasting impressions on a variety of listeners. Things are never quite right on Weird Little Birthday, their debut; these songs seem very well thought out and complete, yet an element nevertheless feels missing on many songs. Might more volume on "Monkey in the City" be helpful? Is "Anything I Do Is All Right" strangely lacking in percussion? Should there be another vocal overdub on "Naked Patients"? There's a notable feeling of absence in Happyness' psychedelic minimalism and love of Pavement-like guitar lines, but you know what they say: absence makes the heart grow fonder.
Lady Lamb – After
Lady Lamb's ability to blend many approaches to a melodically distorted take on folk rock across the length of one album might draw comparisons to one of last year's biggest names: Angel Olsen. In fact, Olsen has already become a standard, if not overused, comparison point for other artists in just over a year, but Lady Lamb's sturdy, diverse sophomore effort, After, can't escape the similarities. The parallels arise in part because Olsen was the first artist in recent memory to successfully impart an individual trademark to pounding noise anthems, harrowing Western ballads, and folk intimacy, among other disparate styles, on one album; After demonstrates that Lady Lamb is second-best at this art. Lead single "Billions of Eyes" is a stomping pop treasure; "Sunday Shoes" is a tranquil, heartfelt folk blanket; "Dear Arkansas Daughter" travels between a midtempo whirl of Western and twee to a surfing blast of endorphins; "Batter" employs an almost krautrock-like pathway towards cowgirl assertiveness. Sure, After runs a bit long at 56 minutes, but this much space ensures that most, if not all, listeners will find at least one song that sticks for a while. Whether one seeks folk, country, pop, or even punk, disappointment is lacking on After, a surprisingly overlooked release.
Lost Boy ? – Canned
This band's name is a question. Or a fragment thereof – no one knows if the lost boy in question is a subject or an object here. What's more obvious is that Canned, the first Lost Boy ? album for which songwriter Davy Jones recruits a full band, indeed offers plenty to get lost in. Although it's easy to complain about how similar these songs can sound both to each other and to the work of other musicians, they're quite charming even before the content of their lyrics becomes apparent. It may take a few listens before the words of these tunes creep forward from the fuzz-driven, lo-fi mess of the instrumentation, but the effort to discern these lyrics is worth it, especially since they often clash hilariously with the music. "USA" is an overblown, grinning power pop tune that details the much more upsetting matter of drinking oneself to death; "Revenge Song" employs ebullient garage stomp to cast sunshine on a shadowy tale of standard childhood bullying; "Fuck This Century" is, lyrically, exactly the slacker mantra it sounds like, yet it's cast as an upbeat, almost surf-like anthem. Laugh along with Lost Boy ?; once you're in on the joke, this album will open its doors right up.
Pile – You're Better Than This
Like friends and fellow Boston DIY music kings/Exploding in Sound labelmates Krill, Pile drill their anxiety, tension, and nerves into listeners' skulls using merely the standard rock band setup. The two bands are quite often compared, which may prove helpful for Underdog frequenters, since Krill was featured in the last edition; Pile might be what Krill would sound like in an alternate reality where Krill is endowed with two guitars rather than just one. Specifically, both bands' interplay between quieter, unsettling stretches and railing, searing fragments of dissonant screeching comes off quite strongly on You're Better Than This, Pile's latest album, due to their Pile's dual-guitar interactions. The riffs, arrangements, and song structures are endearingly complex, endowing these ten songs with a dreary, fearsome edge. Whether via statements as bluntly aggressive as "Tin Foil Hat" or as painfully droning as "Waking Up in the Morning", Pile always feel like their hinges are about to fly off, both musically and emotionally. The build up to such explosions tends to be quite drawn out, keeping the album interesting for most of its run.
Red Giant – Drones EP
Music historians and journalists tend to point to Massive Attack's Blue Lines as the first trip-hop album, but in the 23 years that have followed its release, the term has expanded to include styles less indebted to jazz, and more wrapped up in an eerie soul leaning. It's refreshing, then, to hear brand new New Brunswick, NJ duo Red Giant's classic approach to trip-hop. Their debut, the Drones EP, meshes the bluesy croon of local star Foxanne with ghostly drum machines, incredibly haunting atmospherics (including a faint siren on the aptly-named opener "Twin Peaks"), and the smoky, dim sheen of modal jazz. Producer Derrick Braxton couldn't have chosen a better vocalist for his fluid, phantom instrumentals than Foxanne; whether her voice is delivering tales of sci-fi apocalypse (Red Giant is named after the category of star; the scientific lyricism is very intentional) or being chopped and modulated into an element of the beat itself, its warm, comfortable hue drips beautifully into Braxton's liquid jazz backdrop. Foxanne isn't the only vocalist present, though; rapper Ken Cardo contributes a guest verse to the brief but highly effective single "R.apid E.ye M.ovement", and R&B warbler Travis James sings quite a bit of the six-minute fear-mongerer "Atmosphere." Featured artists are a trait of classic trip-hop very often missing in its modern equivalent and tangentially related genres, so it's refreshing to hear Red Giant calling in friends for help. A notable exception to this trend in trip-hop is Kendrick Lamar's unforgettable appearance on "Never Catch Me" by Flying Lotus, another producer who, like Braxton, owes a great debt to jazz. That Braxton and Foxanne are equally as potent with far fewer elements give even the most timid listener reason to delve deep into Drones, a debut that forecasts an exciting career.
Warehouse – Tesseract
Like the duo Fluoride mentioned earlier in this edition of the Underdog, Warehouse is another Bayonet Records cornerstone. How Dustin Payseur managed to pick these Atlanta kids out from the crowd isn't immediately apparent, given the infinite number of other bands seeking record deals; what's more evident is that Payseur has chosen a great act to sign. The devilish sneer of Elaine Edenfield recalls the earliest no wave iterations of Kim Gordon, and the jagged but subtle post-punk dissonance of her band also recalls Sonic Youth at its prime. Tesseract, their debut album, feels like it's playing live from your garage, where these five punk aficionados probably recorded it. The cold steeliness of Joy Division provides a template for the simultaneous bounce and horror of Warehouse's music, which feels modern despite its clear references to past idols. Maybe that's because, on top of its post-punk template, there are moments dripping with light reverb and jangle courtesy of – you guessed it – Payseur's own Beach Fossils. There's a ring and sparkle to Warehouse's take on early post-punk that ensures their tunes are confused with no one else's, and it's a spark that's unlikely to die anytime soon.
Yowler – The Offer
The word "yowler" may look and sound similar to "howler", but howling is exactly the opposite of what's happening on Maryn Jones' solo debut. Jones, best known as a member of Saintseneca and the frontwoman of All Dogs, retreats within herself on these solemn, intimate, hushed songs, released via top-notch DIY label Double Double Whammy. The faint hum of one guitar, whether the bassy, thickly clean electric harmony of "7 Towers" or the acoustic hymn of "Yowler" (yes, there's a song named this, too), is often the sole accompaniment to Jones' rounded, vulnerable singing. There's an explicit loneliness to these songs, a mood that very easily welcomes dejection and melancholy. That this album sounds like it was recorded on a cassette in Jones' bedroom as the sun rises after a night of bad sleep only adds to their intimate, heartbroken feel. There's really not much happening in these songs, yet they say so much; maybe there's some howling going on here after all.