The Underdog: November 2014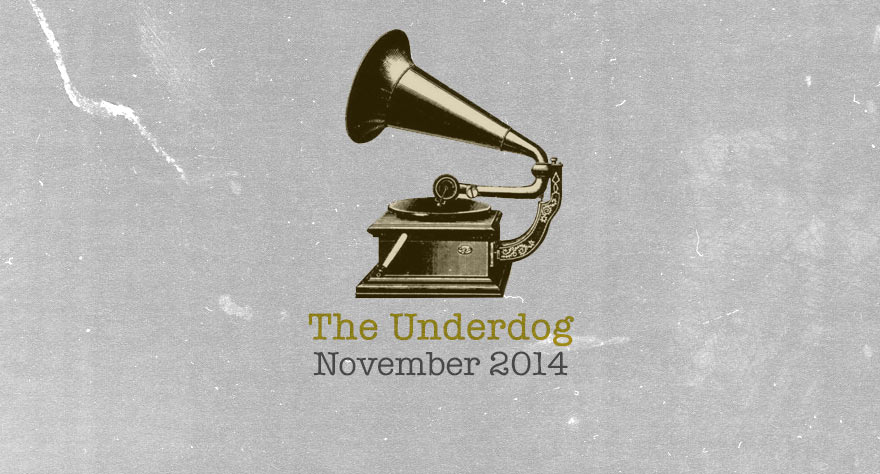 At the moment, the music industry is temporarily quieting down, as it does every November. During this yearly period, it might seem like there's less music waiting to be consumed, which is where The Underdog comes in. Let us guide you to lesser-known releases, great works that were overlooked in light of bigger names this month. Something here is sure to fill the musical void that some listeners experience around this time of year.
Bugs in the Dark – Cross My Heart Little Death EP
Blues rock was invented long ago; today, t exists in so many different forms that the term feels elementary and almost condescending. But what better way is there to describe Brooklyn three-piece Bugs in the Dark than with this signifier? Their guitars flame distantly with the murky, howling groove of classic country blues, and their vocals sneer with an acidic fierceness. The latter of these qualities is certainly a somewhat more recent development in blues-based rock music (courtesy of names like Patti Smith, Siouxsie, and Karen O), but the raw, homeland feel that the former traits are responsible for is a classic that's brazenly revitalized on the Bugs' most recent EP, Cross My Heart Little Death.

Celestial Shore – Enter Ghost
Brooklyn trio Celestial Shore's youth is palpable. The fractured, tense, bent-guitar noise that throws their second album, Enter Ghost, into overdrive bears a rough novice spark. The alternating havoc and psychedelia of this opening track, "Creation Myth", is one of two distinct modes in which Celestial Shore operates; a trippy haze is elsewhere cast over Velvet Underground-like tunes such as "Weekenders" and "Too Cute." Even at its quietest, though, Enter Ghost boasts a juvenile roar, yet it's actually pretty mature for a bunch of kids who may not yet be out of high school. Crafting tunes this vivid and fierce from just a guitar, a bass, and a drum is a far more adult skill than might be expected from these guys, but they're working very well with what they have.

Crying – Get Olde Second Wind
"Combine chiptune with basement punk and emo? Why not!" The members of Purchase, NY's Crying likely had this conversation at some point. A style that sounds ridiculous and overblown in theory, it's actually remarkable enough to have landed this group a record deal or two. After issuing the EP Get Olde on rising indie label Double Double Whammy, the relatively small, but consistently excellent, label Run for Cover signed Crying, reissuing Get Olde with the companion EP Second Wind. The double EP follows both the hyperactive 8-bit cues of Anamanaguchi and the desolate grimness of myriad emo bands. Vocals that might sound sad and distant when accompanied with traditional sounds instead flourish and rattle here. "Gotta check my email just like every other night/Gotta sip that 40 just like every other night," as muttered dejectedly on "Olde World," gains layer upon layer of exciting vivacity despite the hopelessness underlying these sentiments. It's a balancing act that Crying pull off constantly on Get Olde Second Wind, a short assortment that's so catchy its forlorn nature can be easy to miss.

Gifts – Seven Songs
Genres aren't necessary to classify Gifts. All that needs to be said is that their guitars rip no matter what, their vocals travel lucidly over inhale-exhale drum blasts, and their emotions run directly down the middle of their songs. Seven Songs provides, yes, seven examples of this immense talent. Of all the things that two guitars, a bass, a vocalist, and a drum kit can achieve, very few are off-limits here. Check the blast beats on "Tracing Paper" and the mosh-worthy guitar slam that opens "Low": Gifts shatter boundaries all the time, analogously to how their songs might shatter eardrums. But that's no excuse not to play this one as loudly as possible.

Gold Lake – Years
Here's a band that exemplifies everything that the Internet blogs about these days, yet somehow haven't gotten the attention they deserve. Brooklyn's Gold Lake layer crooning, warm, often-harmonized female vocals with highly reverbed, evocative guitar swirls and a generally gorgeous, striking atmosphere. Buzz names like Haim and Hundred Waters instantly come to mind, but Gold Lake might almost beat these acts at their own game. The soaring, beautiful vocal harmonies of "Severed Land, The Sound" are some of the year's best, and the glittery blossom of "Home" employs musical retrospection awfully well. A galloping feel is common here, further solidifying potential comparisons to Fleetwood Mac (see this album's "Echoes" for confirmation). Gold Lake aren't nearly the first act to do what they do, but they make their sound feel completely novel, a tremendous task worth admiring.

Mitski – Bury Me at Make Out Creek
I can't really think of anybody who embodies the term "underdog" better than Mitski does. Her songs dwell in loneliness, defeat, and desire; her fan base is almost alarmingly loyal, yet is relatively tiny; the blog buzz is currently pushing her towards indie stardom, yet for everyone aware of her goddess status, there are a bunch of people who've never heard of her. Furthermore, almost everyone who has heard Bury Me at Make Out Creek calls it one of their favorites of the year, and for good reason. The album can be as quietly heartbreaking as "First Love // Late Spring", "Francis Forever", and "I Will", but even these songs explode into the frenzied loudness that truly makes this collection a home run. Other tracks like "Townie", among the year's best songs, kick the door down immediately; "Drunk Walk Home" further signifies the apex of maddened, demonic, emotive singer-songwriting. Mitski might be holding her breath with a baseball bat, to quote "Townie", but the entire world is waiting on her big break. Don't be surprised if it happens right this second, but until then, read our review of Bury Me at Make Out Creek.

Nots – We Are Nots
No Wave is making a comeback lately, with bands like Ausmuteants, Parquet Courts, and Memphis, Tennessee's Nots on board. Their jagged punk tunes throw some nods towards post-punk, but the influence of kraut-rock and noise is far more evident in their craft. Nots don't sing; what they do is closer to chanting and bellowing, not too far off from what The Clash and the Dead Kennedys did in their heyday. Instrumentally, their steely, warehouse bass, guitars, and drums spell out doom and irreverence without ever getting too loud. Dissonance is Nots' trick instead, which would likely make Siouxsie Sioux and Patti Smith proud (again). If the goddesses theoretically approve, why not listen to it?

Pilots in Orbit – They Go Back Where You Found Them EP
One of the first lyrics on Pilots in Orbit's final EP states, "I'm gonna waste your time." While it's doubtful that this is actually a nod to the band's conscious decision to make this their breakup release, the sentiment is misleading. They Go Back Where You Found Them isn't even twenty minutes long, but it's some of the best finger-tapped, emo-indebted goodness of recent times. It's a style New Jersey is quite versed in; contemporaries Vasudeva do this thing pretty well, for example. But what Pilots in Orbit have over Vasudeva is a deft, emotive vocalist, one who's backed with a couple of other voices fleetingly enough that the harmonies don't descend into overly tender territory. Instead, the band's racing guitars form thrilling, sparkly anthems. If these qualities don't convince you, know that the band formed from their ashes, El Americano, is already getting rave live reviews, and they haven't even recorded their music yet.

Two Inch Astronaut – Foulbrood
I reviewed this album somewhat harshly. I'd still say it has a handful of problems to fix, but a band this young deserves praise and attention for their best moments regardless. That's part of why they're on the list, but a more important reason is that their songs, when good, are actually great. Opener "Foulbrood" is only the first instance here of one guitar covering for two or three guitars in its flexibility and skilfulness, and it also displays Sam Rosenberg's vocals achieving the same great heights. "Part of Your Scene" pulls off the same trick with even more vigor; "Type Four" hosts an even deeper stutter and odd pacing to its riveting garage punk. The album peaks with the tensions of "No Feelings", an expert study in the buildup and release of musical stress. Choruses that rip hard aren't tough to come by, but ones that do so with this much intensity are a bit rarer. Props to the upward trajectory these guys are carving for themselves; they're not quite there yet, but pure excellence can be expected soon.