2016 Oscar Nominated Shorts Preview: Documentary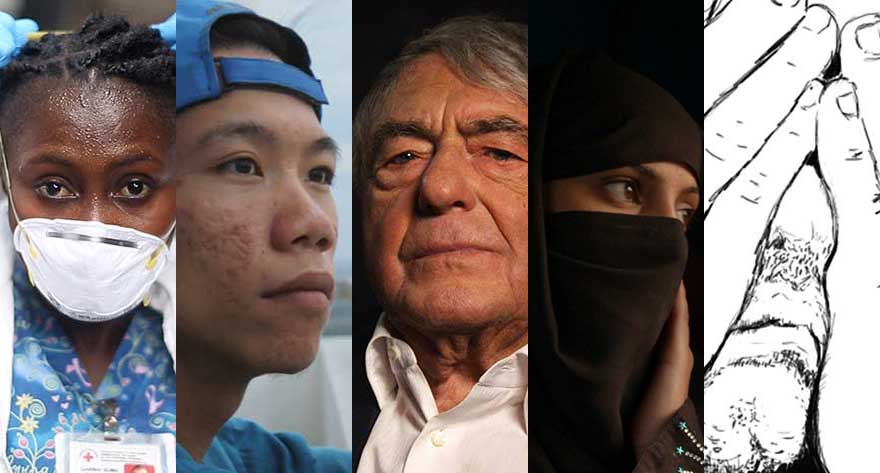 With respect to all short filmmakers, documentary short films are the most challenging to execute. Sure, animated shorts may require the added dimension of art, and both animated and live action shorts may require the adoption of a traditional three-act structure in a greatly condensed form. But neither animation nor live action shorts bear any burden of proof. There aren't facts to present, histories to tell, or cases to make. Documentary shorts have those facets. Documentary shorts also come with mandatory moments that must be made to fit within the condensed narrative, and they do not enjoy the luxury of creative fictional exits. These are challenges greater than any of those faced by other types of short films. This year's slate of Oscar nominees is no exception to those challenges.
Body Team 12 (directed by David Darg)

For many, if not most, the Ebola virus is something far away, something we only read about in the news. In his impactful and efficient documentary, Darg brings viewers through the screen, drops them into Liberia, and puts them on a harrowing ride-along with the members of Body Team 12. This team, part of the Liberian Red Cross, has the difficult task of removing the bodies of those who have succumbed to the virus. The film pays particular attention to the sole female member of the team, Garmai Sumo. This may be the shortest short of the bunch, but it uses every second of that time to solid effect.
Chau, Beyond the Lines (directed by Courtney Marsh)

The subject of this documentary is Chau, a teenager living at the Lang Hao Binh Agent Orange Camp in Ho Chi Minh City, Vietnam. The camp is special in that it caters only to those children who have been born with physical handicaps as a result of Agent Orange used during the Vietnam War. Unlike the other members of the camp, Chau has aspirations to become a professional artist and clothing designer. This means he has to leave the confines of the camp and make it on his own. The ravaging effects of Agent Orange on the collection of children make this film difficult to watch at times, and oddly, once Chau is on his own, the film slows.
Claude Lanzmann: Spectres of the Shoah (directed by Adam Benzine)

Shoah is generally regarded as the greatest film about the Holocaust ever committed to celluloid. Clocking in at more than 9 hours, Shoah took 12 years to produce, five of which were spent editing the 200+ hours of footage. Benzine's documentary, a reflective one on the masterpiece, is part history lesson, part film studies course, part behind-the-scenes feature, and part biography of Shoah's creator, Claude Lanzmann. While loaded with interesting information, the biggest challenge this Oscar-nominated short faces is doing justice to its subject. To capture anything of substance about or related to a 9-hour epic, and to do so in only 40 minutes, is a tall order. Benzine touches only a little on as many points as possible.
A Girl in the River: The Price of Forgiveness (directed by Sharmeen Obaid-Chinoy)

The subject of this unbelievable documentary is a young Pakistani woman who survived an attempted honor killing. This practice is, at least anecdotally according to Obaid-Chinoy's film, a growing trend in Pakistan and one that Pakistani courts are actually tolerating. The survivor of an attempt and the focal point of this film, Saba Maqsood, made a decision her family took issue with, so her father and uncle took matters into their own hands. Saba survived, creating a dynamic of guilt and forgiveness that doesn't accompany most instances like these. This documentary is spellbinding from the first frame, capturing Saba's personal struggles, her family's defiance, and the complexity's of a culture that allows such awful behavior.
Last Day of Freedom (directed by Dee Hibbert-Jones and Nomi Talisman)

While each of the nominated docs are personal in their own ways, this film feels more personal that the others, thanks largely in part to how it is presented. Bill is the narrator of the story about his brother, Manny, and the lifelong struggles Manny faced including illiteracy, several tours in Vietnam, PTSD, and finally a date with the executioner for a murder he committed. The fact that Bill narrates gives the film emotional heft, but it's the animated presentation accompanying the story that serves as a double-edged sword. It offers an engaging visual style, and as effective as it may be, ultimately it's one artist's interpretations of another person's words. Stick around for the closing title cards—they're chilling.
If I had an Academy vote, I would cast it for A Girl in the River without hesitation. It combines excellent technical execution, a riveting tale, a protagonist to root for, and the most shocking of subject matters, particularly in the 21st century. It also bears the distinction of being the only doc of the five I want to re-watch, which is a good barometer for me.