Monthly Mainstream: May 2014 Edition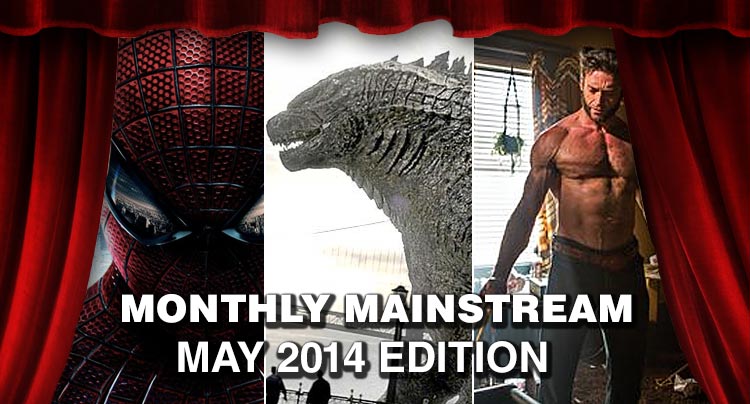 We may seem like reclusive budget-shirking obscure film enthusiasts over here at Way Too Indie, and well, some of us are, but we're not living in any dark holes and far be it from of us to say that a film that had a little money behind it isn't worth our notice. So here we are, covering our bases. In The Monthly Mainstream we'll look at what's doing well at the box-office (and secretly hoping it's an indie darling) and all those major releases that demand our attention in the name of pop culture.
The first real month of the summer big-budget movie extravaganza! May treated us to some money-infused film fun.
The Amazing Spider-Man 2 kicked off the month with an overly involved and schizophrenic plot that is of course fun and dizzying to look at but really only delivers an electric background for Andrew Garfield and Emma Stone to stand in front of and showcase their real-life chemistry. At least it's not Spider-Man 3? At any rate, it's beginning of the month release date gave it the ground to win the monthly box-office, but we don't imagine it will outlive some of the other releases in May. Godzilla crept up real close to The Amazing Spider-Man 2 in numbers but everyone's favorite oft-remade monster did better in its opening weekend than everyone's not-so-favorite oft-remade comic hero.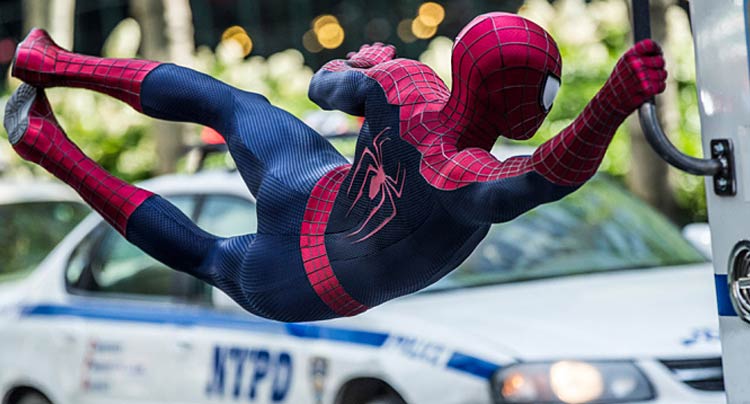 The Amazing Spider-Man 2
Godzilla is a fantastic update on the franchise, getting back to the root of what made the films so popular throughout the 50's and 60's, the grandeur of the King of the Monsters juxtaposed with the struggles of interesting people. Granted the people are far less interesting to watch than Godzilla is and therefore he should have been given a lot more screen time, but it's still a very fun watch and an excellent reboot from Gareth Edwards. Staying firmly within the theme of franchises, the next big film pushed on us this past month was X-Men: Days of Future Past. This follow-up to 2011's X-Men: First Class origin story invites the old X-Men gang back showing the dire situation in the future where the mutants are being hunted and killed by robots designed to outmatch them at every turn. The only way to re-write history is to send Logan (fan-favorite Wolverine) back into his younger self in the 70's to prevent Raven/Mystique (another fan favorite, hey J-Law) from making a mistake that will butterfly effect the dire future the X-Men face. Bryan Singer's return to the franchise is refreshing and the film has a great balance of action and fun with some fantastic uses of slo-mo and plenty of laughs at the expense of the 70's setting.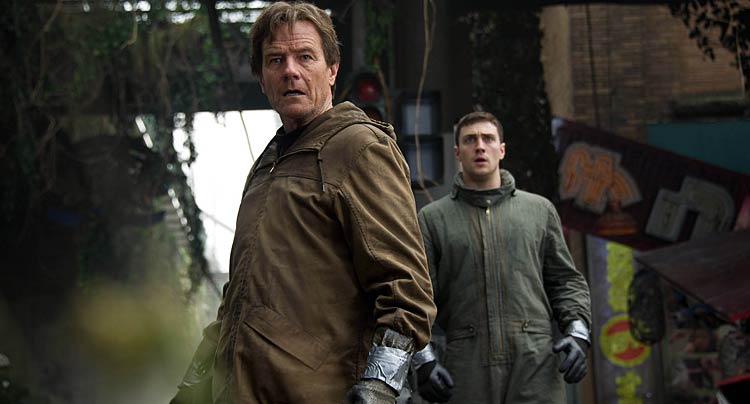 Godzilla
Rounding off the month's explosions, though of a much more magical variety, is Disney's revisionist tale Maleficent, starring Angelina Jolie. We can all agree the woman excels at bad-assery, but the film's attempt to put a dash of feminism in with a large helping of fantastic imagery, while milking fairy tale nostalgia (of the variety that still keeps horribly written TV show Once Upon a Time going) does not appear to be the magical potion for a well-made film. At any rate the spectacle of it all seems to be just distracting enough to have critics torn on whether or not the film is worth seeing.
Looking ahead in the lovely month of June, we continue to see bedazzled performances. Tom Cruise's Edge of Tomorrow, YA sap-fest The Fault in Our Stars, the highly anticipated sequel to the clever and cute How to Train Your Dragon, summer screamer The Purge: Anarchy, and then at the end of the month, gearing up for the 4th of July, we'll be treated to Michael Bay's way of showing patriotism: destroying America with Transformers: Age of Extinction. And don't forget to see festival favorite Snowpiercer at the end of the month. So far we've all been pretty impressed over here.
Enjoy the pageantry of summer at the movies, but don't forget to make time for a few indie June goodies. This month has some great options (many of which are on VOD) including Obvious Child, Ping Pong Summer, Venus in Fur, and documentary The Internet's Own Boy: The Story of Aaron Swartz.
Stay cool folks!
May Box Office Domestic Grosses
1. The Amazing Spider-Man 2 (Sony) – $192,735,902
2. Godzilla (Warner Brothers) – $174,439,686
3. X-Men: Days of Future Past ( Fox) – $90,823,660
4. Neighbors (Universal) – $128,966,365
5. Maleficent (Disney Buena Vista) – $69,431,298
2014 Year-To-Date Box Office Domestic Grosses
1. The LEGO Movie (Warner Brothers) – $255,436,997
2. Captain America: The Winter Solder (Disney Buena Vista) – $255,176,550
3. The Amazing Spider-Man 2 (Sony) – $192,735,902
4. Godzilla (2014, Warner Brothers) – $174,439,686
5. X-Men: Days of Future Past (Fox) – $162,020,201