Coachella 2013: Most Anticipated Sets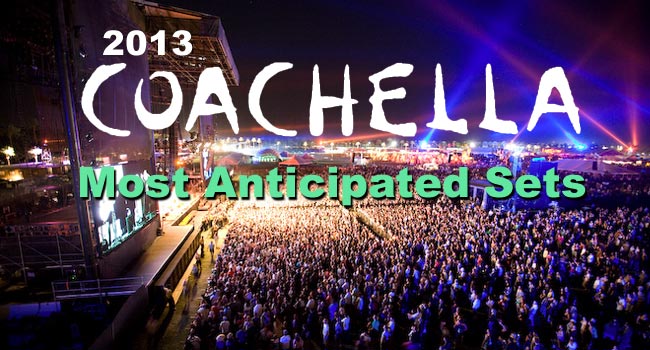 Well here we are sitting roughly two weeks out from my trip to The Coachella Valley Music and Arts Festival (Weekend 2). This will be my third venture to the land of extreme heat and never ending beats. The past two and a half months have flown by unexpectedly at an exhilarating pace. I'm looking forward to setting up my tent and my canopy, sitting back in my lawn chair and soaking up that devastatingly harsh California sun. I'm probably the only one, but after this cold, cold winter we've had here, I'm ready to be charred by the sun.
Being as we're very close to this festival going down (Weekend 1 of Coachella is begins next Thursday), I thought I'd share the artists that I'm most excited to see. This year is an interesting one for me. I'm not as satisfied with the lineup this year as I have been the two previous years I went. While I think this year has a very strong undercard, this could be the first year I don't see a single headliner. This all depends on the set times of course, but in years past I've planned a lot of my weekends at the Polo Fields around all of the headliners (save for Kings of Leon only because I saw them elsewhere 7 months previously). The one headliner I'll probably seek out is The Stone Roses. I really dig some of their songs and would love to get a chance to see them.
But alas, I'm complaining too much. As I stated, this year's undercard is very superior to last year's. This year I'll more than likely be running around in the mid-day seeing some of the acts that I'm more interested in, which will leave a lot of my nights open to roam the lush green grass that fills the fantastic ground, grab a nice expensive Heineken and sit back and enjoy that crazy art work that populates the festival.
My original plan was to write a daily blog of each day at the fest, but my laptop's Wi-Fi doesn't really work and when it does, it's horrific. So I'll have to resort to tweeting from our Way Too Indie account (if you're not following us, and why aren't you? @WayTooIndie) and will have to write up an account when I return. But seriously, please follow us to get an up close and very personal glimpse of one of the best music festivals in the U.S. You'll be getting plenty of sights from us as they happen.
Ok, let's get onto what I really want to talk about, my list of artists I'm most excited to see. I've been thinking a lot about this article lately and how it would probably focus a lot on EDM. And yes, a lot of the artists I'm dying to see are electronic based. So if any of you are not fans of the genre, sorry. But there are some gems at this festival that one can see if dancing with glow sticks is not your thing. But enough babbling, here they are.
List of artists I can't wait to see at Coachella 2013:
How to Destroy Angels
While I won't say that I'm the world's biggest Trent Reznor fan, I would definitely bow down to his feet and kiss his toes if I had the chance. I'm a huge NIN fan and the chance to see his new band on the Polo Fields is a welcomed opportunity. While I don't dig a lot of the material HtDA has released, I just know (from the previous 7 times I've seen NIN) that Reznor and company are going to absolutely kill it.
Yeah Yeah Yeahs
Not the biggest YYY's fan, but I've been wanting to see them live for some time now. Their newer material has left a cold feeling with me after initial listens, but I couldn't possibly miss the chance to see them play some of their older hits live.
New Order
I don't really know what I really need to say about one of the best pop bands of 80's. They've created some of my favorite songs of all time from "Temptation" to "Age of Consent". I've heard that they're not as good as they used to be, but that isn't enough to steer me away from their set.
Benny Benassi
One of electro's best makes his way back to Southern California. I've never been the biggest fan of BB but I know what a legend he is in the genre and cannot wait to see him rip apart the Sahara Tent with his pulsating beats, very much looking forward to his set.
Dropkick Murphys
Let me get this out of the way. I know one song by DMs and it's because it was used (very well) in a very popular movie. But I would be an idiot to miss the exuberance of their set. Whichever tent they play (my guess is the Gobi) they are going to bring it and that crowd will be more than up to the challenge of matching their energy.
Paul Oakenfold
Another legend in the electro genre that I absolutely must see before I die. His Swordfish soundtrack/score was a huge reason I got into electronic music. While he hasn't been a big player for years now, there is no way I'm missing this set.
Eric Prydz
This guy is going to utterly slay the Polo Fields on Sunday night. I'm sad (and understanding) that he doesn't play "Call on Me" (a fantastic anthem) anymore, I know he is going to end the weekend with a bang. It's entirely possible Prydz will be closing down the Sahara for the weekend and you just know he's going to want to show off that fantastic stage set up he has.
The Faint
I got a chance to see this Omaha based outfit about 5 years ago and they killed it. I've listened to all of their albums a couple of times and even though I love some of their songs I've never been into any of their albums as a whole. But I keep going back to when I saw them and how much fun I remember having. Seeing them at Coach is something I'm very much looking forward to.
Rodriguez
I (like most of you I'm sure) have heard of this artist mostly because of the (now Oscar winning) documentary, Searching for Sugar Man. I wasn't planning on seeing him until I finally saw the film, but now I don't think I can miss him. His voice so soothing and his music so peaceful, laying on the greenest of green grasses in Indio while I'm whisked away is something I can't wait to happen. While, I've heard he talks a little too much during his sets and people have complained that he doesn't sound as good (how could he in his 70s), I'm going to ignore the negatives and immerse myself in his beautiful harmonies.