Short Cuts: 26 Amazing Shorts Playing at TIFF 2015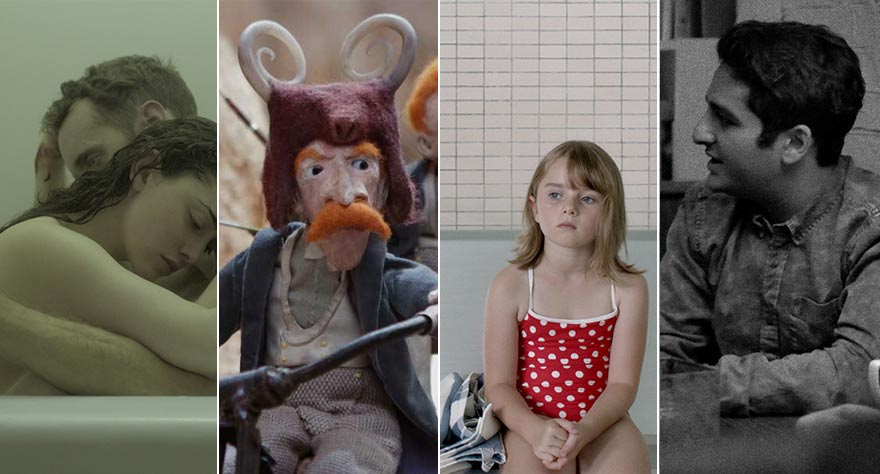 Last year, we were lucky enough to profile TIFF's Short Cuts Canada and Short Cuts International programmes, which compiled a huge amount of short films from seriously talented filmmakers for TIFF audiences. It was a fun feature for us to do, and we knew that, come next year, we'd do the same thing again. Now it's 2015, and we've finished getting a glimpse at some of what TIFF has to offer us this year. Once again, the results are the same: an impressive and diverse group of shorts from around the world, with an especially strong showcase this year from Canadian filmmakers.
And for anyone who might be unsure about buying a ticket to one (or more) of these 11 collections of shorts, it's worth noting that sometimes you might be one of the first people to catch a glimpse at the launch of a new filmmaker's career. Last year, Andrew Cividino's short Sleeping Giant played, and now his feature-length adaptation of that short is having its North American premiere at TIFF. In other words, it's worth your time to take a look at what's playing this year in Short Cuts and help support some terrific films. We've gone through each of the 11 programmes below and picked 26 of our must-sees. If any of these sound up your alley, don't hesitate to snag yourself a ticket for the programme it's in if tickets are still available. You won't regret it.
The Toronto International Film Festival runs from September 10 to 20. Find out more about the Short Cuts programme and buy tickets, visit TIFF's official website. And if you can't make it to TIFF, you can still watch some of their shorts for only $10 through their new Short Cuts Re/mix screening experiment.
But first…

While it's not playing in Short Cuts, it would be a huge mistake on our part if we didn't mention Nick DenBoer and Davy Force's short film The Chickening, which will open this year's Midnight Madness programme. I've been told to stay mum about the many, many twisted surprises in store for viewers once they lay their eyes on The Chickening, and after watching it, I wouldn't dare speak a word. What I will say is that the above picture of a chickenified Jack Nicholson should let you know that this short is some sort of unholy fusion of poultry and Stanley Kubrick's classic, but that's all I will say. I can't wait for TIFF audiences to lose their minds once they experience The Chickening. [C.J.]
Now, on to the main event…
Short Cuts Programme 1
Mobilize

At less than 3 minutes, Caroline Monnet's Mobilize covers plenty in its exhilarating montage of Indigenous people adapting to Canada's ever-changing landscape over the years. From building a boat to travelling the lakes to building cities and navigating the 9 to 5 work week, Monnet keeps things moving at an exciting, hypnotic clip. And the soundtrack, a track by Tanya Taqaq, gives the proceedings a visceral, "adapt and survive" quality. [C.J.]
O Negative

Steven McCarthy's moody, nearly wordless short starts with a man (McCarthy) driving his ailing girlfriend (Alyx Melone) to a cheap motel before feeding her his own blood. Yes, this is a vampire movie (sort of), but it's a stylish and effective one that's not afraid to get bloody (and it gets bloody). Think of this as an unofficial sequel to Let the Right One In, and you'll start getting an idea of what O Negative is like. [C.J.]
That Dog

Musician Nick Thorburn (from bands like The Unicorns and Islands) makes his directorial debut with That Dog, and he's assembled quite the cast for this 15 minute short. Following three people staying in the same apartment complex (Andrea Riseborough, Tim Heidecker and Michael Cera), Thorburn's short seems plotless at first until the complex's close quarters and awkward situations between tenants cause an unintended chain reaction. This is the sort of story that feels ripe for an expansion to a full-length feature. [C.J.]
Short Cuts Programme 2
Dragstrip

In four short minutes, co-directors Daniel Claridge and Pacho Velez construct a unique sports film that captures everything but the sport.  This is what makes it so fascinating.  With a throaty rumble of drag-car engines ever present in the background, Dragstrip is a patchwork of the faces behind the highlight reel; amateur racers and fans anticipating the next big race, but doing so with a workmanlike calm that belies the explosive excitement they're about to be a part of.  It's a behind-the-scenes look in plain view. [Michael]
Wellington Jr.

I didn't see this thing coming. In her 12-minute stop-motion animated short, director and co-writer Cécile Paysant disarms viewers first with crudely designed characters (in terms of looks and physicality), then with an absence of dialogue (there are guttural sounds throughout, but no discernible language).  The theme, though, is clear: do the old man proud. A father presents his son with a gun for his birthday, and the two participate in a rite-of-passage hunting contest against other father/son teams.  Paysant perfectly captures the different disappointments felt by father and son when the son is not up to the task.  I audibly gasped at the wicked twist at the end. [Michael]
Short Cuts Programme 3
Boxing

After surviving a tragic accident, a woman (Kyra Harper) returns to her boxing class, only to find herself bombarded by one of her classmate's (Rachel Wilson) selfishly selfless concerns for her well-being. Grayson Moore & Aiden Shipley, who worked on last year's stunning TIFF short Running Season, return with yet another winner that has some of the best performances in the entire programme. It's a great character-based short that builds plenty of drama out of seemingly very little, and it all culminates in a brilliant single take finale that takes full advantage of the short's slow-building tension. [C.J.]
Bacon and God's Wrath

Employing various media to tell his tale, director Sol Friedman introduces 90-year-old Razie, a woman who, for almost all her life, lived as a devout follower of the Jewish faith, but always wondered what a bacon and tomato sandwich might taste like.  Then "the Google" came along, opening her eyes to more than just recipes.  This 9-minute look at faith, fear, and the pragmatism of modern thinking is as timely as it is entertaining. [Michael]
Short Cuts Programme 4
World Famous Gopher Hole Museum

Sometimes documentary filmmakers hit gold, and that's the case with Chelsea McMullan and Douglas Naylor's profile of a gopher museum in the small town of Torrington, Alberta (population 200). The museum is nothing more than dozens of dioramas of taxidermied gophers in various parts of town, whether it's getting their hair done at the salon or praying in church. McMullan and Naylor take what could have easily been treated as indie quirk (some of these dioramas scream Wes Anderson) and give it a somewhat ominous and somber vibe. Comparisons to Gates of Heaven will be inevitable and for good reason. [C.J.]
Beneath the Spaceship

A unique friendship between the adolescent Julie (Selma Modeer Wiking) and her adult neighbour Paul (Per Lasson) gets tested in Caroline Ingvarsson's intriguing film. In a short amount of time, Ingvarsson lays out a nuanced relationship between the two, and the complications that abound with Julie starting to enter her teenage years. Operating as more of a slice of life than a closed narrative, Beneath the Spaceship showcases two great performances in a surprisingly complex short. [C.J.]
Portal to Hell!!!
I feel like I have to write a bit more about this short due to the tragic, unexpected loss of its star "Rowdy" Roddy Piper several weeks ago. Director Vivendo Caldinelli and writer Matt Watts have given fans of They Live what they've been waiting for since Carpenter's film came out in the 80s: a chance for Piper kick ass and save the world again. Playing an exhausted superintendent of a crappy apartment building, Piper discovers that two tenants have conjured up a portal to hell in the basement in order to summon the Lovecraftian "Old Ones" (look out for a Cthulhu cameo). Simply put, Portal to Hell!!! is consistently funny, surprisingly nasty and entertaining all the way through, and watching Piper play the role of a half-assed hero is a delight. It's sad knowing that Piper is no longer around to star in the feature-length expansion (and I have confirmation that one is in the works), but I'm just happy to have a chance to see him take on this kind of role one more time. [C.J.]
Short Cuts Programme 5
She Stoops to Conquer

Julian Richings is one of Canada's bottomless resources in Canadian film, and a classic definition of a great character actor. So it's nice to see his distinct look and memorable presence used so well in She Stoops to Conquer, Zack Russell's strange and beguiling short. A talent show performer (Kayla Lorette) who dresses up as an old man for a comedy set finds her performance isn't working with audiences, but one night after going to a club in her costume she finds the exact lookalike of her character (Richings). It's a fun "what if" scenario about meeting one's own doppelganger, and it's all helped by Henry Sansom's striking cinematography. [C.J.]
Remaining Lives

Luiza Cocora takes a hard, intimate look at the transition from life at one him to life at another in Remaining Lives. The short takes the perspective of a young Romanian girl who's recently moved to Montreal with her mother, and over the course of the film the realization that this change isn't a temporary one slowly settles in. It's a subtle short with great direction that highlights the alienation and disconnect its central character feels, and an ending that will make the film linger in viewers minds well after it's over. [C.J.]
El Adiós

Clara Roquet, the co-writer of our Must See Indie pick 10.000 KM, makes her directorial debut with this excellent look at the societal and class distinctions between a maid and the wealthy family she works for. Jenny Rios plays Rosana, a Bolivian maid preparing the house for the funeral of the family's matriarch. But as the day goes on, and the relatives of the deceased increasingly show disrespect to Rosana, it becomes apparent that her patience has run thin. The assured direction here is great, but it's really the fantastic and nuanced performance from Rios that makes El Adiós a highlight in the Short Cuts programme this year. [C.J.]
Short Cuts Programme 6
Nina

Making her directorial debut, Halima Elkhatabi presents a stark and honest snapshot of a teenage mother living on her own, making the choices of someone with far more maturity than she has, while still succumbing to natural teenage urges.  Nina is a girl who cannot shake the habit of making bad decisions, and while the film offers the most obvious of those as narrative bookends, it's the choices Nina makes in between that are wonderfully subtle.  Elizabeth Tremblay Gagnon gives a strong performance in the title role. [Michael]
Short Cuts Programme 7
Never Happened

Mia Kirshner and Aaron Abrams, two great actors usually seen in supporting roles, get the chance to shine as the leads of Mark Slutsky's wryly funny comedy. Kirshner and Abrams play co-workers on a business trip who, after a few drinks, wind up cheating on their spouses with each other. Abrams and Kirshner establish a great chemistry in (literal) seconds, and Slutsky's narrative structure is used to great effect. But it's in the final minutes of Never Happened where the film takes an interesting turn, one that makes it more in line with Charlie Brooker's Black Mirror. [C.J.]
(Otto)

The filmmakers behind last year's TIFF short A Single Life return with a bittersweet and funny story about a little girl, her imaginary friend, and a woman desperate for a child of her own. After seeing the little girl playing hide and seek with her non-existence playmate the woman, who recently found out she can't have children of her own, steals the friend so she can raise him as her own. It's an absurd, funny and ultimately melancholy film about finding a connection with someone, and its sincerity should win viewers over. [C.J.]
Rock the Box

This short documentary profiles Rhiannon Rozier, aka DJ Rhiannon, a woman trying to break into the male-dominated world of DJing and dance music. Katherine Monk's smart, fascinating docu explores Rozier's decision to ultimately use her looks and sexuality to her advantage, posing in Playboy to help further her career. Rozier, who says she was always seen as a "golden child" with straight As through university, describes her choice as liberating, but is it only helping perpetuate the same standards that hold women back from the boys club that is EDM? Rock the Box lets viewers make up their mind on that issue, but everyone can agree that Rozier is an extremely charismatic subject, a careerist who's in complete control of what she wants. [C.J.]
Short Cuts Programme 8
The Call
In this 10-minute South African short from writer/director Zamo Mkhwanazi, Sibongiseni (Fana Mokoena) is a stoic, unemotional cab driver who one day finds himself at a multi-layered crossroads in his life.  On the surface, a fare leaves an iPhone in his cab, something he can sell for quick cash, yet he doesn't.  Below that, there is a funeral for a colleague he isn't sure he will attend. Deeper still, he has impregnated a prostitute (Kgomotso Matsunyane) and is no longer sure an abortion is the answer.  He is crippled by indecision. [Michael]
Short Cuts Programme 9
The Swimming Lesson

Several childhood fears—from abandonment to peer pressure to drowning—converge in Olivia Boudreau's wonderful 10-minute directorial debut. Jasmine Lemée plays a young girl whose harried mother unceremoniously drops her off for her first swimming lesson. The child is in a new place with new faces and hoping to learn to survive in a new element, and she is doing it entirely alone. Her imagination gets the best of her in the film's WOW moment. [Michael]
Latchkey Kids

The incredibly tight bond between two teen siblings is threatened in Elad Goldman's mesmerizing short about love and fear of abandonment. Gur (Yoav Rotman) and his sister Daniel (Gaia Shalita Katz) move with the unison of two people who have relied on each other for years.  But when Daniel's boyfriend becomes a regular fixture in their lives (and thus a threat to Gur), the brother feels motivated to take action to protect his sister, his environment, and his happiness.  This 22-minute Israeli short is my favorite of the programme. [Michael]
Short Cuts Programme 10
Quiet Zone

In a perfect mixture of form and content, David Bryant and Karl Lemieux's transfixing short uses degraded film as a visual supplement for interviews with people suffering from electromagnetic hypersensitivity, a condition where people fall ill when exposed to strong telecommunications signals. These people, unable to live in society due to cell phones, TVs, radios and WiFi, seek refuge in "quiet zones," rural areas with little to no technology. Watching the film warp, scratch, burn and dissolve adds a tactile element to what's on-screen, representing the way the short's subjects can physically feel the effects of something invisible to the naked eye. It's one of the most remarkable shorts I've seen in the line-up this year. [C.J.]
Oslo's Rose

Sometimes it's better not to reveal anything about a short before you watch it. This is the case with Oslo's Rose, a funny and brutally awkward short from Norway. Nader and his friend are sitting down in a bar trying to get out of their writer's block when Janne, an old friend of theirs, shows up and starts chatting with them while she waits for a friend. What happens over the course of this conversation becomes a great example of cringe humour, to say the least. [C.J.]
Short Cuts Programme 11
Bird Hearts

Written and directed by Halfdan Olav Ullmann Tøndel, this 25-minute Norwegian short stars André Sørum and Stine Sørensen as Benjamin and Maya, a 20-something couple living together in relative happiness.  However, when a small dinner party turns to the subject of past sexual experiences, Maya's story gets inside Benjamin's head and his insecurities take a toll on their relationship.  While a little slow out of the gate, once the film reaches Maya's story, the tension created by the frailty of Benjamin's ego is unsettlingly palpable. [Michael]
Bam

This Canadian animated short packs as heavy a punch as its protagonist.  Written, directed, and animated by Howie Shia, Bam follows the life of a young man who struggles to control his anger issues.  He eventually turns to the sweet science of boxing to make something positive out of something negative.  Life, however, still exists outside the ring, and he learns its the most delicate of relationships that suffer most from his rage.  In five minutes, Shia captures the essence of anger at a time when too many in the world seem to suffer from too much of it. [Michael]
The Man Who Shot Hollywood

This 12-minute doc from writer/director/narrator Barry Avrich is a jam-packed love letter to the Golden Age of Hollywood, presented as a personal and touching biography of a man who lived it. Jack Pashkovsky was a Russian-Jewish immigrant who eventually headed west to Hollywood with the hopes of being a cameraman. The industry's nepotism prevented that from happening, and thankfully so. Pashkovsky turned to still photography and captured countless Hollywood legends in hundreds of pictures he took only for himself.  Some of those never-before-seen pictures can finally be seen here and they are glorious. [Michael]