2014 Holiday Movie Preview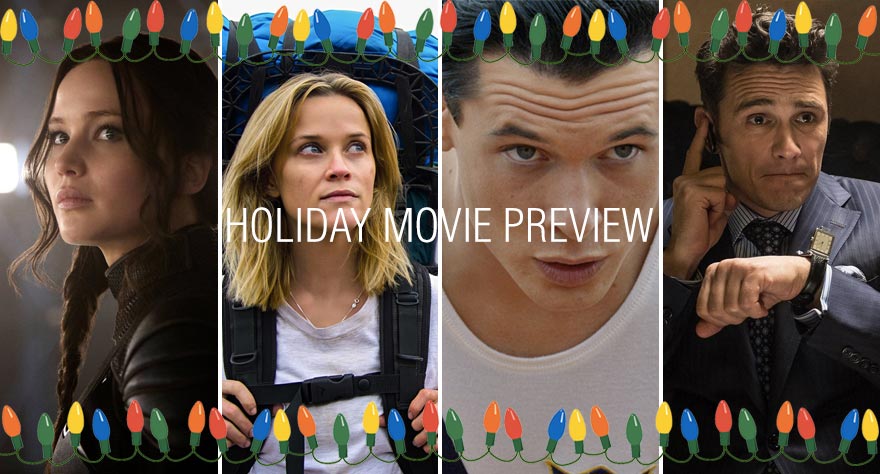 Let's talk about FOMO.
You know what I'm talking about. That feeling you get when a friend posts online that they just saw the film you've read about for months and haven't seen yet. It's avoiding social media the entire weekend a new movie opens for fear of spoilers. It's knowing that awards season is just around the bend and there's more films to be seen than time to see them in. It's Fear Of Missing Out (FOMO) and in some way, shape, or form it's been eating at you for months during the busy-ness of fall. But the light at the end of the tunnel has arrived: the Holidays.
Full, work-free days where you are practically mandated to eat a lot of food and catch up on movies. But unless you're in college, you don't have ALL the time in the world, so here's your Holiday Movie Preview, just in time to help you figure out what's coming out so you know where best to put your energy. You may return to work from the holidays 5 pounds heavier, but you'll ace any water cooler movie pop-quizzes.
Must-Sees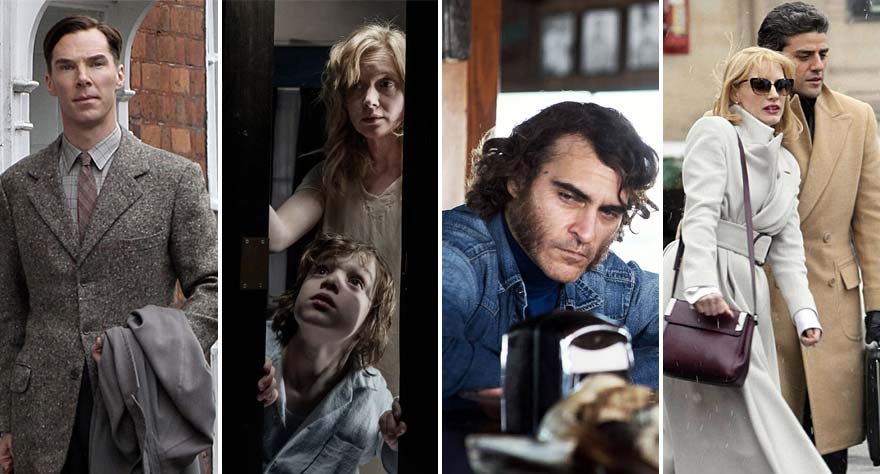 Mockingjay: Part 1
It's the beginning of the end for what is arguably the best YA film adaptation series of all time. Of course you'll feel incomplete having to wait a year for Part 2, but this will be the one all your friends are talking about. (11/20)
The Imitation Game
The Oscar buzz around Benedict Cumberbatch will make this one worth being able to talk about. (11/27)
The Babadook
Perfect for those who like balancing savory and sweet, family time and fright time. Nothing makes you more grateful for family than a horror film about a mother and her son fighting to reconnect as they are haunted by a kid's book character. (11/28, limited)
Wild
Skip the book, see the movie, bring tissues. Reese Witherspoon is phenomenal in the film, and Laura Dern adds emotional veracity. (12/4)
Still Alice
It's been a slow year for decent female-led films. Julianne Moore has been building buzz around her role as a woman who discovers she has early-onset alzheimers. (12/5, limited)
Top Five
Animated films and Grown Ups movies aside, Chris Rock hasn't been on our radar for a while, but when Top Five debuted at TIFF this year it was immediately what everyone was talking about. Chris Rock taps his best stand-up while exploring being black and famous. (12/11)
Exodus: Gods and Kings
If you're over Middle Earth but still want some big screen epic action (with Christian Bale no less), this film's got your back. And if it means Ridley Scott is getting back to Gladiator-level awesomeness, it should be a satisfying watch. (12/11)
Inherent Vice
The loopy, cool movie you're film-geek friends will want to discuss. With a bit more humor than his usual, Paul Thomas Anderson weaves a groovy stoner-style mystery starring Joaquin Phoenix. (12/12, limited)
Mr. Turner
A British biopic of the eccentric painter J.M.W. Turner. Timothy Spall will be among award contenders playing the impassioned artist in director Mike Leigh's latest. (12/18)
Big Eyes
This one might be iffy as the historical art drama hasn't garnered a whole lot of accolade as of yet, but we're willing to take a bet on Tim Burton, Christoph Waltz and Amy Adams almost any day. (12/24)
Unbroken
Angelina Jolie's inspiration tale of war hero Louis "Louie" Zamperini (Jack O'Connell,) who was taken as a prisoner-of-war in WWII after surviving in a raft for a month and a half. Take Grandma, it's almost guaranteed to be the inspirational tale of the year. (12/24)
The Interview
Intriguing due to the controversy around it and Kim Jong-Un's apparent hatred for it. Basically after seeing Rogan and Franco in This Is the End we're betting this could be just as hilarious. A good one to catch with friends once the family has cleared out. (12/25)
American Sniper
It's not a true end of the year awards race without an entry from Clint Eastwood. Starring Bradley Cooper as America's best sniper, coping with life in war, and outside of it. (12/25, limited)
Selma
If you live near a city you'll likely be able to see this one before it goes nationwide in January, marking the 50th anniversary of the organization of the march from Selma to Montgomery, a turning point in the American Civil Rights movement. Critical consensus thus far is that director Ava DuVernay makes a name for herself with this timely historical drama. (12/25, limited)
A Most Violent Year
Oscar Isaac and Jessica Chastain are the new wave of hollywood elite, of the DeNiro and Streep variety. It's a crime-thriller set in dirty 1981 NYC where an immigrant family attempts to capitalize on the American Dream. Might be the perfect grit to go with all that dessert you've been eating. (12/31)
Leviathan
Alright, this is for the arthouse families willing to find small theaters and in the mood for a more serious foreign film. But this drama around a family in a small fishing town has garnered serious praise thus far. (12/31, limited)
With the Family
Family-safe for when the small-talk AND the food has run out.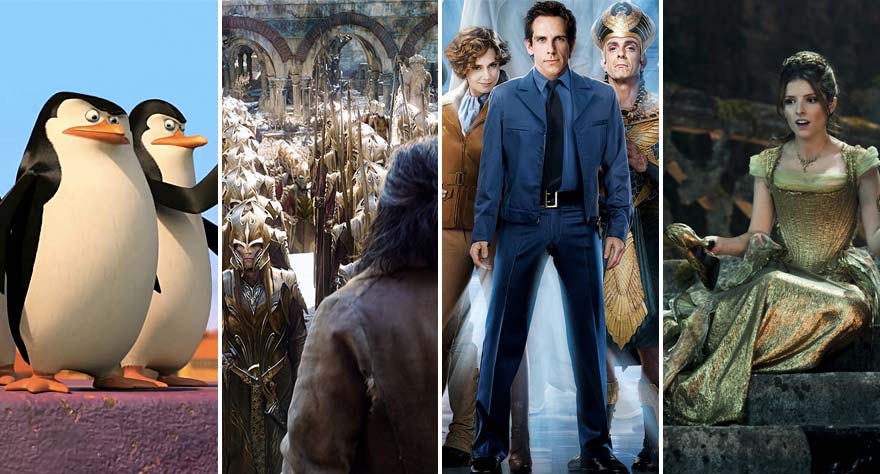 Penguins of Madagascar
The other Benedict Cumberbatch movie opening Thanksgiving week, and while this franchise seems overdone, from what we saw at Comic-Con it's quite clever. Take your little sister. She'll love you. (11/25)
The Hobbit: The Battle of The Five Armies
For the family member obsessed with Tolkien, or for those who always finish a book even if they don't like it. At least you'll feel you got closure by watching this last installment in Peter Jackson's Hobbit series. (12/16)
Night at the Museum: Secret of the Tomb
It's the third in the franchise, so no guarantees on quality. But the gang's all back, Stiller, Wilson, Gervais, and even Robin Williams. Might be nice to see just to see the latter one more time. (12/18)
Annie
Understand that we're only trying to give you options that the whole family might enjoy. But as a musical re-make of an already cutesy film, we make no promises. Jamie Foxx, Cameron Diaz, and Rose Byrne lead the family friendly foray. (12/19)
Into The Woods
A film version of Sondheim's musical of fairy tale characters with real world problems sounds great. With Disney behind it, we worry they may soften it a bit. Either way it's got an all-star cast including Meryl Streep, Johnny Depp, Emily Blunt, Anna Kendrick, and Chris Pine. (12/24)
Skip 'Em
Trust us, these ones are likely not to be worth your precious time.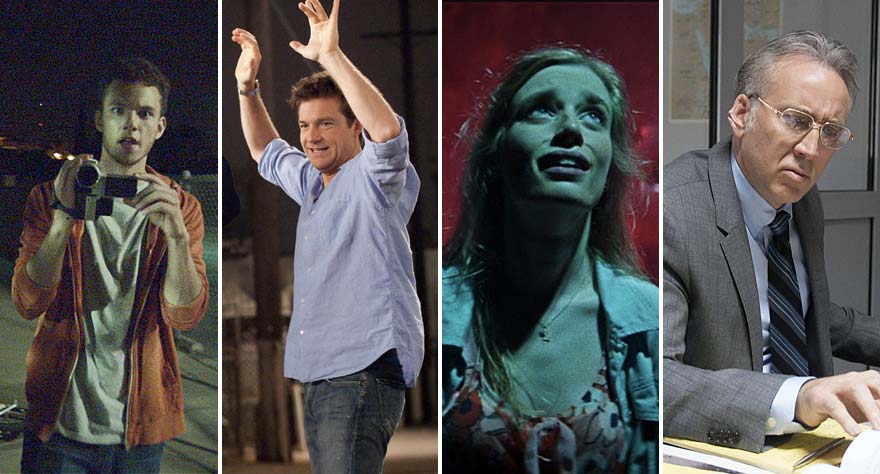 VHS: Viral
(11/21)
Horrible Bosses 2
(11/25)
Extraterrestrial
(11/28)
The Gambler
(12/19)
The Mule
(12/28)
Dying of the Light
(12/5)