10 Things We're Looking Forward to at Comic-Con 2014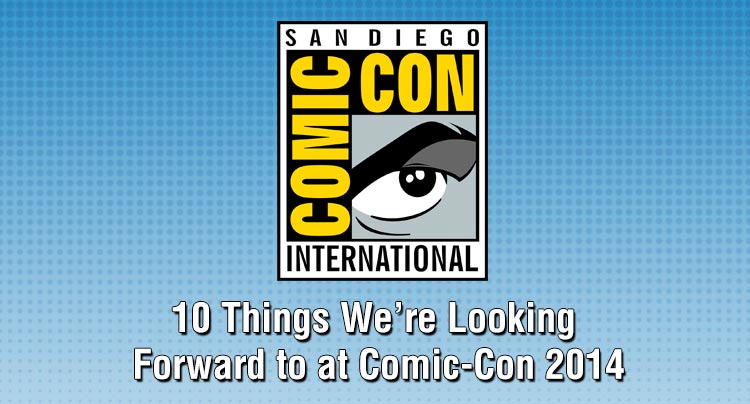 So Way Too Indie is about to become Way Too Geeky for a few days next week as we cover the annual Comic-Con International in San Diego.
While we both decry and yet embrace the infiltration of Hollywood at a convention created for devoted comic fans, we revel in the chance to get our movie news AND pop-culture fix all at the same time. I, Ananda, have painstakingly gone through the schedule of events (and OMG there are a lot) to find all those movie-related panels to (try to) attend so that WTI readers get all the juicy pop-culturey news they deserve.
Here are the Top 10 things Way Too Indie can't wait to see and hear about at this year's San Diego Comic-Con:
10 – Sony Pictures Panel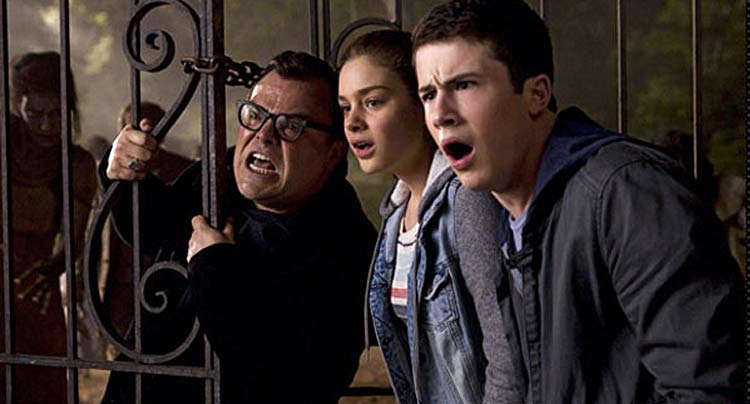 (Thursday, 12:30, Indigo Ballroom)
Feeding into our nostalgia is a first look at Goosebumps starring Jack Black and directed by Rob Letterman. Jack and Rob will both be on hand to talk about the film and discuss Black's turn as the legendary author himself, R.L. Stine. The film is slated for August 7, 2015. Director Chris Columbus will also attend, showing audiences a sneak peek at upcoming Adam Sandler film Pixels also set to début next year.
9 – Radius-TWC Previews Horns and Everly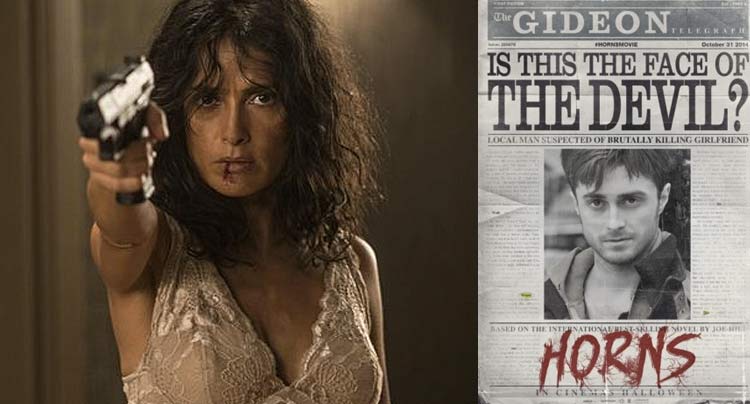 (Friday, 3pm, Hall H)
Daniel Radcliffe will be on-hand along with co-star Juno Temple to chat about Horns and début the film's movie trailer. Directed by Alexandre Aja and based on Joe Hill's dark novel, the film already looks like Radcliffe is tapping into the Voldemort spectrum of evil for his tortured protagonist. Additionally, Salma Hayek will introduce footage from Everly where she plays a woman protecting her family from assassins sent by her ex, a mob boss. We've also been promised other news on upcoming Radius titles.
8 – 20th Century Fox Presentation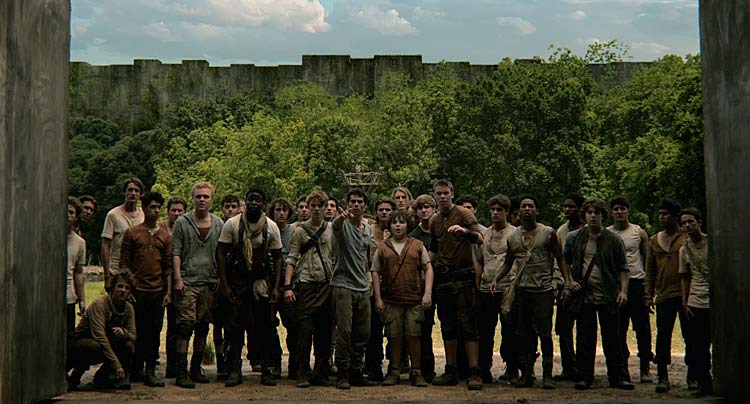 (Friday, 4:20, Hall H)
While there is no formal description of what Fox will be covering they did release to press that talent will be on hand for The Maze Runner, Book of Life, Hitman: Agent 47, Let's Be Cops, and Kingsman: The Secret Service. So we can expect to hear about all of those, but not a peep about next June's new Fantastic Four reboot. Maybe because they know die-hard comic audiences at this convention are not entirely thrilled with director Josh Trank's casting choices and avant-garde vision for the film, namely his suggestion that his cast not bother even reading the comics. At any rate YA fav The Maze Runner should draw a crowd, and Channing Tatum, a voice in Book of Life, will likely cause swooning. Personally Colin Firth, from Kingsman: The Secret Service, is the more likely candidate to cause this girl to swoon.
7 – Warner Bros. Pictures Panel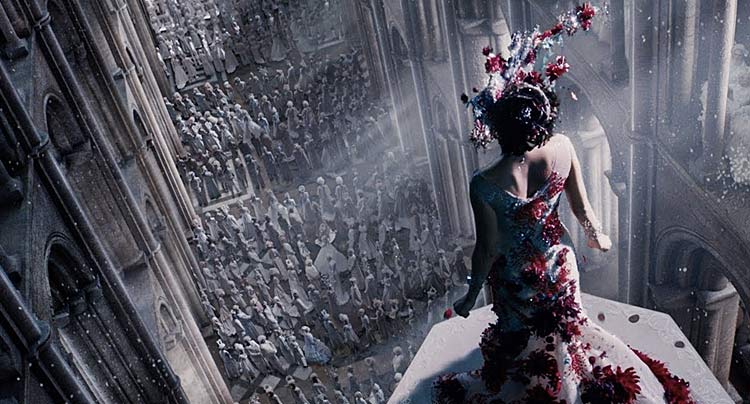 (Saturday, 10am, Hall H)
Saturday starts off with a bang, getting one of the most anticipated panels out of the way first thing. Always big presenters at the convention, Warner Bros. will provide a look at three major upcoming films: Jupiter Ascending, Mad Max: Fury Road (we'd better see Tom Hardy), and The Hobbit: The Battle of the Five Armies. After its pushed back release date the latest Wachowski sibling film is what we most want to hear about, though the Mad Max reboot may also be worth a look. However, The Hobbit exhausted us two years ago. Yawn.
6 – The Giver
(Thursday, 1:30, Hall H)
A novel with a huge fan base, especially those of us forced to read Lois Lowry's The Giver in school as children, the film adaptation has generated huge amounts of buzz. With a fantastic cast (oh, please show up Meryl Streep) we can't wait to see exclusive footage from the film which premieres in August. The trailer has already shown it looks pretty fantastic.
5 – Paramount Panel
(Thursday, 3pm, Hall H)
No news on what they will discuss but we're hoping there is something on Interstellar, Chris Nolan's new film to be released in November. Also likely are plugs for Hercules (which comes out the very next day) and the upcoming Teenage Mutant Ninja Turtles. We hope they know their audience and don't bother with Hot Tub Time Machine 2. And if we're really lucky there might be some small clues about next summer's Terminator: Genesis.
4 – Goonies Never Say Die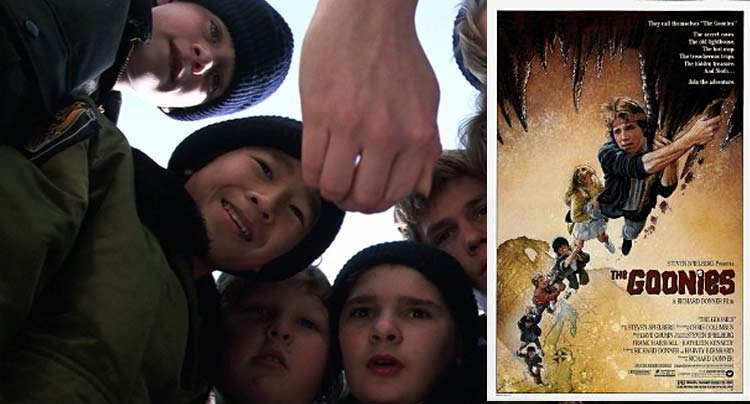 (Thursday, 6pm, Indigo Ballroom)
Goonies cast members will be on hand to discuss the newly announced Goonies sequel. Surprise guests are guaranteed and plenty of discussion on how this cult-favorite film has stood the test of time. The child in us is literally jumping up and down in anticipation.
3 – The Musk of Tusk – An Evening with Kevin Smith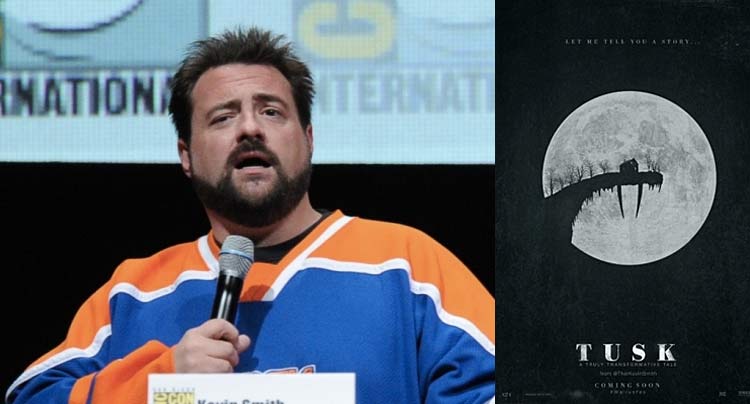 (Friday, 6:35pm, Hall H)
We'll definitely be getting a trailer for Kevin Smith's new monster horror film Tusk, his first film in three years. It was announced yesterday the film will be released September 19. Also guaranteed is hilarious discussion as anyone who listens to Smith's SModcast podcast already knows. Speaking of the podcast, Tusk was first envisioned in an episode of the show and follows a journalist who encounters a worldwide adventurer and becomes the plaything of a deranged killer. The film stars Justin Long, Michael Parks, Genesis Rodriguez and Haley Joel Osment and we know Rodriguez and Osment will be at the panel.
2 – Legendary Pictures Panel
(Saturday, 12:25pm, Hall H)
Guaranteed are a look at Guillermo del Toro's upcoming horror gothic-romance Crimson Peak as well as a look at new found-footage horror-thriller As Above/So Below. The latter is already rather uninspiring after releasing a ho-hum trailer but we wouldn't mind if Guillermo del Toro took up all the time. Crimson Peak sounds quite promising, with del Toro saying his intentions were to make a film in the vein of the horror greats, The Exorcist, The Shining, and The Omen. A classic ghost story sounds like exactly what we need in the sea of found-footage out there in Horror-land. And if he wanted to go on to talk about Pacific Rim 2, we'd be more than happy to hear all about it! No clue if there will be enough info yet to discuss Godzilla 2, we completely understand director Gareth Edwards might be a little overwhelmed with that little Star Wars spinoff film he's prepping for.
1 – Marvel Studios Panel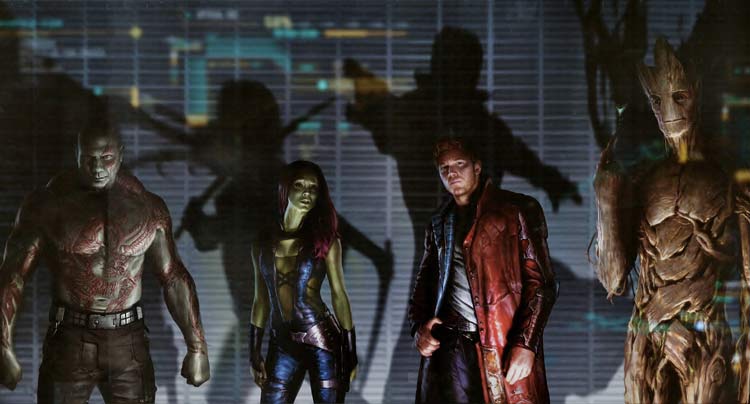 (Saturday, 5:30pm, Hall H)
Always the benchmark of Comic-Con we expect plenty from Marvel's presentation. For starters they are likely to give us some special guest appearances and footage from Guardians of the Galaxy as a last push before it's August 1 release. Also pretty much guaranteed is info on Avengers: Age of Ultron including some cast members and hopefully a sneak peek or two at footage. Marvel's had a busy week with announcements about their universe, especially major changes for The Avengers as Thor is now a woman, Captain America is getting a comic reboot in "The All-New Captain America" where the Falcon takes over as the Captain, and then Iron Man gets back to his darker Tony Stark roots in "Superior Iron Man". No clue how this will effect the film franchise, but I'm sure we can expect a reboot in a few years depending on how audiences take to the new personalities/sexes/identities. Otherwise, announcements around Ant Man, due for a release next summer, are also likely despite Edgar Wright's abandonment of the project. Peyton Reed (who is also signed on to direct the screen version of comic book The Fifth Beatle) is now set to direct and the film just might have a chance of keeping up its momentum.
Notable Absences
Where the heck is Disney, Lucasfilm, and Lionsgate? Apparently Lionsgate thinks The Hunger Games: Mockingjay Part 1 doesn't need the added publicity, because they are blowing off Comic-Con this year. They are probably right. Obviously Lucasfilm doesn't think it has enough to talk about yet in regards to Star Wars Episode VII. And apparently Disney didn't feel like coming out to promote their first Disney-Marvel animated collaboration Big Hero 6 (which just debuted a trailer). Also no George Clooney to chat about Tomorrowland, the film based on the area of Disney's theme park, and no Pixar which means nothing on Inside Out. Maybe Disney is skipping out in an attempt to push people to D23, their exclusive Disney convention?
At any rate, be sure to stay tuned to Way Too Indie for up to the minute coverage throughout Comic-Con as we battle the lines and cosplayers to get all the juicy tidbits.