10 Best Films to Cool You Off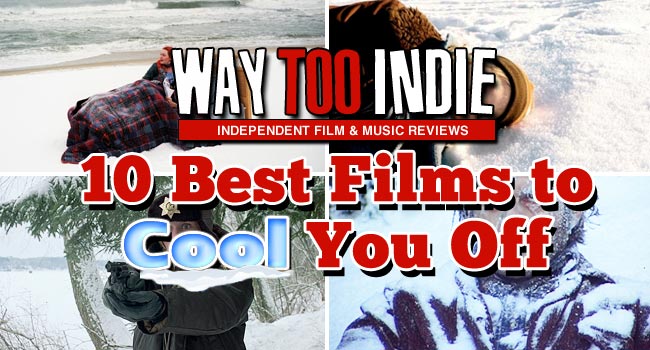 There's a famous urban legend concerning a man who accidently trapped himself inside a freezer. Understanding his death to be inevitable, he vowed to document his own death, writing down the experience of freezing to death for the sake of science. Found dead the next morning, an examination of his body concluded it was hypothermia, however, an inspection of the freezer found that it had been broken for some time. The temperature had never dipped below 50 degrees.
Whether it's true or not, it's generally agreed the mind is a powerful thing. Now August is upon us and with it that clothes-sticking heat, so we here at Way Too Indie prescribe a little mind control to combat the sun. We present our top ten films guaranteed to chill you right down. And let's face it – with movie ticket prices being what they are and the electric bill on the rise from constant A/C and fan use – this really is the ideal alternative.
Way Too Indie's Best Films to Cool You Off
#10 – Frozen River
Frozen River opens with Ray Eddy (Melissa Leo, whose career was launched because of her incredible performance here) finding out her husband took off unannounced, leaving her with no money or way to support her kids. Ray soon learns about a scheme involving immigrants being smuggled across the icy St. Lawrence River that pays more than enough to cover Ray's bills, and she reluctantly accepts an offer to help drive immigrants into America. Most of the film's nail-biting tension comes not only from Leo's Oscar-worthy performance (she lost, but made it up soon after with her role in The Fighter), but the film's wintery setting. The cold, barren landscape of Frozen River's border-town only heightens the characters' desperation. When driving across thin ice and avoiding the authorities are the only things separating you from trying to survive in the middle of winter, it's easy to see why Leo's Ray would take the risk. [CJ Prince]
#9 – Home Alone
Easily the most ridiculous film of the bunch, but nonetheless an entertaining winter film. Penned by the notorious John Hughes (who also wrote The Breakfast Club, Ferris Bueller's Day Off, and Vacation), Home Alone was an instant hit in the early nineties as it broke box office numbers for a comedy and ended up receiving two Oscar nominations (thanks to John Williams' score). The film was so successful that it spawned several follow-ups, though it is best to pretend the third and fourth films in the series never happened. Macaulay Culkin was just ten when he starred as the sassy but lovable Kevin McCallister, the youngest of four siblings, whose family accidently leaves him at home while traveling on a Christmas vacation to France. Kevin utilizes the winter conditions in his favor to hilariously ward off two goofy criminals who intend to rob the house. Home Alone is a staple in my household to watch during winter/Christmas for its sidesplitting humor that appeals to everyone regardless of age. [Dustin Jansick]
#8 – The Last Winter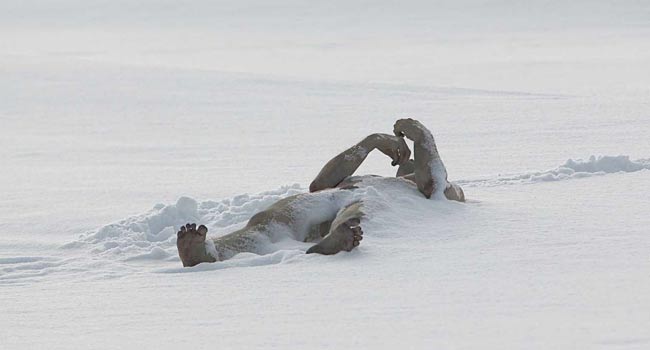 This science fiction/horror/thriller hybrid went pretty much unnoticed when it was released 7 years ago but honestly, The Last Winter was one of the more refreshing genre pictures to come out that year. Set in the cold and unforgiving frost of the Northern Artic Circle, this film involves members of an American oil company who must figure out what a mysterious entity is before it threatens to destroy humanity. Yes, it's one of those films and yes, it gets a little preachy near the end. But those who seek this underrated gem out will find a film that has loads of great atmosphere and some pretty good spooks as well. Did I also mention that it stars Ron Perlman? [Blake Ginithan]
#7 – Werckmeister Harmonies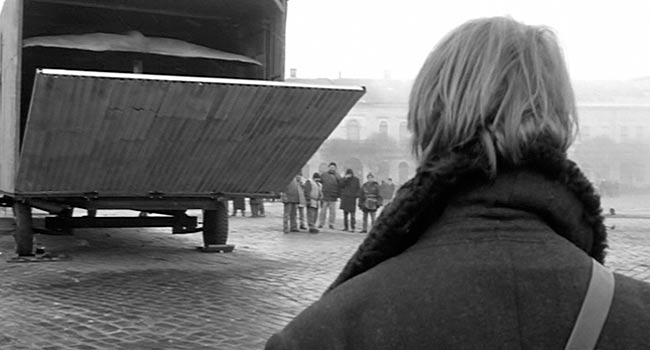 Bela Tarr is one of the few filmmakers whose work could be described as pure cinema. Taking place in a small Hungarian village during an especially cold winter, Werckmeister Harmonies opens with a 9 minute shot of a bar's drunken patrons acting out a story told by their friend. Tarr's precise camerawork, combined with Mihaly Vig's gorgeously melancholic score, turn what starts out as a silly scene into something profoundly beautiful. These kinds of scenes happen throughout Werckmeister Harmonies, as the arrival of a circus into town triggers a panic that feels downright apocalyptic. The harsh winter climate in the village isn't unusual for Tarr, as he's known for being quite bleak, but Werckmeister Harmonies may be his most accessible film. Don't let the drab setting or long shots (39 in 150 minutes, to be exact) turn you off from seeing this movie either, as you'd be missing out on an experience unlike any other film you'll ever see. [CJ Prince]
#6 – A Simple Plan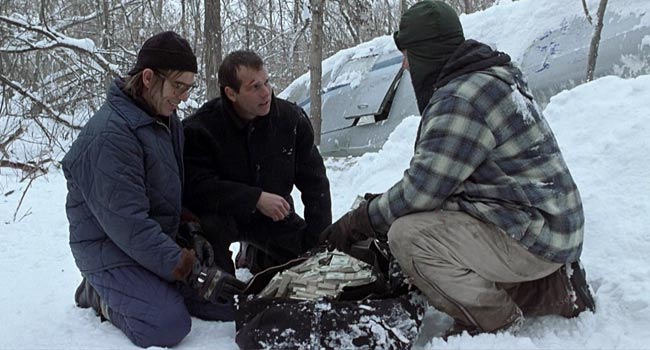 Sam Raimi (pre Spiderman) was known as the guy who did the Evil Dead series until he made A Simple Plan, his personal masterpiece. Bill Paxton is a simple man in a small town who stumbles upon a crashed plane one day while out hunting. He finds a bag full of cash and takes it home to his pregnant wife (Bridget Fonda). Then all the trouble starts. It is no long before he has federal agents and even mobsters coming looking for the cash. Things get nasty in a hurry and he soon has to deal with his brother who is mentally handicapped but morally aligned, his wife who slowly becomes a vicious puppeteer pulling the strings behind Paxton's view, and friends who think they deserve some of the action. Featuring some of the tensest scenes you're likely to see, top notch acting and directing; a simple plan would be to not skip this film. [Blake Ginithan]
#5 – The Thing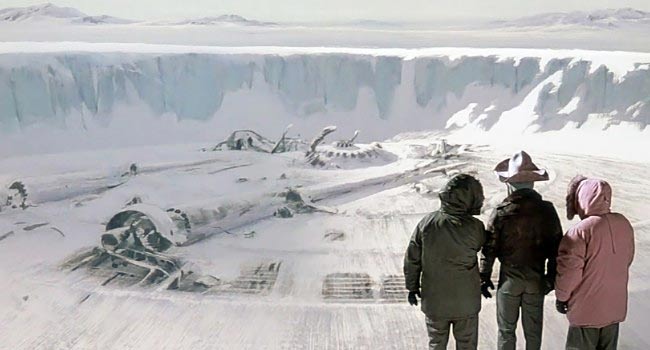 There's a smorgasbord of sci-fi horror awesomeness to feast on in John Carpenter's sci-fi horror classic, from shape-shifting aliens, to a group of batshit-crazy scientists, to some of the most gruesome, yak-worthy animatronic work ever, to Kurt Russell's flamethrower (oh yeah) and his glorious beard (oooh yeahhh.) But seriously, the (ahem) thing that makes The Thing a heavyweight modern horror classic rather than just another light 80's gore factory is its quiet, crushing sense of isolation. The setting—a remote Antarctic base surrounded by infinite ice and snow—is vital to the story and injects every moment with raw intensity and fear. There's nowhere for the poor souls to run. It's just them, a vicious shape-shifting alien, some explosive equipment, and the vast, icy abyss. [Bernard Boo]
#4 – Eternal Sunshine of the Spotless Mind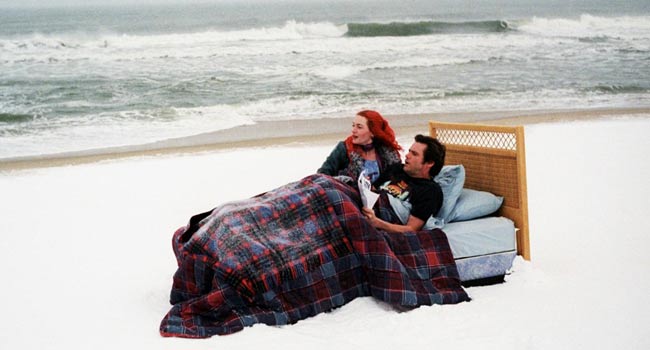 If you fancy something a little different than your average heart wrenching Kate Winslet plotline, then catch her in this because it's a great gem. In addition to Winslet, Jim Carey's typical typecasting also throws caution to the wind and allows us to catch a glimpse of his well hidden diversity. While not necessarily all about the cold, wintery weather, Eternal Sunshine of the Spotless Mind is still set in a very chilly climate where most of the more memorable segments of this couple's relationship take place on an iced lake. You find yourself feeling very cooled down when watching this amazing masterpiece by Michael Gondry. [Amy Priest]
#3 – Let the Right One In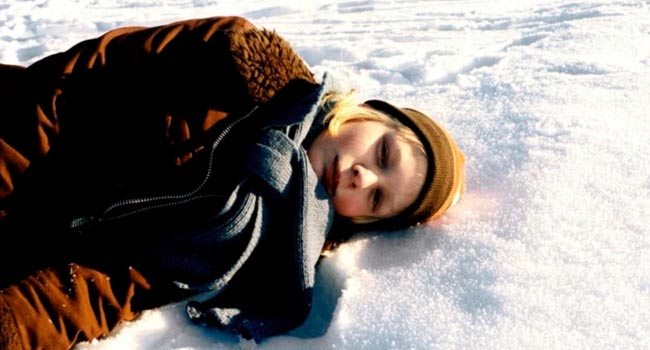 A tender, clever vampire tale with a big ol' beating heart, Let the Right One In is the prettiest vampire movie you'll see. The ballad of bully magnet Oskar and his blood-sucker friend/protector, Eli, is one of the best films of last decade and my personal favorite vampire movie. The setting—a snow-dumped Stockholm suburb—is elegant, richly textured and eerily tranquil. Director Tomas Alfredson's beautifully composed shots exude a sense of stillness and serenity that reverberates throughout the film and makes the intermittent splashes of crimson all the more vivid. The film's color palette is almost exclusively black and white, but expert utilization of contrast and texture makes every vision of snow and ice interesting and unique. Alfredson's modern masterpiece is the definition of atmospheric and never fails to give me chills. [Bernard Boo]
#2 – The Shining
Forget heat-induced delirium. The Shining shows us that the bitter winter cold combined with a secluded and possessed mountain hotel can be far worse on one's mental state. Stanley Kubrick's 1980 classic, based (loosely) on the Stephen King novel, is a slow build in madness set amid the Colorado Rocky Mountains. Jack Torrance (Jack Nicholson in absolute perfection) brings his wife, Wendy, and son, Danny, to the Overlook hotel to take on the roll of caretaker, write his novel, and patch up his family unit. The Overlook has a history and an intuition for the weakness of men, however, and Jack slowly gets taken over by the influence of the hotel. One of few horror films that can truly also be called a cinematic masterpiece, The Shining offers imagery that is both frightening and beautiful.  A terrifying chase through a snow-filled labyrinth in the film's final scene is chilling in more ways than one and is guaranteed to leave goose bumps, one way or another. [Ananda Dillon]
#1 – Fargo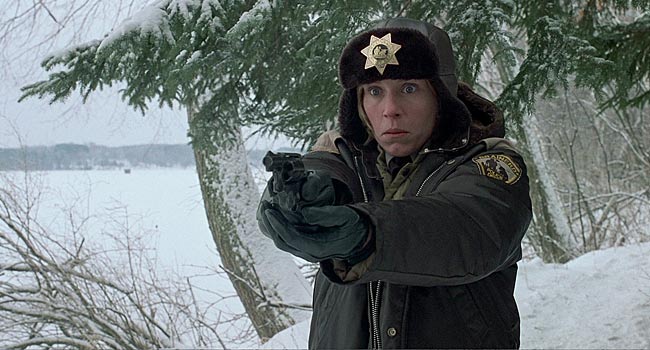 Fargo is one of my all-time favourite films, and one that will surely "cool you off". As the title suggests the film takes place within the snowy city of Fargo, North Dakota and "Yah, you betcha" it's cold. And I'm not just referencing the weather as the narrative is also just as chilling. The comically-disturbed directorial duo, The Coen Brothers, serve up a story that was based upon real events of an automobile salesman who hires two criminals to kidnap and ransom his wife for $1 million dollars in an attempt to get out of debt. The plan goes haywire and the situation becomes bone-chilling.
I assume (and hope) that many of you have already witnessed the greatness of this film, however, for those who have not seen it or are just looking for a way to cool off from the mad heat waves of the summer of 2013, Fargo is the film for you.
[Amy Priest]