Björk – Vulnicura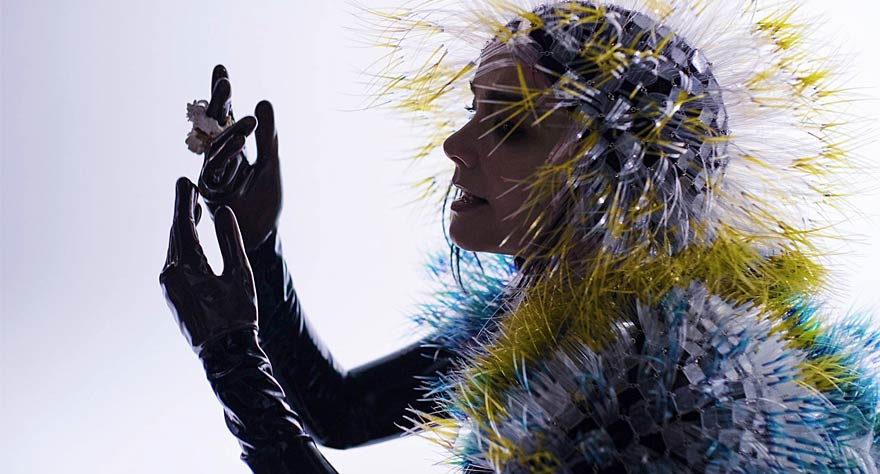 Björk's most impactful songs in almost eighteen years.
Björk turns 50 this year. It's an unusual age to release a breakup album, but hell, Björk is anything but traditional. Her 22-year career (longer if her 1977 self-titled album, released when she was 12 and not at all written by her, counts) has allowed her to experiment across an astoundingly wide range of genres, make all manner of fascinating and unforgettable aesthetic choices, compose the album Medulla almost entirely from human voices, expand 2011's Biophilia into an educational tool for Icelandic youth, and even play the lead role in a film, Dancer in the Dark, for which she created the music. On top of all these accomplishments, she's renowned for her voice, one to which the overused moniker "unique" actually applies. Its combination of Icelandic accent, raw emotion, extensive range, and always being right on pitch didn't sound like anyone else on 1993's Debut, and in 2015, perhaps only Joanna Newsom can claim to have even a strand of similarity in her voice.
Yet one quality often found in other artists' careers that is rarely found in Björk's dynamic, all-encompassing catalog is sadness. Well, until now, that is – Vulnicura, her eighth album, quite blatantly explores the emotional devastation she felt (and still feels) in the wake of her split with longtime partner Matthew Barney. The structure of a family, the role of sex in a relationship, and the grieving process are among the sensitive topics explored here, all in Björk's simplest lyrics in quite some time. The familiarity of her words and topics might prove fatal in other hands, but instead proves a nice change from the science textbook that is Biophilia and the abstractions of Volta. These two albums, her most recent, suggested to some fans that Björk had passed her prime; in contrast, Vulnicura may well be her strongest effort since 1997's classic, vastly experimental Homogenic.
Actually, Vulnicura feels like the proper follow-up to Homogenic that fans never quite received. That's not to say Vespertine isn't magnificent, because it is; however, it generally travels in a gentler direction than its predecessor. In terms of Björk's career, Vulnicura could be the intermediate stage between the two. Its reliance on very few elements, mostly string arrangements and the clamor of a synthetic percussive track, pull from the wandering trip-hop of what came before, but its subject matter, emotional candor, appropriately lengthy songs (the album and many of its songs rank among her longest), and gorgeous softness could theoretically precede Vespertine. In reality, though, a major factor of the album's success come from names virtually unheard of two years ago; featuring extensive co-production from Yeezus and LP1 right hand man Arca, and mixing courtesy of even lesser known act The Haxan Cloak, this collection both hearkens back to Björk's greatest accomplishments and is clearly indebted to the modern dark electronic underground.
In fact, Arca's presence here was one of the most highly documented aspects of the album prior to its announcement. This proves to be for good reason; although Björk clearly led the production, Arca's presence is certainly felt in the scattered, rattling beats that define these songs. The thoroughly ominous, minimal sounds of his solo work might well be the only thing currently existent that could combine with Björk's exceedingly creative mind in a way that would bring her back to her roots and thereby reignite her mildly dormant spark. For example, the shuffle of "Lionsong", defined by some synthetic percussive rattles and finalized by a hefty, but not overwhelming, bass pulse, both looks back on Björk's past and bears Arca's gentle touch. "Family" and "Notget", which appear back-to-back later in the album, much more clearly emphasize the hand her co-producers play here, although the former track is the only one to feature Haxan Cloak on production duty as well. In its first half, the nocturnally booming percussion is a Haxan Cloak trademark, and the formless, haunting ambient drone is an Arca staple. The latter track even more obviously states that Arca is in the mix: the arhythmic shuffle of horror shop synths outlining its distant edges almost sound lifted straight from last year's Xen. Then there's "History of Touches," built on a completely percussion-less grip that most blatantly recalls Arca's debut.
Clearly, the helping hands here are a notable and exciting factor in Vulnicura's success, but it's far too often overlooked that Björk leads her music's production. Vulnicura will grow to be known as an album that sounds like classic Björk; if she were not the major force in her songs' production, this would be impossible. Rather, the significance of Arca and Haxan Cloak as co-producers is that they're both known for executing their mutated, pitch-black styles quite minimally, reputations that led Björk to choose them as cohorts. The selection of this approach to songwriting defines Vulnicura; specifically, Björk's occupation of this sonic template expertly matches the newly personal subjects of her lyrics.
Vulnicura's barren, eerie soundscapes excellently accentuate the heartbreak defining the words. This is an album whose first track declares "I have emotional needs"; it's immediately obvious that this will be no easy journey. Two tracks later, "History of Touches" quite literally recites a detailed retrospective on the very end of Björk's relationship with Matthew Barney; its words are almost spoken rather than sung, with the incredibly spacious music surrounding it likely built to accentuate Björk's speech. Outlining her past is just one step in moving on, though: "If I regret us/I'm denying my soul to grow/don't remove my pain/it is my chance to heal," she sings on "Notget", a song where she tries to sympathize with Barney and see things from his perspective. This attempt to conquer her emotional pain is quite clearly necessary, as outlined by what's arguably Vulnicura's single most heartbreaking lyric: "My soul torn apart/my spirit is broken/into the fabric of all he's woven," Björk states on the ten-minute "Black Lake", a deeply complex piece that Billboard has already mislabeled as a Matthew Barney diss track. The song and this lyric are far more than merely an insult: it's instead a deep analysis of both their roles in their split. Björk knows that, as a part of Barney, standing in his shoes might help.
Björk's sorrows extend well beyond the departure of a long time lover, though; these two also brought a daughter into this world. On "Family", a harrowing standout, she begins by asking, "Is there a place/where I can pay respects/for the death of my family?" These lyrics are almost unrealistically straightforward and morbid for Björk – only the opener's "What is it that I have/that makes me feel your pain/like milking a stone" and the entirety of "Atom Dance" rewind to Biophilia's mystifying science metaphors – as they are throughout the album, bringing her pain and raw emotion to the center of her music for the first time in far too long. The unsettling declaration of "When I'm broken I am whole/and when I'm whole, I am broken" sung during "Quicksand" may be an acknowledgement of just how successful these songs are for letting their guard down; regardless, the sadness of these sentiments is new for Björk.
This lyric gets even sadder, though: later in the song, Björk changes "I" to "we," adding an entire further layer of human depth to her words. This change in wording towards the final moments of the album might depict the last stage in grieving: acceptance. That said, it's not too likely that this is the case, since as of this past Halloween, she's still understandably tender about the situation. "I'm just going to have to cry and be a mess and do it," she told Pitchfork's Jessica Hopper in a recent interview when asked how she'll be able to convey these songs live. Very simply put, when an artist cries while singing her words, that's how you know it's real. If the made up word "vulnicura" does indeed have a meaning, it may well be "heart-on-sleeve": now approaching a half-century in age, Björk is once again putting it all on the line the way she did she was in her thirties. It sounds very much like this album was therapeutic for her to create; that she found a kindred spirit in Arca to guide her so closely in a time of emotional vulnerability is just as remarkable. Even more miraculous, though, is that this living legend has recovered from a small but previously thought irreversible decline in her career to deliver her most impactful songs in almost eighteen years.
Björk – Vulnicura Music review