The Wolfpack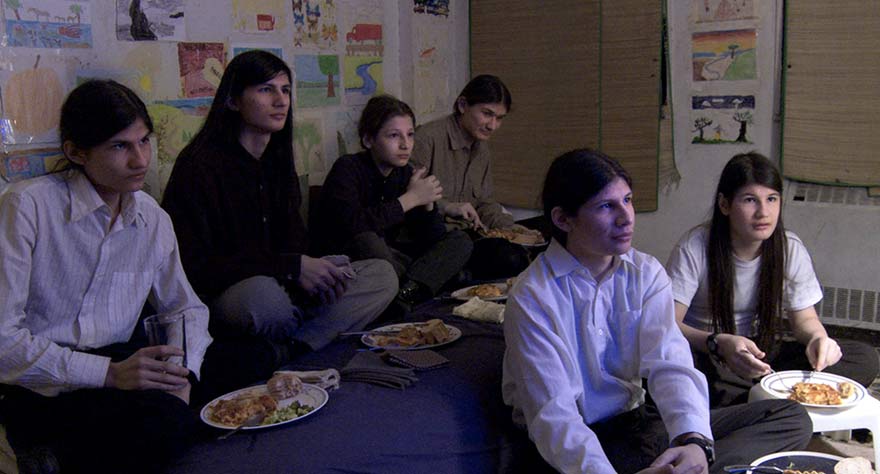 An unsettling, oddly uplifting documentary of a family trapped inside their apartment.
If it's indeed true that a documentary can only be as compelling as its subject, first-time feature director Crystal Moselle stumbled upon a veritable goldmine when she met the Angulo Brothers and gained access to their lives for The Wolfpack. These lanky, longhaired, half-Peruvian young men ranging in age from 16 to 23 stomp across New York City in ill-fitting suits and dark sunglasses. They absorb the city environment with the eagerness of a flock of tourists. In a way they are, though most of the boys lived in the city for a majority of their lives. That's because the Angulos spent extended periods of their childhood locked away in their Lower East Side apartment by a paranoid, alcoholic father. That is, until one of the Angulo boys simply decided to leave the apartment.
The Wolfpack took home the Sundance Grand Jury Prize for Best Documentary earlier this year before its New York premiere at the Tribeca Film Festival. Director Crystal Moselle opens her documentary as the Angulo boys exchange bits of dialog from Quentin Tarantino's Reservoir Dogs. The boys responded to their captivity by immersing themselves classic movies and remaking them with homemade aesthetics. In a way, the Angulos and The Wolfpack owe a debt to Michel Gondry's 2008 Be Kind Rewind. The Angulos chop up pieces of cardboard and yoga mats in order to assemble Batman's suit of armor, or patch on pieces of fake facial hair to more closely resemble Samuel L. Jackson. With limited options, the Angulos escaped into movies to learn about the world. One of the boys articulates it tragically, that movies, "make me feel like I'm living, because it's magical a bit."
In total there are seven Angulo children, six boys and one daughter, who is mentally challenged. Growing up, the Angulos would leave their apartment sometimes once, sometimes nine times per year. Occasionally the kids would go a full year without leaving their home. Their father, Oscar, was a Hare Krishna who dreamed of rock & roll stardom with a family of 11 children; however, complications left the Angulo parents in an LSE housing project afraid to leave the home and navigate the negative influences surrounding their residence. This forced seclusion was exacerbated by Oscar's distrust in the establishment. As one of his sons explained, their father, "didn't believe in work," and thought he was either enlightened, or a god himself.
This disposition left Oscar's wife Susanne the chore of raising and home-schooling the children under his judgmental, watchful eye. Fear was the dominant force in the Angulo household & Moselle's documentary captures its paralyzing effect on the family. When Susanne discusses rationalizing her children's confinement by expressing worries about the world outside, it's easy to understand her thought process. As the victims of an abusive husband and father with deluded worldviews, the Angulos were hostages in their own home. "We were in a prison and at night our cells would lock up," one of the boys says through a knowing smile, aware of the awful circumstances of his youth. The Wolfpack serves as an intriguing portrait of the lives of a family that's lives through trauma, but one that ultimately feels hopeful.
Unfortunately, the documentary is little more than its captivating collection of characters. By keeping herself at a distance from the subjects, Moselle fails to elicit deep insights from them. Their story seems so bizarre you hope for a moment when the movie will confront any of the Angulos about how these circumstances hindered their transition into the real world. A scene of the boys at a beach where one of them refuses to get in the water comes close to addressing this dilemma, but rarely does The Wolfpack feel greater than the story of its surface.
That story is a remarkable one, but Moselle's film only examines the tip of a monstrous iceberg. This is a family that's undergone a distinctive form of cruelty, but the ramifications are hardly felt. The Angulos are already moving on from their past. Far too many details, such as how Moselle encountered or gained access to the Angulos, are left out of the final film. Several critics have voiced skepticism, either half-seriously or jokingly, of The Wolfpack's truthfulness. I don't doubt the authenticity of Moselle's documentary; however, the murkiness of aspects in the Angulos' story makes it easy to imagine much of the movie coming from an exaggerated truth instead of the full truth. Moselle discovers an incredibly scary circumstance to grow up in, but doesn't illustrate a huge amount of detail.
There's an inevitability to these young men finding freedom with their age, and it's exciting as Moselle documents their transition into normal people with varied passions. The Angulos' individual identities aren't fully explored (truthfully, it's difficult to distinguish one Angulo from the next for most of The Wolfpack), but they each seem to find a form of vindication for escaping their father's domain. You can't help but crave a deeper dive into their lives, but The Wolfpack involves the viewer in a unique struggle and it presents its subjects empathetically. Despite the troubling circumstances of their lives, it's gratifying to see the Angulos emerge strong from The Wolfpack. The unbelievable story of their upbringing provides an inspirational, albeit uncomfortable, backdrop for Crystal Moselle's debut documentary.
An earlier version of this review was first published as part of our Tribeca 2015 coverage. 
The Wolfpack Movie review