The Creator of the Jungle (Hot Docs review)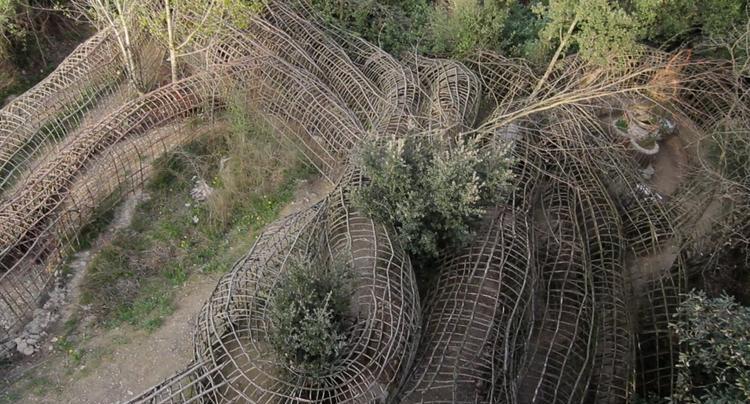 It's captivating, delightful, tragic at times and ultimately a story one needs to see to believe.
The Creator of the Jungle tells the story of Garrell, a man who has spent 45 years building a giant playground in a forest. He started as a child, and with age the scale of his work increased dramatically. He first manipulated the stream running through the forest, making dams and ponds as he saw fit. He soon brought animals into the forest, building increasingly large structures out of whatever he could grab in the forest. Over time, Garrell's playfulness turned his forest into a bizarre ghost town of sorts.
Through camcorder footage taken in the 90s by Aleix, an unseen teenage boy who admired Garrell's work, director Jordi Morató unveils one piece of incredible footage after another to tell his subject's story. Aleix and Garrell spent their days making Tarzan movies in his forest, and even through the grainy VHS images the scale of Garrell's work is jaw dropping. Problems start for Garrell once his creations, including a kilometre long labyrinth made entirely from tree branches, attract the attention of local vandals.
Morató narrates over Aleix's footage, filling in details about Garrell's life. He used Aleix's camera to direct and star in Tarzan movies, using the forest as a set for Tarzan's jungle. These short films, containing an infectious lo-fi DIY charm to them, were a way for Garrell to vent his frustrations about his work being destroyed. Each Tarzan movie would involve the "civilized man" trying to invade the jungle and ruin his home. Garrell is, essentially, a kid at heart just wanting to play on his own, and his dogged enthusiasm to expanding his 'world' makes it hard to not admire him.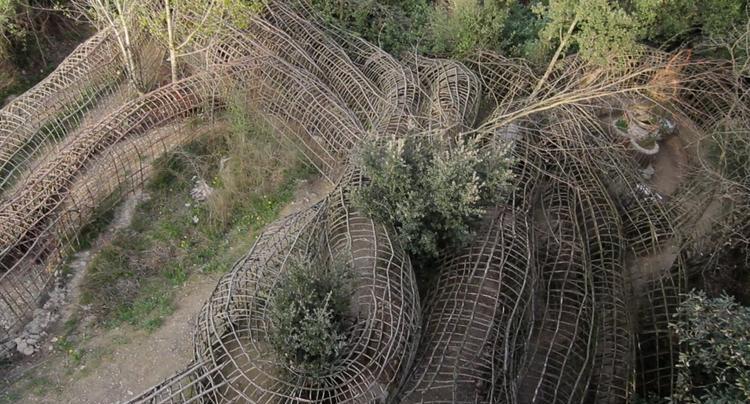 And as time goes on, watching Garrell's resilience turns those feelings of admiration into amazement. At one point Morató stops narrating over Aleix's tapes, letting the last Tarzan movie (titled "The Last Two of the Tribe") play out uninterrupted. It's the high point of the doc, showing how good Garrell is when it comes to expressing his visions. Even more amazing is what happens afterward; after being attacked by vandals, Garrell simply destroys everything and rebuilds from scratch, and ends up making everything bigger and better than it was before. As the years begin to pass, and Morató starts filming Garrell's playground, the sights are even more impressive through the HD photography.
Morató's focus on Garrell's work does leave a little to be desired over its scant 75 minute length, but the basic approach and terrific subject are enough to make for a seriously impressive documentary. At its core, The Creator of the Jungle is about one man's decades-long battle to preserve his sense of playfulness from the world around him. It's captivating, delightful, tragic at times and ultimately a story one needs to see to believe.
The Creator of the Jungle (Hot Docs review) Movie review