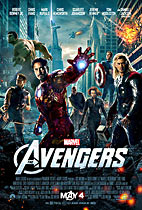 The Avengers
When you see the Hulk for the first time, you will get goosebumps.
"There was an idea to bring together a group of remarkable people so when we needed them, they could fight the battles that we never could." –Nick Fury
The Avengers is the first big summer blockbuster of 2012 and it came dressed to impress. With an opening weekend gross of $207 million, The Avengers quickly shattered the previous record of $169.2 million (Take that Harry Potter!). Now, a month after its release, it has joined the $1 billion club which is enjoyed by only 11 other films. On paper, this looks to be the best film of all time, but did The Avengers live up to the decade of hype that Marvel had anticipated?
First thing is first, and I should get this out of the way sooner than later, I loved The Avengers. I plan on spending another $8.50 to see it on the big screen again. But now, all bias aside, this is a hard review to write. I grew up watching Marvel cartoons on Saturday mornings and I am as much of a fan as the next guy, but I am no fanboy, I never read the comics, and I don't even want to attempt at understanding the Marvel Universe. That being said, I feel like Marvel realized that they were only going to make The Avengers once, and they knew they had to do it right.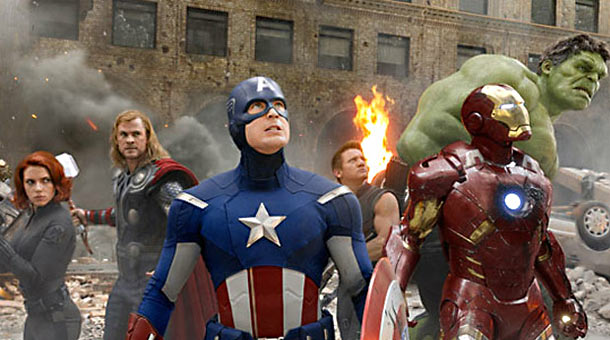 For those of you who may have been living in a hole for the past decade, I will fill you in on what The Avengers are. The Avengers is a group of Marvel superheroes; Iron Man (Robert Downey Jr.), Thor (Chris Hemsworth), Captain America (Chris Evans), Black Widow (Scarlett Johansson), Hawkeye (Jeremy Renner), and yes, The Incredible Hulk (Mark Ruffalo). They who join forces to battle evils so great that no single one of them could take it on alone. The man responsible for bringing them all together is Nick Fury, played by Samuel L. Jackson. Throughout the individual super heroes' movies, you may have spotted Mr. Fury after the end credits, usually involved in breaking and entering, approaching the said hero with something called "The Avengers Initiative". This led to many excited fans that could not wait to see the next Marvel film in hopes of another secret being revealed after the end credits.
The Avengers brought together six extraordinary people, but two of them did not have their own films. As a quick recap, Black Widow could be spotted during Iron Man 2, helping Mr. Stark with various missions and Hawkeye made his appearance in Thor, waiting to shoot him down during the scene where Thor was beating up all of the S.H.I.E.L.D. guys in the rain. Now these six individuals, with their psychological problems and their egos in the mix, do not all get along. In fact, most of the movie is a struggle to gain order within the Avengers while a stronger evil becomes more imminent.
The bad guy in The Avengers is returning Thor villain, Loki (Tom Hiddleston). After being thwarted by his brother in the Thor movie, Loki makes a deal with some nasty guys, called the Chitauri, so he can become ruler of Earth and, in the end, spite his brother once more. The terms of Loki's deal were to open a portal to Earth so the Chitauri and their giant fish monsters could destroy everything. Beings 5 of the 6 Avengers are from Earth, they eventually pulled themselves together to battle the common evil. This made the often humorous quarrels between the heroes quickly fade and turned the audience's attention to the imminent doom.
Overall, the CGI in this movie is, as far as my eyes can see, flawless. When the Avengers put aside their differences and start fighting Loki and the Chitauri, it is pure action bliss. The whole movie did a great job at showing each hero's strengths and weaknesses and how they all came to terms with them. Marvel really used their $200 million budget to destroy New York with just about anything you can think of. If you don't even like super heroes, you would still enjoy the eye candy this movie throws at you.
Now I know I left a lot of details out from the movie and I did that on purpose. I did not want to build up too much hype for those who haven't seen it yet. I loved it and I think a lot of that was because I didn't have all my friends hyping it up for me. It is 2.5 hours of pure visual joy and a very solid story to accompany it. I don't know how the fanboys will feel about it, but any fan of the Marvel movies will easily add this to their favorites. Oh, and when you see the Hulk for the first time, you will get goosebumps.