One would expect excellent acting when you have Edward Norton and Robert De Niro starring in it and Stone showcases just that. The film also stars talent from a less unexpected person, the model-turned-actress, Milla Jovovhich. Stone provides plenty of opportunities for big plot twists with cons on top of cons but it ultimately falls short with a less than satisfying conclusion.
Jack (Robert De Niro) is a reputable parole officer that is retiring soon but instead of passing his last case to his successor, he takes the case himself. The last case involves a man named Stone (Edward Norton) who has served the last 8 years in prison. Stone has a beautiful wife named Lucetta (Milla Jovovhich) who visits often. She is a school teacher and on the surface she is the nicest lady you will meet. But that is exactly how she wants to seem.
Stone and Lucetta seem to be forming a plan to help get Stone out of prison early. We are under the impression that she will be getting close to Jack in order to persuade him into letting him out. She confronts Jack in the parking lot where she begs him to take a present her students made from him. Jack is very persistent that that kind of behavior will not be tolerated. He recognizes what she is trying to do. Still, she does everything in her power to get Jack to crack and eventually gets him to agree on meeting outside the office.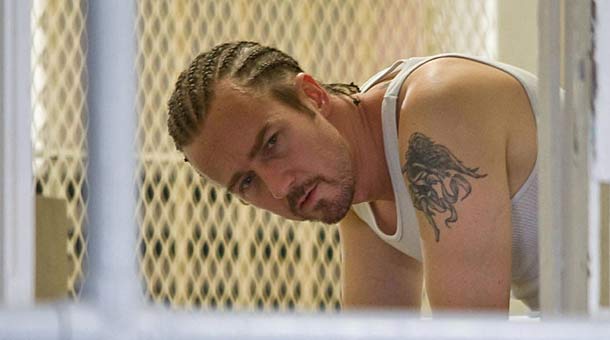 Meanwhile, Stone discovers a new way of thinking called Zukangor through a pamphlet in the prison library. It teaches meditation and harmony with the universe. It transforms him mentally, the way he thinks is far more profound and positive. It also transforms him physically, as he changes out of his cornrows back to a more typical haircut.
Lucetta begins to manipulate Jack by getting to know him on a personal level. At one point, Jack tells her not to get her hopes up about her husband getting off early, but she swiftly changes the subject. Her plan is working perfectly as the two of them are become close. So close in fact, she seduces Jack. Jack knows that what he did does not make him look good and explains to her that she cannot tell anyone about what happened.
Jack notices Stone's new attitude and begins to question whether or not he is actually changed or if he is just acting. This really aggravates him and leads him to seek advice from Lucetta. She tells him that Stone is just doing it to impress him and will do anything it takes to get out. It is unclear what her motives are now.
The plot thickens when Jack tells Stone that the parole board is willing to let him out as long as he is willing to take responsibility for his actions. Instead of doing that, Stone explains how he now feels like he was meant to do what he did as part of his new view on life. When Jack brings up his wife, he quickly dismisses her and tells Jack not to listen to her. Stone admits that she is manipulating him, which only frustrates Jack even further and now does not know who to trust.
One of the better qualities of Stone was the acting. We end up being presented two different sides from each character, how they present themselves to others and what lies beneath. Jovovich and Norton both have stand-out performances as did De Niro, although he seemed uninspired.
The first half of the film is very gripping, it makes you want to keep watching to see what unfolds. The second half brings in the conflict and we, like Jack, start to question what the true motives behind the characters are. However, the ending did not hold up to the standards that the rest of the film gave nor did it really fit with the rest of it. Although, technically the ending works, I still felt disappointed with it.
What Stone excelled in acting it lacked in direction. The majority of the film felt somewhat polished but the ending felt rushed or they did not know where to go with it. There were some good use of symbolism; the bee symbolizes reincarnation and cornrows of the field on the farm to Stone's hair. Yet, there are still some unanswered questions the film seemed to have forgotten about such as, what is the purpose of Jack's brother dying? With all that being said, Stone is worth a watch but nothing more.