The Patience Stone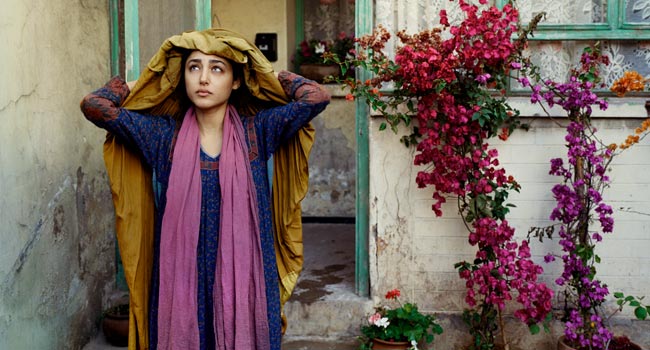 The Patience Stone is a pulsating, moody existential tale that delicately swarms the senses.
Like an intoxicating, slow-moving swirl of deep colors and even deeper emotions, Afghani filmmaker and novelist Atiq Rahimi's The Patience Stone, an adaptation of his own award-winning novel, Syngue Sabour, quietly enraptures the senses and rewards those who possess the titular human quality. Set in war-torn Afghanistan, it's a meditation about truth as the key to true liberation. Truth as breath, words, emerging gently, rebelliously, from within a woman whose every fiber pleads with her to suppress it.
The film opens with the woman (the gorgeous Iranian actress Golshifteh Farahani, who remains unnamed) caring for her ostensibly comatose husband (Hamidreza Javdan, also nameless), in a small, sparsely furnished, but lusciously colored room. She dabs his forehead with a compress and whimpers, "Can you hear me?" The rift between them (a fine juxtaposition to the film's pervasive intimacy) caused by the husband's apparent absence of consciousness (from a bullet to the neck) frames the story.
She pleads with her husband to wake up, and we learn that their family (they have two children) has been rendered destitute—she's shouldering more than she can handle, raising the children alone and keeping her husband alive (by a string) with saline bags, for pity's sake. Abandoned by her in-laws (they've fled the war, like many others), unable to pay for her husband's medicine due to piles of debt, and even hurting for a reliable source of water, she's helpless beyond reason. She speaks to her husband meekly, in a steady, undulating stream of whispered secrets, confessions of fear, and desperate pleas to the heavens for respite. She looks as if in a daze as she vents, her eyes fixed on something that isn't there. The husband lies motionless.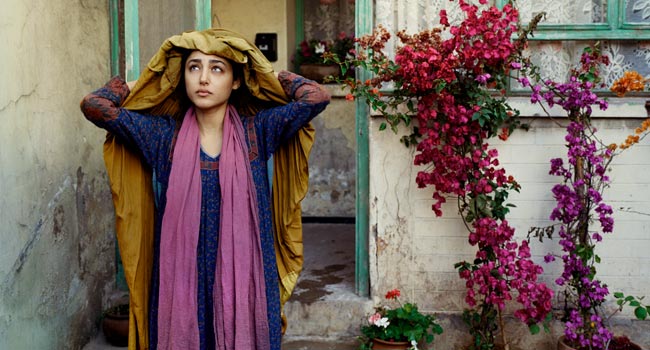 Distant bombs rattle the azure walls, a constant reminder of the death that looms beyond the windows and doors. The war eventually enters her family's home in the form of two soldiers. She forms a sexual relationship with one of them, a young man who occasionally returns for intimate rendezvous (she's lied and told him she's a whore to protect her husband, who's been hidden in the closet.) During a visit to her aunt's place, the aunt poetically likens her dire situation to that of a folk tale, Syngue Sabour, which tells of a stone that you empty all of your fears and secrets into until it eventually shatters, leaving you free to proceed through life. The scene is heavy-handed and a bit melodramatic, but it ultimately serves the story well.
The woman's one-way talks with her husband turn increasingly disagreeable with the expectations thrust upon her as a Muslim woman—she speaks in her husband's ear of long-gestating resentments and even of her adulterous encounters with the soldier. Her eyes soften, her voice calms down from a nervous soprano to a buttery alto, and she pulses with confidence and forbidden ecstasy. She seems to have let go of her burdens, and even looks happy. We think, if the husband can hear her, he must be torn apart inside, even seething. Eventually, his eyes suddenly show a glimmer of presence—if he is the legendary stone, then he must shatter.
If you listen, watch, and submit to the film's admittedly glacial pace, you'll be rewarded with a wonderful, soul-stirring filmic experience. Rahimi and screenwriter Jean-Claude Carriére make empowering, lyrical and elegant statements about female oppression in Muslim cultures. Farahani is so pretty it's breathtaking, which is good, since the film is essentially hers, a 100-minute monologue. Her mannerisms and demeanor evolve ever so slowly over the course of the film, though she looks like a completely different person by the film's conclusion. Rahimi couldn't have done better than to have cast her in this, a veritable mountain of a role.
Cinematographer Thierry Arbogast (The Professional, The Fifth Element) has outdone himself—you could print out every frame of The Patience Stone and hang them in art museums across the globe next to Goya paintings (one of Rahimi's main visual inspirations.) The colors are rich, vibrant, and serene, with the couple's room bathed in an unforgettable blue and adorned with richly dyed fabrics and tapestries. Rahimi's camera is unearthly still, levitating in place and un-intrusively observing. He barely cuts, letting shots linger long enough for you to absorb every bit of the image. The Patience Stone is a pulsating, moody existential tale that delicately swarms the senses and simply asks that you sit, watch, listen, and inhale deeply.
The Patience Stone trailer:
The Patience Stone Movie review