Last Train Home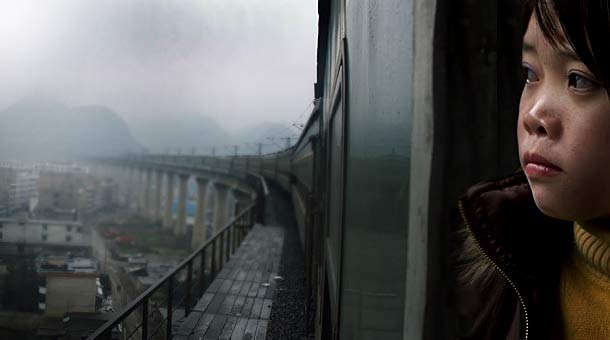 Last Train Home is a documentary by Lixin Fan that follows a family of factory workers over the course of three years and shows the struggle between factory life and family life in China. The film starts off saying, "There are over 130 million migrant workers in China. They go home only once a year, during the Chinese New Year." It is the largest human migration in the world.
The documentary centers around one family as Changhua Zhang and his wife Suqin Chen work in a factory located 2,100 kilometers away from their children. In order to support their two children, Qin and Yang, they must work in a factory sewing jeans. The Chinese New Year is coming up and they are both eager for the opportunity to go back home to see their children. Although, that trip is not exactly a walk in the park, it's a journey.
We see millions of fighting for a ticket to board the train. After spending what must seem like days in line to purchase the tickets, the time finally came. Relived that they were able to get tickets before they all sold out, they get on the incredibly crammed train to take them back to their village.
Their high school aged daughter Qin and middle school aged son Yang have been raised over the years by their grandma. The two parents work hard and sacrifice a lot in order to provide for their family back home. The parent's biggest fear is that their children will end up like them, broke and uneducated.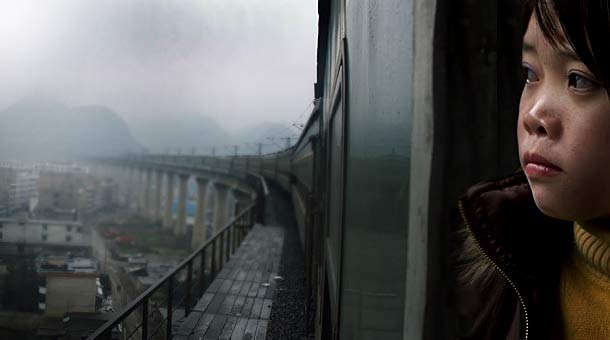 Which explains why the parents keep nagging their children over and over to study hard in school. Going to a university is something that is highly sought after. Such schooling tends to led to good jobs which will get them away from the factories and farms that the rest of their family is at. It is the parent's hope that then one day their children would be able to buy a house for the family to live in.
To Qin it seems like each phone call and annual visits from her parent's results in a conversation about her going back to school. Because she was raised almost completely by her grandma, her attachment to her actual parents is not all that strong. She ends up ignoring her parents' wishes and ends up working in a factory in a city.
In the factory she works, some of the workers producing jeans cannot believe that American's have 40 inch waist lines. It simply is not something that they see in their homeland. Their perception is that American's are fat and tall and therefore need such large pants. The young teenagers have a fear of growing fat. There is little doubt that having to produce such large clothing for American's is where this fear steams from.
During one of the annual New Year's migrations, a man on the train explains how China's economy works, although it is not all that eye opening. He says China does not really have it's own brands, they just take orders from Western companies and manufacture them at a very low export rate. In return, they make a very small profit margin on them.
He goes on to further explain that most foreigners spend nearly all their income they make and saving very little of it. This is unlike most Chinese workers who save nearly everything and like the Zhangs, it goes into providing their family. None of the information should be terribly surprising but it does confirm the general thought of American's by the Chinese.
The cinematography was beautifully executed, especially with the exterior train shots. One of the most notable shots is of the train going through a snowy mountain range. The camera work does a good job covering the three years of filming, showing the effects of the 2008 global economic crisis, Beijing Olympics, as well a fly-on-the-wall perspective of a typical factory family in China.
Last Train Home was well setup, well shot, well told for the most part but I just felt like the conclusion was not quite on par with the rest of the film. There were definitely some powerful scenes throughout the documentary, most notably when a family feud breaks out when the daughter disrespects the father. Unfortunately, I felt it lacked a powerful ending to an otherwise pretty flawless and amazing documentary.
Last Train Home Movie review