Kill Your Darlings
John Krokidas and a stacked cast delve into the murderous origins of the Beat Generation in their noir-ish thriller.
Based on true events that took place in and around Colombia University in 1944, director John Krokidas' impressive debut feature, Kill Your Darlings, is a dark, moody tale of obsession, betrayal, and murder involving a handful of young men, unruly intellectuals who poison as much as they inspire and arouse each other. These young men just happen to be Allen Ginsberg, Jack Kerouac, William S. Burroughs, and Lucien Carr (and others), the cornerstone figures of the eminently influential Beat Generation, but Krokidas' film wisely doesn't check your knowledge of their later accomplishments at the door.
It's a self-contained origin story of the beloved literary and counterculture icons that's friendly to the unfamiliar as it cuts off just before our anti-heroes go off to become famous writers. The movie's focus begins to blur eventually when it starts playing it too loose for its own good, but it's intoxicating throughout and harbors a murderer's row of thriving young actors who deliver solid performances.
Daniel Radcliffe (The Boy Who Lived!) leads the ensemble as Ginsberg, a brilliant, sheepish 17-year-old freshman at Colombia who becomes enamored with Carr (Dane DeHaan, ridiculously good), an androgynous, boisterous rebel with a magnetic aura and an affinity for reciting Henry Miller on top of tables in the campus library. Carr ushers the Ginsberg into a hazy world of heavy drugs, heavy drinking, and heavy ideas, ideas that renounce societal, sexual, religious, and artistic norms. Through Carr, Ginsberg meets the kooky, likable Burroughs (Ben Foster, who's great as usual, though he lets his younger cast-mates shine), the hard-headed (one-dimensionally written) Kerouac (Jack Huston), and David Kammerer (Michael C. Hall), a spiteful, damaged soul.
The drugged-out thinkers massage each others' genius (it's almost as sexual as it sounds), ruminating through the night and brainstorming ways to upheave the system and shake up the social consciousness. Kamerer is the bitter outlier of the group–he and Carr have a dark, nebulous history that eventually turns murderous–Kill Your Darlings begins at the end, opening with Carr holding Kammerer's dead body in the Hudson River.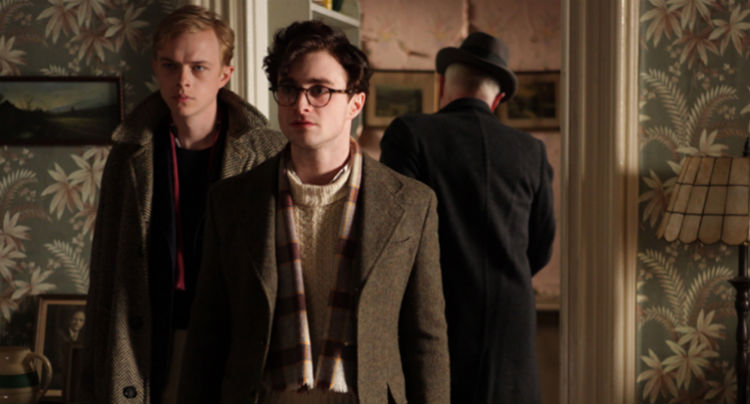 There isn't a bad word to say about the performances the actors turn in. Not a thing. But still, there isn't a grand, towering performance turned in either, though DeHaan comes close with his assured, seductive take on Carr, by far the most interesting of the lot (even the other characters are drawn to him like flies to a light). Radcliffe balances the wide-eyed naiveté and big brains of the young Ginsberg well, and he disappears into the role with ease (surprisingly, "Harry" didn't pop into my head even once). The chemistry between Radcliffe and DeHaan sizzles, which is good, since their relationship bears the heft of the drama. The supporters–Elizabeth Olsen, Jennifer Jason Leigh, Kyra Sedgwick, David Cross–are superb and make the few moments they have on camera count.
As the story–written by Krokidas and Austin Bunn–unfolds and Ginsberg follows Carr deeper and deeper into the rabbit hole, things get a little sketchy. Krokidas gets funky with his camerawork, which helps communicate the groups' druggy state, but often results in shots that seem superficial and superfluous in relation to the narrative. One scene in particular–a happy-gas-induced dream sequence in a jazz club–feels awfully showboat-y, though it's got a ton of style, just like the rest of the film, which is worth noting. The rich, moody atmosphere Krokidas and DP Reed Morano create is striking, with deep shadows and dusty light framing the characters as they scheme and philosophize around in and around the university in the dead of night. There's a chilling, shadowy, nocturnal feel to the sets and locations that makes the film feel like it's been dipped in a bucket of film noir (a good thing).
One of the film's glaring blemishes is a writing conundrum that Krokidas and Bunn couldn't seem to work around. From the outset, it's clear that Ginsberg is meant to be our eyes and ears, our vessel into Krokidas' smoky 1940's world of knit sweaters and boozy excess. With this in mind, the scenes between Carr and Kammerer feel oddly ancillary, as Ginsberg wasn't involved with these meetings at all. It's a bit off-putting, though Krokidas' narrative is obviously trapped by the reality of the events, so it's hard to think of how he could have worked around it.
As an introduction to the Beats (which it will likely be to many), Kill Your Darlings is a success–despite its flaws, it successfully dramatizes some of the most canonized figures in modern literature without relying on their reputation (no easy feat), making them cool, young, and edgy again. It'll likely inspire many a youth to pick up a book by one of the Beats or perhaps put pen to paper themselves, which is a triumph.
Kill Your Darlings trailer:
Kill Your Darlings Movie review