Hello, My Name Is Doris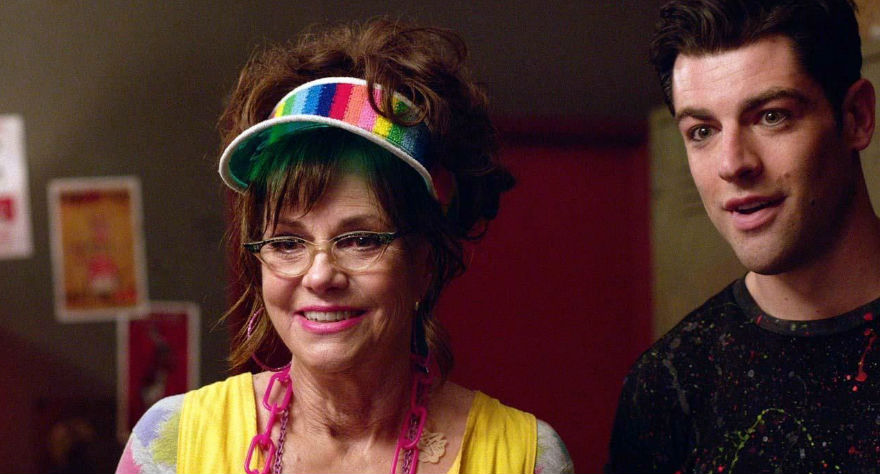 A late-bloomer romance with tremendous comedic and emotional range.

Crass, crude, foul-mouthed comedies have been all the rage at the movies for some time now, with the trendiest comedians from any given year dropping F-bombs, and spouting off rapid-fire fraternity jokes in their (almost always nudity-obsessed) star vehicles. Wet Hot American Summer and The State co-creator Michael Showalter's latest offering, Hello, My Name Is Doris, is the perfect antidote to the unending strain of Apatow offshoots: It balances classy, screwball comedy, bone-deep drama, and old-fashioned romance with the finesse of an Olympic gymnast. For once, it's a rom-com with aims of enchanting and disarming us rather than grossing us out of our minds.
The film's greatest boon is its star, Sally Field, an actor of age who puts on a performance so range-y, powerful and tender that it all but wipes today's young, sparkling starlets from memory. She plays Doris, a sixtysomething recluse who's lived in her mother's cluttered house in Staten Island her whole life. Doris falls into lonely despair when her mother passes away but thankfully has her job as a paper pusher to keep her busy during the day. She's the only person over 40 at her company though her role as office outcast could be more attributed to her cat-lady eccentricities (cat-eye glasses, headscarves, wooly knits and all).
Hope of getting Doris unstuck from her rut arrives in the form of her company's new art director, a strapping, decades-younger Los Angeles transplant amusingly named John Fremont (New Girl's Max Greenfield). On several occasions, we get lost with Doris in fantasy as she daydreams about John confessing his love for her in front of their colleagues and hooking up with him in the breakroom. Field is ungodly adorable as she fumbles and fawns, and Greenfield does a good job of keeping us in suspense as to whether or not Doris has got a shot at John's heart.
With encouragement from her best (only) friend, Roz (Tyne Daly)—who takes her to a life-altering lecture by motivational speaker Willy Williams (Peter Gallagher)—Doris decides it's time to make a change and begins fashioning herself to John's interests (facilitated by Roz's granddaughter, who schools her on the art of Facebook stalking), making a concerted, somewhat creepy effort to cougar her way into John's arms. Suddenly, she's clumsily throwing around millennial slang, rocking neon yellow outfits and going to indie electro-pop shows headlined by John's favorite band, Baby Goya and the Nuclear Winters (where the two "coincidentally" bump into each other).
Just as a tight friendship starts to form between them and the thought of romance doesn't seem so inconceivable, John meets another woman, bringing Doris' dreams crashing down. In a drunken fit of desperation, she sabotages John's new relationship (via a lovelorn timeline post from her fake Facebook account), a plan that naturally backfires and leads to even more heartbreak. Showalter and co-writer Laura Terruso—who directed the short the movie is based on as a student of Showalter's at New York University—hit every romantic, comedic, and dramatic beat so well that the movie transcends genre. This makes for such an enjoyable experience because, instead of trying to predict where the story's going, we're allowed to let go of preconception and go wherever the emotions may take us. Every laugh, every heartbreak, every moment feels sincere, not hokey or contrived. Nothing's cheap; everything's earned. The movie's liberating in that way.
Field is so talented it's scary. It should go without saying—she's a two-time Oscar winner, after all—but the sad reality is that female actors over 50 are typically relegated to secondary, tertiary, often motherly roles. Her career, tragically, supports that narrative. But that's why Hello, My Name Is Doris is such a gift; in all her glory, we get to see Field showcase her unparalleled mastery of physical comedy (watching Doris quiver and drool as John pumps up her deflated gym-ball office chair is insanely funny) as well as her earth-shattering dramatic chops. In the movie's most powerful, unsettling scene, Doris hops up onto her couch, screaming at her brother (Stephen Root) to leave her house as she tearfully refuses to clear out the piles of old magazines and expired food her mother left behind. It's scenes like this that reveal the psychological complexity bubbling beneath Doris' cartoonish exterior. Such a wonderfully weird, layered character is only safe in the hands of an actor of Field's caliber.
Hello, My Name Is Doris Movie review