Haven (TJFF 2015)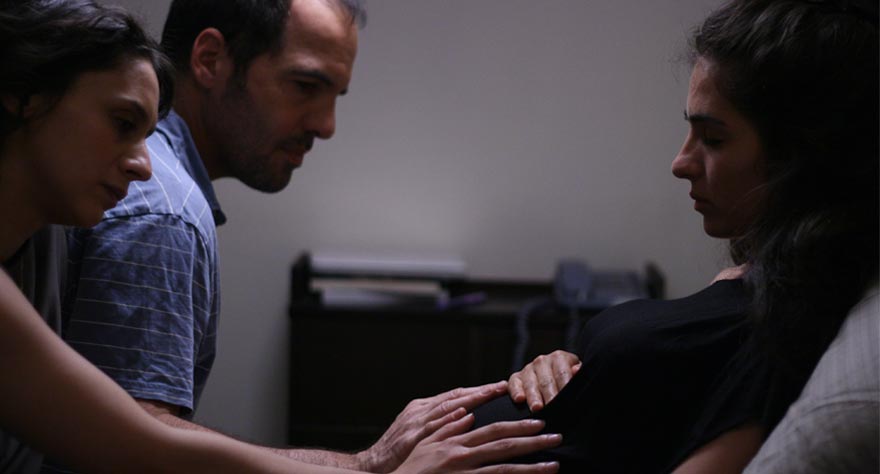 Political and sexual tensions rise when war forces two couples to cohabit in this uneven Israeli drama.
War is frequently used by filmmakers not as the subject of a film or even its primary setting, but as a driving force for other, more personal, conflicts. Such is the case of Haven, from first-time writer/director Amikam Kovner. The story takes place in the shadow of the Second Lebanon War, and the film makes its Canadian Premiere at the 2015 Toronto Jewish Film Festival.
Because of Hezbollah's attacks, residents of northern Israel, are forced to flee south for their lives. Two of those residents are Motti and Keren (Oshri Cohen and Rotem Zissman-Cohen, respectfully), a young married couple in their 20's with a baby on the way. They find refuge with Boaz and Yali (Nevo Kimchi and Lana Ettinger), a slightly older couple (late 30's) who live in a nice apartment and who are kind enough to take in strangers.
There are small conflicts one might expect from such a living arrangement—conflicts that mildly disrupt the life of the older couple: Motti smokes, he leaves beard clippings in the sink, he prefers to eat Kosher, etc. In fact, Motti's religious conviction is about the most significant difference between him and Boaz (the wives remain neutral) until talk turns to politics. This is when tensions flare, as the younger man would prefer Israel take a more aggressive position in the war, while the older man would rather avoid conflict entirely. Suddenly an apartment that was big enough to temporarily house four people becomes a little more cramped, and the close quarters and unsettled atmosphere leave open the possibility for other precarious situations to occur.
Writer/director Kovner creates great foundation early in Haven. He quickly establishes the conflict between the males not only with overt differences (young/old, devout/secular, conservative/liberal), but he includes subtle things that help contribute to the tension. Kovner is also clever to leverage war reporting as televised-around-the-clock fuel on the conflict fire.
However, once the first act draws to a close, cleverness takes a back seat to completion. There's an acceleration of events and emotions that occurs where characters move from Point A to Point E without ever stopping at the points in between. It's frustrating to watch, because when the characters reach their final destinations, it's completely understandable that that's where they are supposed to end up. However, they don't put in the effort; they are simply placed there. The biggest victim in this is the audience, which is denied the pleasure of watching the characters travel the full-length of the road.
Exacerbating that frustration is the film's lean 74-minute runtime. Kovner wastes little time on frivolity, and what time he does spend there is an enjoyable break from the tension. But surely an extra 10-15 minutes of additional scenes could have been use to develop these relationships more organically.
While there are a few bit parts, this is a four-person film (one that would adapt well to the stage), and each do an excellent job in their roles. Leading the cast, though, is Lana Ettinger as Yali. The experienced actress has competing character types to play against in her three roomies, not to mention her reflective solo scenes, and she plays well against them all. It's thanks to her and the rest of the foursome that film remains compelling in spite of its storytelling flaws.
Haven (TJFF 2015) Movie review