Gangs of Wasseypur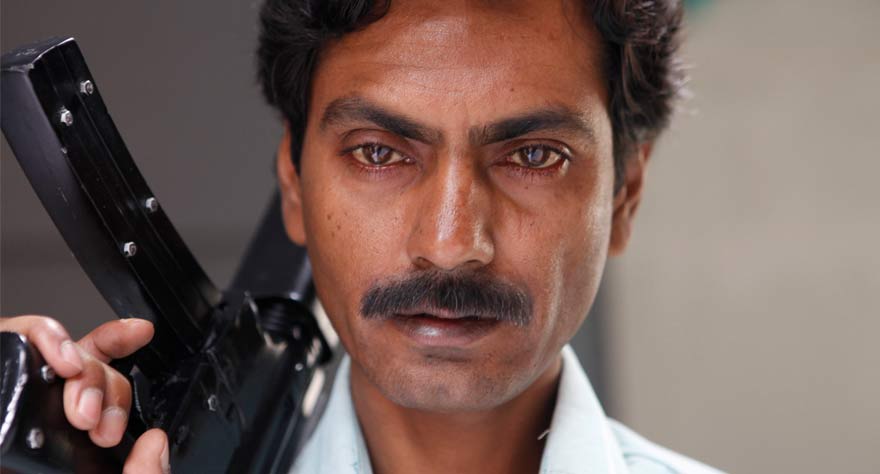 Despite an intelligent soundtrack and shocking violence, a convoluted plot makes this a challenge to sit through.
Directed by Anurag Kashyap, Gangs of Wasseypur—released in two parts, each nearly three hours in length—attempts to chronicle the violence and corruption in the criminal underworld of this impoverished region of India. Both parts of the film are narrated by Nasir Ahmed (Piyush Mishra), an assistant to Shahid Khan, who continues to stay with the Khan family through their conflict with Ramadhir Singh. The majority of Gangs of Wasseypur Part One tells the story of Shahid Khan whilst the Gangs of Wasseypur Part Two focuses on the Khan families continued war with Singh.
Gangs of Wasseypur, begins with Shahid Khan who, after being thrown out of his village, finds himself working as a hired muscle for Ramadhir Singh, an industrialist who has made a fortune out of mining coal. However, fearing that one day his 'lapdog' may replace him at the top of the food chain Ramadhir Singh has Shahid Khan killed. This death has disastrous consequences for Singh, leading to a bloody conflict with Khan's son Sardar, the feud between the two spanning across generations.
Given the length of Gangs of Wasseypur, it would be fair to say Kashyap is not a filmmaker who attempts to tell a story concisely. As is the case with any story of this length, keeping the audience engaged is something of a challenge and sadly throughout its running time Gangs of Wasseypur feels saddled by exhaustive levels of exposition. The reason for this is that Kashyap is very keen to establish context, with every crime explained in forensic detail, and placed in the context of the changing political and social landscape of the region. At times this offers an interesting insight into the history of India. However, it is detrimental to the narrative, causing it to lack pace, and leads to the film feeling overburdened by the scale of the story it is trying to tell.
However, Kashyap is clearly not a filmmaker without talent. Throughout both films he cleverly inverts the utopian themes of Bollywood, by juxtaposing classic Bollywood songs with images of violence and corruption on the streets of Wasseypur. This idea of the contrast between Bollywood and reality is further reinforced later in the film by Ramadhir Singh who decries all those who are 'fooled' by Bollywood film, exclaiming 'every fucker trying to become the hero, in his own imaginary film.' Despite the film's claims towards realism the excessive violence in Gangs of Wasseypur borders on surrealism. Reminiscent of the work of Nicolas Winding Refn, this provocative portrayal of violence gives the film a similar visceral appeal, yet it also lessens the impact of the film as piece of political commentary. It is another example of Kashyap trying to appeal on too many fronts. The film shifts in tone with conflicting messages, becoming confusing and disorienting.
Despite a commendable performance from its cast, in both parts, Gangs of Wasseypur also suffers from a lack of charm or relatable characters to identify with. In Gangs of Wasseypur Part One, in particular, the desire to see Sardar Khan avenge his father loses its impact when interest in his character is hard to maintain. The female characters, when they do come to the surface, are empathetic but too often reduced to the sidelines of the story.
In the end, both parts of Gangs of Wasseypur disappoint. Kashyap is a director who clearly has a keen-eye for conveying violence, and the clever soundtrack hints at a real talent. However, Gangs of Wasseypur is laborious and overly long, its convoluted plot and lack of empathetic characters makes it a challenge to sit through.
Gangs of Wasseypur Movie review