Dope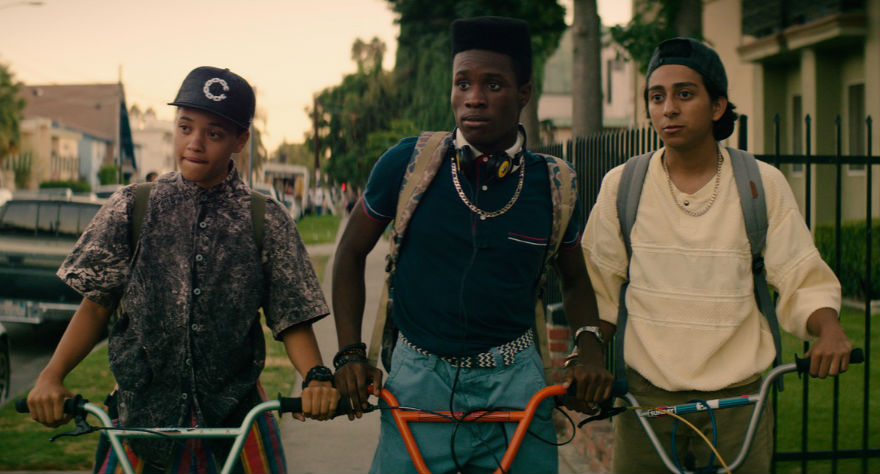 Famuyiwa's unpredictable coming-of-age comedy is, in fact, insanely dope.

Good-natured geeks get pulled into the quicksand of LA gang culture in Rick Famuyiwa's Sundance hit, Dope. It's an unpredictable coming-of-age comedy that earns every laugh with its smart writing and well-crafted jokes that never feel cheap. Unlike other films addressing similar social and racial issues, Famuyiwa's film isn't a hero's tale or some urban fantasy about rising above prejudice. It's not a story about being a good person; it's about being a survivor.
The underdog at the center of the story is Malcolm, played by a flat-top-rocking Shameik Moore. Malcolm's a bright high school senior living in the Inglewood neighborhood called "The Bottoms" with his mom, a bus driver (his father left a long time ago, his only meaningful remnant a gifted VHS copy of Superfly). He's a self-professed geek, spending most of his days obsessing over '90s hip-hop culture (hence the flat-top), manga, porn and playing in a punk band with his two best friends. Kiersey Clemons plays Diggy, an outgoing, out-of-the-closet scrapper who's always got Malcolm's back. The third member of the hip-hop bohemian tribe is a scrawny fellow they call Jib, played by Tony Revolori (he was Zero in The Grand Budapest Hotel).
It's explained early on (via slightly awkward Forest Whitaker narration) that The Bottoms is a pretty unfriendly place for them. Fights and shootings happen all the time, so getting bullied at school by Bloods (an everyday occurrence for Malcolm) is considered a relatively trivial complication compared to the gruesome stuff that happens on the block. Malcolm tries to avoid trouble as best he can, especially since he's got Harvard in his crosshairs as his first-choice school. Nowhere in his application letter does he mention his under-privileged upbringing; instead, he analyzes Ice Cube's Good Day as a way to stand out from the crowd of Harvard hopefuls. Upon reading the letter, Malcolm's professor, who's facilitating the application process, is frustrated that Malcolm—a straight-A student with a sterling record—thinks he can get into Harvard without using his hard-knocks upbringing to garner sympathy. "Who do you think you are?"
Later in the film, Malcolm's in a dingy warehouse back office making a deal with a snarling thug involving inordinate amounts of molly (ecstasy), a thumb drive, and wads of dirty cash. The gangster tells Malcolm exactly who he is: "A man who don't give a fuck." How did Malcolm, a model teenager with a clean conscience, fall into such shady business, business that could derail his future?
It all starts with Dom (A$AP Rocky), a charismatic dealer who runs his block with a clenched fist. He takes Malcolm under his wing, using the nervous teen as a messenger pigeon to ask a pretty, smart girl up the block (Zoë Kravitz, channeling Nia Long in Friday) to come to his birthday party at the club. She agrees, but only if Malcolm goes, too. Malcolm develops a quick crush, of course, so he shows up to the party, Diggy and Jib in tow. In the chaos of a drug deal gone-wrong and a subsequent police raid, Malcolm winds up with a gun and tens of thousands of dollars worth of drugs in his backpack.
Thus begins Malcolm's descent into a world of narcotic traffickers, racketeers and killers, with the geeky trio scrambling to figure out how to get rid of the drugs while trying to stay alive. The series of unlucky events cascade like falling dominos, and though things get dicey, the humor is always there, sustaining the film's vigor.
Malcolm's is a veritable whiz when it comes to academics, but when it comes to his new drug-slinging street life, he's completely out of his depth. Whether he's being seduced by a sultry drug empire princess, talking on the phone with a growly debt collector, or shivering as he points a gun for the first time, he's always got a stupefied, almost cross-eyed look on his face. Moore's great in the role because he's effortlessly sympathetic; you can't help but like him (the awesome Fresh Prince, De La Soul-inspired throwback attire doesn't hurt, either). The rest of the cast is mostly very good, though Roger Guenveur Smith stinks up the joint as a borderline-comatose drug lord. Clemons and Revolori play solid confidants, but at the end of the day, Moore runs away with the movie.
Famuyiwa and DP Rachel Morrison's visuals are vibrant and crisp, utilizing split-screen and unexpected freeze-frames and interludes to electric effect. The film's always on the move, just like its protagonists. A late, unforgettable sequence in which Malcolm addresses the camera directly is a breathless show-stealer, a chilling monologue that's easily be one of the best movie moments of the year. As far as soundtracks go, it's Dope's track-list is going to be tough to beat. Narratively weaved-in classics from Nas ("The World Is Yours"), Public Enemy ("Rebel Without a Pause") and A Tribe Called Quest ("Scenario") are invaluable in defining the film's style and vibe.
Like Dear White People, Dope is a movie about identity and perception. Malcolm's struggle to reconcile his Harvard aspirations with his current, Walter White-ish situation is the movie's drive, and the final resolution is a piercing observation on being someone of color, someone who society expects less from than the white mighty majority. The movie doesn't get weighed down by the serious business, though: it's a terrific hangout flick in the vein of Cooley High and Friday. Dope's dopeness is off the charts.
Dope Movie review