Digging for Fire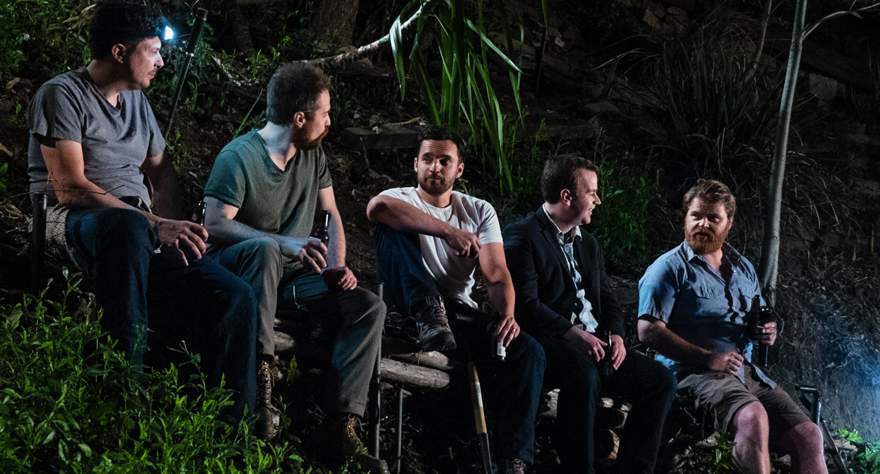 A deceptively low-key hangout comedy turns into a fascinating exploration of commitment.
Go through the massive list of stars that appear in Joe Swanberg's Digging for Fire and it might be easy to claim that one of the most prolific names in modern indie has "gone mainstream." But actually watch Digging for Fire (or Happy Christmas or Drinking Buddies), and it's clear that the mainstream has actually come knocking on Swanberg's door. This is the same low-key, character-based storytelling Swanberg has been honing for years, only now with a plethora of talent and established names thrown into the mix. And, if anything, Digging for Fire shows Swanberg as a filmmaker in total control, using his ensemble and skills at creating a casual, inviting tone to make a subtle and fascinating exploration of commitment, aging and marriage.
Taking place in Los Angeles, the film opens with married couple Lee (Rosemarie Dewitt) and Tim (Jake Johnson, who co-wrote with Swanberg) taking their son Jude (Swanberg's own son, stealing every scene he's in) to house-sit for one of Lee's wealthy clients. While Lee goes off working as a yoga instructor, Tim—a public school teacher—stays at home during the summer break. Soon after arriving, Tim starts poking around the house and discovers a bone and an old gun buried in a yard behind the house. Tim wants to keep digging, but Lee doesn't want him messing up her client's property, and a host of other small disagreements between the two (including Tim's refusal to put Jude in a private school) leads to Lee taking Jude to spend the weekend with her parents (Sam Elliott and Judith Light).
Tim takes the opportunity to invite some of his old buddies over (Sam Rockwell, Chris Messina, Mike Birbiglia and Kent Osborne, to name a few), and before long he's convincing all of them to help dig up whatever else might be hiding underneath the property. At this point the film forks off into two narrative strands, one profiling Tim's weekend with his friends, and the other following Lee trying to have a girl's night out with her sister (Melanie Lynskey). Both Lee and Tim wind up finding themselves conflicted when they each encounter an opportunity to cheat; Lee meets a British restaurant owner (Orlando Bloom), and Tim makes nice with the young, carefree Max (Brie Larson).
Anyone familiar with Swanberg's previous work won't be surprised to learn the film's central mystery is a nonstarter. It's more of an excuse for getting characters together to casually chat about the themes Swanberg and Johnson really want to explore. "When did you feel like you got back to yourself?" Lee asks her mom at one point, wondering if marriage and motherhood have removed her ability to live her own life, and Tim admits to Max that he feels like he's not maturing, he's just getting older. Their brief exchanges with friends, family and strangers around them reveal that both Lee and Max have hesitations about staying in for the long haul of their marriage, with the hypothetical idea of something "better" existing out there tempting them into seeking individuality over partnership.
What makes Digging for Fire such an enjoyable yet fleeting experience is how Swanberg lets these ideas flow organically into the film through his terrific cast and tight editing. Narrative doesn't mean much here, as it's more about how Lee and Tim's actions reflect their concerns. Dewitt and Johnson anchor the film nicely, and there isn't a single weak spot in a cast that's as sprawling as LA itself. Shooting on 35mm with cinematographer Ben Richardson (who also shot Drinking Buddies and, most famously, Beasts of the Southern Wild), the film's keen eye for composition helps give it a cinematic feel that comes across as a surprise given its dialogue-heavy approach. Swanberg has made films for over a decade now, and at a pretty quick pace too (remember when he directed six films in 2011?), but in some ways Digging for Fire feels like the start of a newer, more refined era for him. It's exciting to watch Swanberg in complete domination of his craft, but it'll be more exciting to see what he does next.
Digging for Fire Movie review