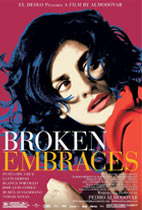 Broken Embraces
It was a little disappointing that the last part of the film did not finish as strong as it began.
Broken Embraces is a foreign film from the highly acclaimed Spanish director Pedro Almodovar about passion and obsession. The film centers around a filmmaker who falls in love with an actress who is the producer's mistress. The plot slowly unravels itself in a way that would make Hitchcock proud. It is shot in a way that you not only are watching one Almodovar film but two as there is a movie-within-a-movie.
Mateo Blanco (Lluis Homar) is a famous director who was fantasized being another person. He created an alter ego of Henry Caine when he became blind and transformed into being a writer. Caine relies on Judit (Blanca Portillo) and her son Diego (Tamar Novas) to take care of him at his home. Judit has always been by Caine's side, even before he became blind as she was a production manager for him on his films.
At the very beginning we learn that a wealthy man named Ernesto Martel has died but have no clue as to who that person is. The film then jumps around from past and present to learn about Ernesto Martel and why his death is so important to Caine. During all the flashbacks we are introduced to a host of side characters and the different sides of Mateo Blanco/Henry Caine.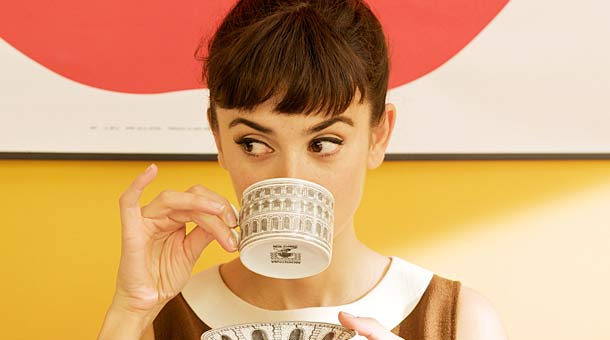 One day a young name named Ray X (Ruben Ochandiano) makes an appointment to talk to Caine about making a screenplay for him. Ray X insists that Caine should do the screenplay but Caine was not sold on the story and tells him that he is not the right person to write it. After he leaves he has Diego look at old production photos because he has a hunch that he has met Ray X before. Sure enough, there is a photo of the two together on a set.
Back when Caine went by Mateo Blanco, he was beginning his work on what would be his final film Girls and Suitcases. This is when he was introduced to Ernesto's mistress, Lena (Penelope Cruz). Lena has been living with the wealthy Ernesto Martel for the past two years but wanted to get back into the working environment. Mateo fell in love with Lena at first sight.
Martel is nervous that he is losing Lena so he hires his son to follow Lena around on the set of the film. Armored with a video camera himself, the son is follows orders by filming Lena becoming an actress. Although the reason for this is so that Martel can keep an eye on Lena, the son makes a documentary out of it.
His suspicions turned out to be accurate as Lena falls for Mateo. The footage his son captured of the two proved that. Being that Martel is the producer of the film, makes the whole situation very messy. Martel's passion for Lena does not go unnoticed.
Almodovar deliberately uses the color red virtually everywhere throughout the film. It is found in obvious places such as lipstick but also in more carefully selected places such as the paintings, furniture and a lot of the clothing. The liberal use of the color red is no doubt in effort to show how much love and passion all the characters possess.
I have started backwards in viewing Pedro Almodovar's work, the first film I saw of his was his most recent film The Skin I Live In which ended up being my favorite film of 2011. He has incredible talent in filmmaking and storytelling that makes it easy to see why he is one of the most acclaimed Spanish directors of all time. He is becoming one of my favorite foreign directors. I eagerly wait to see Vovler, Bad Education and Talk To Her which are the next three films in the reverse order I am viewing them in.
The first 90 minutes of Broken Embraces was brilliant, character development heavy with a great thriller plotline. In the last 30 minutes of the film the story arc was mostly completed thus the rushed ending failed to be climatic. It was a little disappointing that the last part of the film did not finish as strong as it began. The film still was impressive to watch thanks to Almodovar's magnificent style.