Being 17 (Berlin Review)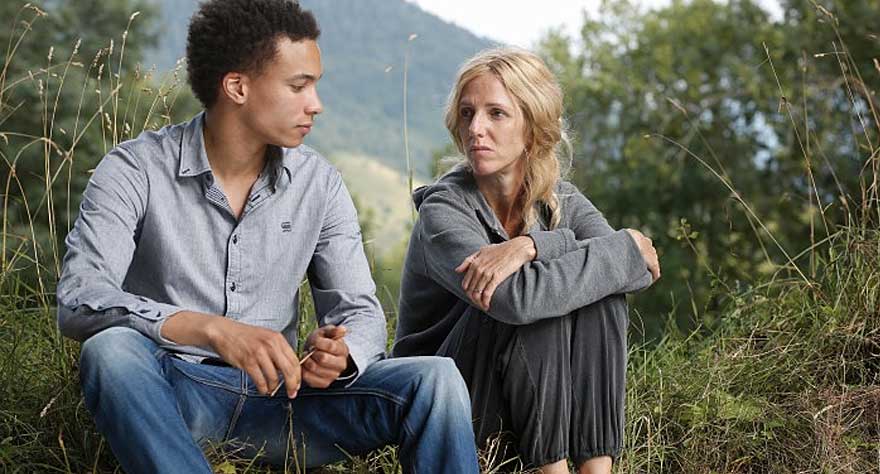 A beautifully structured, finely acted ballad on teenage angst and passion.
The French have a special knack for telling naturalistic, intimate stories. The nation's treasured André Téchiné has been due for a strong film, since his post-2000 output (with the exception of Witness) has been leaving too much to be desired. To fill this void and remind everyone why some hail him as the greatest post-New Wave director, Téchiné focuses on the youthful crossroads of desire in Being 17 in order to capture the complexity of a relationship between two boys. From mutual animosity to forced friendship to the awakening of something neither expect, Damien (Kacey Mottet Klein) and Tom (Corentin Fila) evolve through an expertly paced 2 hours on screen in ways that should leave audiences celebrating the spirited farrago of youth.
The lively beautiful rush of the opening credits create a comforting ease that's usually attributed to someone who's got a world of experience to work with. "Here is a director who knows what he's doing, put your trust in him and enjoy this emotional ride," they seem to say as the scenic country setting whizzes by over glorious music. The vibrancy of the opening foreshadows the tone that will go on to pervade over the entire film and the tense push-and-pull dynamic between Damien and Tom. They're schoolmates, a couple of high-school loners who get picked last for basketball practice, and who—for no discernible reason—become enemies.
Tom lives in the mountains with his adoptive mother Christine (Mama Prassinos) and father Jacques (Jean Fornerod), and is in a constant state of detached ambivalence with the world around him, feeling assuaged only when swimming naked in the lake or tending to the farm animals. Damien lives with his mother, Marianne (Sandrine Kiberlain), the country doctor with a heart of gold, while his father Nathan (Alexis Loret) is on active tour duty as a helicopter pilot. Damien practices defensive techniques with neighbor Paulo (Jean Corso), an old-school vet and friend of his dad's, and loves to cook meals for his mom. When Marianne gets called in to see a sick Christine, she takes a liking to the quiet and polite Tom, who pays her with a chicken in the film's first organic laugh-out-loud moment.
When it's discovered that Christine is pregnant with another child, a surprise considering the many miscarriages she had to endure before adopting Tom, Marianne suggests that Tom stay with her and Damien after school, in order to get his grades back up and not lose three hours commuting from the farm. Reluctantly the two boys agree to this arrangement, but tensions escalate until they decide to fight it out once and for all on a mountaintop. When the rain interrupts them mid-fight, however, they seek refuge in a cave and share a sneaky joint in silence. That's when something shifts in the atmosphere.
Téchiné, and co-writer Celine Sciamma (the writer/director of the excellent Girlhood) have a gracefully raw cinéma vérité approach to their subject, creating a sense of effortless familiarity and attachment with the two leads. It reminded me of Blue Is The Warmest Color in many ways, but most of all in its agenda-free approach to the theme of homosexuality; without putting it in your face (in contrast to, for example, how it's done on the small screen in American shows like Sense8). There's no preaching and no politics here; just organic evolution of confused teenage feelings, and super strong character-building, blossoming into something fundamentally universal. Klein is the more experienced of the two young actors in the lead, and while he is undoubtedly strong, the revelation is Fila, who makes his screen debut with subtle ferociousness and irresistible charismatic presence. Of the adults, Kiberlain gets to the do most and she is wonderful as the lonely, warm-hearted, motherly Marianne.
The story's build-up and progression in the first two thirds of Being 17, laced with intelligent and spontaneous humor, is rock-solid. It's when we get into the third trimester that faith gets lost, thanks to some see-through conventional plot engineering and a roundabout focus on Marianne. The closing moments as well break the naturalistic spell with an overloaded dose of sugary optimism, in stark contrast to the rest of the film's prudence. But even with its noticeable rough edges, Téchiné's film breathes with a poetic temperance; a beautifully structured, finely acted ballad on teenage angst and passion.
Being 17 (Berlin Review) Movie review