Way Too Indiecast STAR WARS Special: 'A New Hope'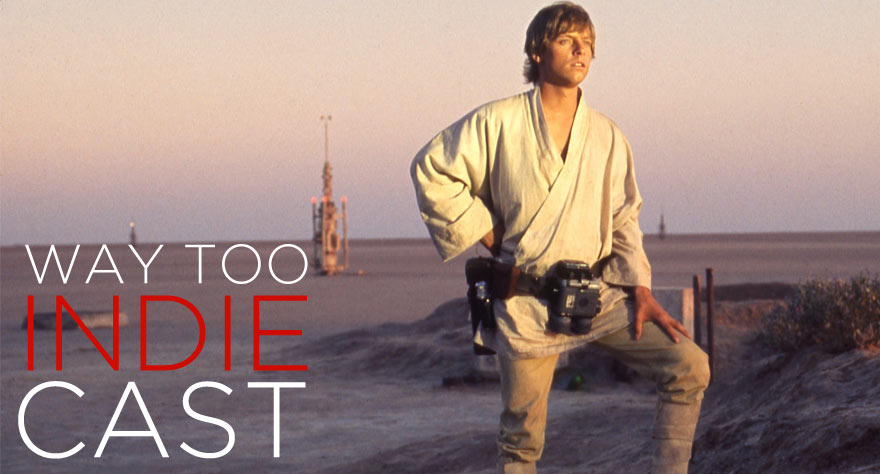 Podcast: Play in new window | Download
Welcome to the Way Too Indiecast Star Wars Specials, a series in which we revisit the original Star Wars trilogy film by film, talking in-depth about George Lucas' expansive space opera universe that changed movies forever. To cap things off, we'll be reviewing Star Wars: The Force Awakens shortly after it drops on December 18th. It's a four-part Star Wars spectacular that can be enjoyed by fans, non-fans and newbies alike!
Our Heroes:
Bernard "Boo-Boo Fett" Boo – Jedi Academy class clown. Lifelong Star Wars fan, loves all three movies in the original trilogy and hopes to find BB-8 in his stocking this Christmas.
CJ "Darth Dissenter" Prince – Sith Lord. Hasn't seen the original trilogy since childhood, terrorizes the galaxy with shoulder shrugs and apathetic heavy breathing. Never connected with Star Wars on any level, but may open to change…
Dustin "D-3PO" Jansick – Padawan. Never watched the original trilogy (may have seen A New Hope, but memory's foggy) and has virtually zero familiarity with the universe. A rare breed in this day and age.
In part one of our four-part series, we're talking about Star Wars: Episode IV – A New Hope, a movie widely credited for inspiring millions and launching the tidal wave of action-adventure blockbusters that's still washing over us today. How will Bernard and CJ react to meeting Luke, Leia, Han and the gang once more? What will Dustin's fresh-eyed take on the movie be? Will the boys think the grandaddy of them all is a galactic classic? A dark-side disappointment? Or does it hover like Luke's landspeeder somewhere in between? Listen in to find out!
Subscribe to the Way Too Indiecast