'Whiplash' Side-By-Side Video, the Feature vs. the Short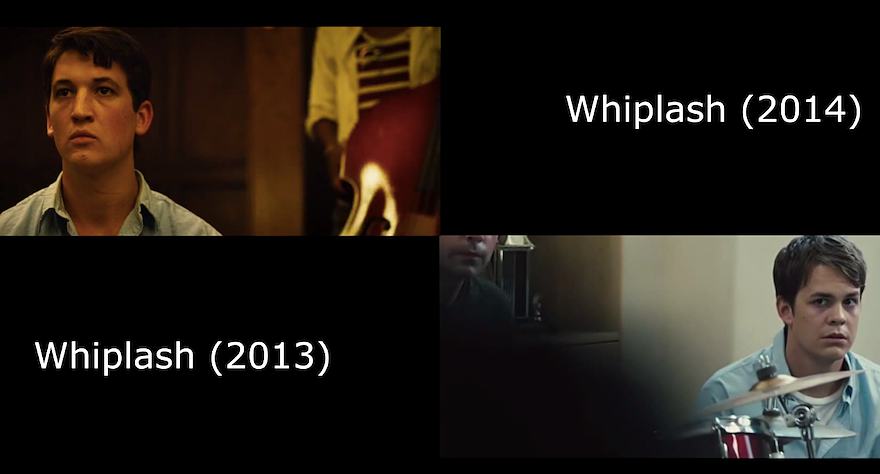 Before your favorite film junkie started referring to anything she didn't like as, "not my tempo," and before Whiplash chugged its way to 3 Oscar wins, director Damien Chazelle worked on a short version of the Best Picture nominated film in order to help sell investors. That short film ultimately felt quite similar to the movie it helped spawn, so it's no surprise that Chazelle was able to not only make Whiplash, but make it in a way that closely resembled his first attempt at the story. A YouTube user Username Hype sought to analyze the differences between the short and the feature by syncing footage from the two films side-by-side.
This video provides a glimpse at the ways in which Chazelle was already fully prepared to make his feature. Many of the shots that are perfectly timed to the openings notes of "Whiplash" (the song) appear identical in both the short and feature. Likewise, J.K. Simmons' Oscar-winning drill sergeant-like presence is just as intimidating in the short form. A collection of the musicians used for the short re-appear (including C.J. Vana as Metz, the trombonist Fletcher throws out of class on Andrew's first day); however, a notable diversion is Johnny Simmons (The Perks of Being a Wallflower, Scott Pilgrim Vs. The World) as Andrew Neyman rather than Miles Teller. The video provides an interesting study of a director's choices, as well as the transition a film must undergo as it comes to fruition. Check out the full side-by-side Whiplash short to Whiplash feature comparison video above.