What We Now Know About 'Fear The Walking Dead' From Comic-Con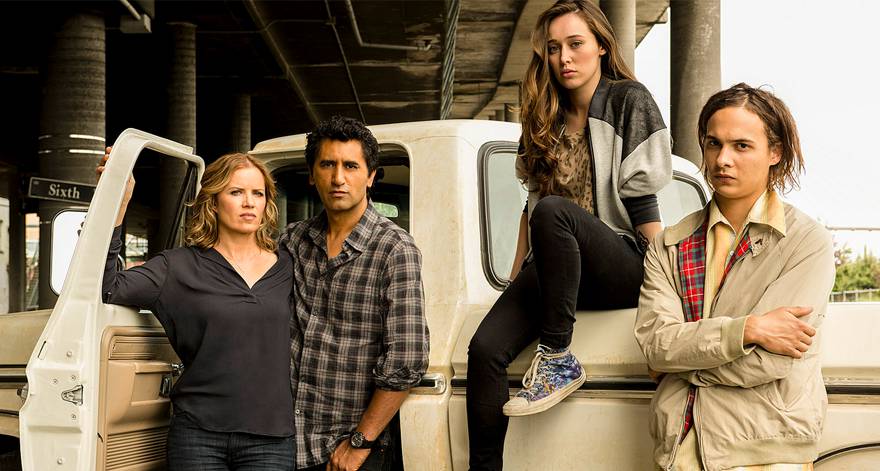 It's common knowledge that AMC's The Walking Dead spinoff, Fear the Walking Dead will be set in Los Angeles. The SDCC panel proved to be quite informative, however.
From the sounds of it, Fear the Walking Dead will be very distinctive show that should be set apart from the original. Even in the setting, a tropical former paradise, is as far removed from The Walking Dead's rural Georgia as you can get. It is part of the same universe, so for those that know The Walking Dead we know all too well what's in store—watching the characters come to understand what is happening, and how they will deal with it. And survive.
Here are a few things we learned at the panel:
It is covering the 4-5 weeks (loosely set during Rick Grimes' coma) leading up to the apocalypse—when cell phones still work and people still show up to their jobs. Even by the end of this season we are not necessarily caught up to where The Walking Dead began.
It's not a duplicated Walking Dead. It's purposefully different. They don't get to full on apocalypse mode until the end of the season, starting instead as a family drama and developing into gruesome chaos as everyone watches the fall of LA.
The blended family is highly dysfunctional, including new and ex-wives, children and step-children, all trying to keep it together when everything goes to hell. Who will survive? A random group of survivors ride out the peak of collision between the living the dead, and must figure out where they stand once the fires burn everything down.
There are no plans to conflate the two shows ever, though no one confirmed that it would never happen. There was confirmation, however, that the Staples Center remains untouched. At least for now.
According to writer and co-creator Dave Erickson, societal and gender norms will get turned on their heads right out of the gate. In such a multi-layered city the focus, for now, is mostly in East LA, and the responses of each diverse neighborhood in the city is vastly different.
"What's great is they're completely unprepared, he doesn't have any specific set of skills to give them a boost, it's not like he's a cop. So there's a humanity there." -Cliff Curtis
Frank Dillane plays Nick, the eldest teenage son of Madison whose dad died a while ago, is dealing with his own monsters when he comes face to face with a new set of them. Named as a sort of prophet in this new world being the first to come face to face with a walker, the question is whether or not those issues will help or hinder his survival.
As far as the crafting of the new walkers, they will look vastly different than the fairly rotted living corpses in The Walking Dead. There will be less decomposition, so their humanity still appears to be there. There's still a little light in their eyes that inspire some hesitation as to how one might react when approached by one.
We see exactly what each character, all along the age spectrum, loses when their entire lives unravel. Characters will start learning what to choose, prioritizing tragedies in a way that might cause people to question their potential overreaction to comparatively mundane heartaches.
The cast, including Grammy-winner Ruben Blades, only met each other on the day of the table read.
The differences from The Walking Dead don't just come from a change in location, as this new batch of characters differ significantly from Rick and his group. It's easy to envision Rick Grimes, former deputy, as a leader, but here we follow an English teacher and a guidance counselor barely hanging on in a fully functioning world, before they're suddenly thrust into a world that's dissipating rapidly.
As producer David Alpert so eloquently sums up, the question from all of us is, "Who from coal becomes a diamond and who crumples into dust." And therein lies the common fascination for both The Walking Dead and Fear the Walking Dead fans, as we question who we will identify with, good or bad.
The biggest question for all will be if Chris Hardwick ever cameos as a walker, which was neither confirmed nor denied during the panel, though Hardwick declared both his hesitation and his openness to the idea.
Fear the Walking Dead will premiering on August 23rd at 9pm (EST) internationally on AMC global at the exact same time. This will thankfully negate the need to avoid social media spoilers. And fans of Chris Hardwick will be happy to learn that he will cover the series on The Talking Dead.