TIFF 2014: Gett, The Trial of Viviane Amsalem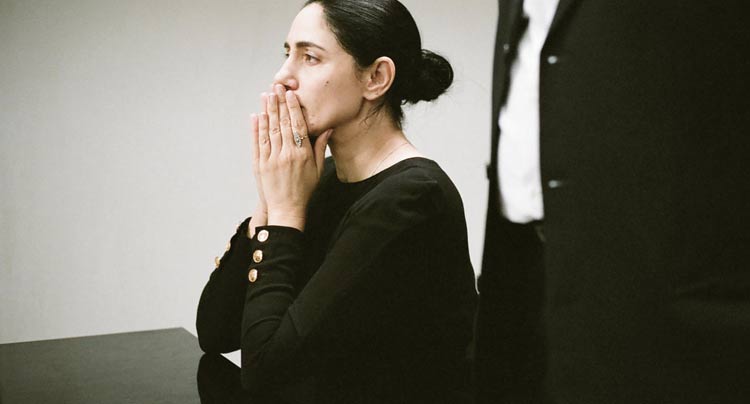 In Gett, The Trial of Viviane Amsalem, the title character (played by co-director Ronit Elkabetz) spends 5 years trying to divorce her husband Elisha (Simon Abkarian). In Israel, divorce cases are only handled by the Rabbinical Court, and religious laws state the husband must approve the divorce in order for it to be final. Elisha stubbornly refuses to give Viviane the divorce she wants, and the Rabbis won't force Elisha's hand because they see no grounds for the two of them to split (Viviane says they're just incompatible as a couple).
Ronit Elkabetz and her brother Shlomi set their film entirely within the courthouse, starting each sequence with on-screen text explaining the amount of time passed since the beginning of the trial. It's a bland location, with all white walls and several windows, but amazingly Ronit and Shlomi make the most of it. Gett is a compelling, theatrical drama with three excellent performances at its centre. Elkabetz and Abkarian, working together for a third time (this is the final part of a trilogy by the two directors), do terrific jobs, and Menashe Noy's turn as Viviane's lawyer is so good he feels like a main character.
Some tonal changes lead to a few awkward, melodramatic moments, but at its core Gett impresses with its low-key, affective mode of storytelling.