SXSW 2015: Theory of Obscurity: A Film About the Residents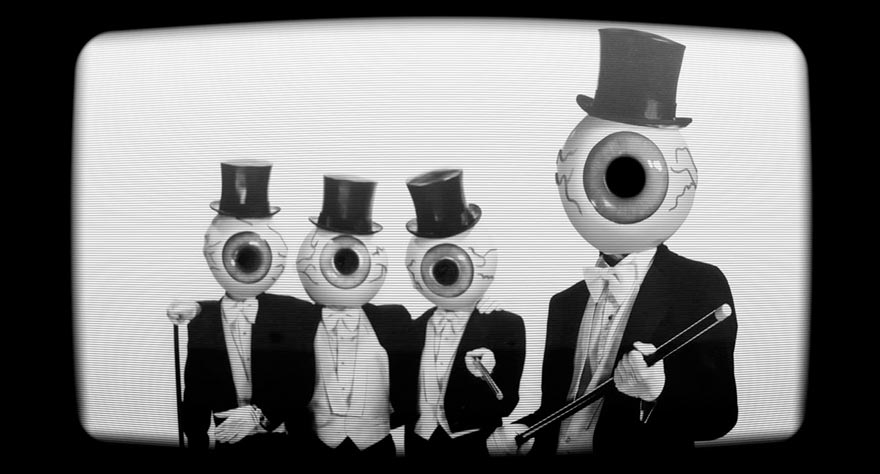 Those who know of The Residents, an obscure and strange-to-say-the-least underground band known for their prolificness and highly enforced mystery, either are unsure how to handle their bemusing weirdness, don't care for them at all, or fall into a select group of cult-like fans. Theory of Obscurity: A Film About the Residents, a new documentary from Don Hardy Jr. (Batkid Begins), focuses its attention on these super-fans—since it's not as though they'd have been able to secure interviews with the band members. Filled with the same fringe aesthetic The Residents subscribe to, the film is a psychedelic landscape of footage of The Resident's performances, bits and pieces of their videos (they were among the first music-video enthusiasts) and plenty of fan-tales of the influence they had upon the people who love them.
The band was produced over 60 albums and been on seven world tours. The film interviews each of the members of The Cryptic Corporation, the band's management company, formed just to handle the massive outpouring of art from The Residents and their various artistic endeavors. As insiders, they clearly lack the perspective to provide much of what would be highly coveted information around The Residents' identities. The band is seen throughout the film in a live-filmed performance, the camera providing glimpses of the real people behind the band, mostly which just confirms that these guys are getting pretty old. With a 40-year career span it is of course impressive to hear they not only still produce, but also hold tight to their obscurity and non-identity. As they state repeatedly in the film, for them it's not about talent—they even say knowing how to play an instrument is of no real importance to them—it's about having the freedom to do things exactly the way they feel like doing them. Something their discretion affords them the ability to do.
Those who recognize the band either by their music or their iconic eyeball heads will be intrigued to hear more. Those who prefer to find meaning in their favorite music and artists may find the befuddlement of The Residents entirely too chaotic. No matter your musical tastes, the enduring power of any group of people to continue to inspire others, especially those who find themselves on the outskirts of the status quo, is a worthy feat and Theory of Obscurity pays tribute where tribute is due.