Philadelphia Film Festival Reveals Lineup & Schedule with 'Birdman,' 'Wild' & More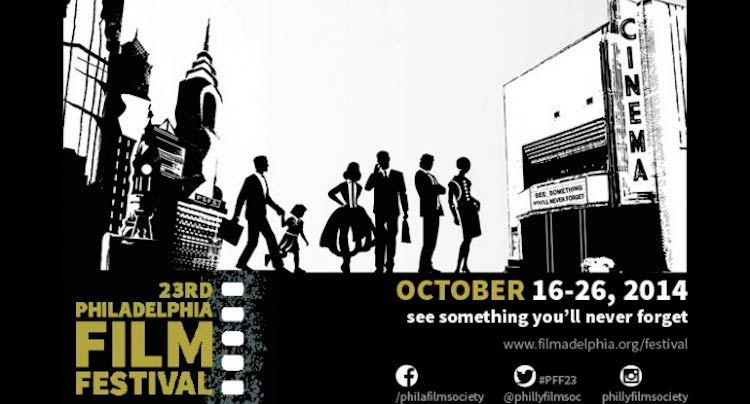 Consistently bringing in a wide array of compelling new films from unique voices of cinema, the 23rd Philadelphia Film Festival announced its packed new lineup and schedule yesterday. Bookended by beloved movie stars delivering awards-worthy performances, the festival opens with Alejandro G. Iñárritu's vividly imagined Birdman on Thursday, October 16th and closes with Jean-Marc Vallée's heart-wrenching Wild. Through 11 days, the Philadephia Film Festival will locally premiere more than 100 features and shorts from 28 countries.
"I think we're really on the verge of some big years for cinema," begins the festival's Artistic Director Michael Lerman. "This festival will showcase the first steps in these innovative new directors."
Beyond the buzzed about Centerpiece screenings (which includes The Good Lie, St. Vincent, Laggies, and the Toronto International Film Festival Audience Award winner The Imitation Game), Philly's screenings includes programs like "Greater Filmadelphia" (with work from Philadelphia's home grown talent), "Masters of Cinema" (movies from world-renowned filmmakers), and "The Graveyard Shift" (horror, action, and anything weird), providing a variety of options for audiences of all tastes.
The Philadelphia Film Festival's "PFF On Us" program continues in 2014 with free tickets available for all the films featured in the "American Independents" and "Documentary Showcase" film categories. These selections include I Am Big Bird: The Carroll Spinney Story, Glass Chin, Kumiko the Treasure Hunter & Point and Shoot.
Tickets to these free screenings and more information about the 23rd annual Philadelphia Film Festival is available at the Philadelphia Film Society's website: filmadelphia.org.
2014 Philadelphia Film Festival Full lineup
Opening Night Film
Birdman or (The Unexpected Virtue of Ignorance), Director Alejandro González Iñárritu, USA
Closing Night Film
Wild, Director Jean-Marc Vallée, USA
Centerpiece Screenings
The Good Lie, Director Philippe Falardeau, USA.
The Imitation Game, Director Morten Tyldum, USA, UK
Laggies, Director Lynn Shelton, USA
St. Vincent, Director Theodore Melfi, USA
American Independents
Presented by the Lincoln Motor Company: Featuring powerful new voices in American cinema, these fresh, gritty films explore a variety of subjects through the filmmaker's uncompromising vision. All films in this series are a part of the "PFF On Us" free ticketing program.
Big Significant Things, Director Bryan Reisberg. 2014, USA
Glass Chin, DirectorNoah Buschel, USA
Imperial Dreams, Director Malik Vitthal, USA
Kumiko, the Treasure Hunter, Director David Zellner, USA
Man From Reno, Director Dave Boyle, USA, Japan
The Mirage, Director Kyle Roper, USA
Wild Canaries, Director Lawrence, Michael Levine, USA
Cinema Down
From the land that brought us Mad Max, Moulin Rouge! and Driving Miss Daisy comes brave new work from veteran and budding Australian voices alike
52 Tuesdays, Director Sophie Hyde, Australia
Charlie's Country, Director Rolf de Heer, Australia
The Infinite Man, Director Hugh Sullivan, Australia
The Mule, Director Angus Sampson, Tony Mahony, Australia
Documentary Showcase
Presented by 500 Walnut: Comprising the best in documentary filmmaking, these compelling films feature everything from stirring character studies to fascinating looks at current global issues.
Art and Craft, Director Sam Cullman, Jennifer Grausman, co-directed by Mark Becker, USA
Ballet 422, Director Jody Lee Lipes, USA
The Great Invisible, Director Margaret Brown, USA
I Am Big Bird: The Carroll Spinney Story, Director Chad Walker, Dave LaMattina, USA
The Immortalists, Director David Alvarado, Jason Sussberg, USA
Mudbloods, Director Farzad Sangari, USA
The Overnighters, Director Jesse Moss, USA
Point and Shoot, Director Marshall Curry, USA
This Time Next Year, Director Jeff Reichert, Farihah Zaman, USA
From the Vaults
Film history comes alive as it was meant to be seen – on the big screen. Come see old favorites bigger than life once again
Blue Velvet, Director David Lynch, USA
Capote, Director Bennett Miller, USA
Mulholland Drive, Director David Lynch, USA
The Straight Story, Director David Lynch, USA
To Have and Have Not, Director Howard Hawks, USA
Wild at Heart, Director David Lynch, USA
The Graveyard Shift
Horror, action, suspense, and the downright weird, these films will keep you awake during the graveyard shift.
A Hard Day, Director Seong-hun Kim, South Korea
Housebound, Director Gerard Johnstone, New Zealand
In Order of Disappearance, Director Hans Petter Moland, Norway
It Follows, Director David Robert Mitchell, USA
Revenge of the Green Dragons, Director Andrew Lau, Andrew Loo, USA
V/H/S: Viral, Director Marcel Sarmiento, Nacho Vigalondo, Justin Benson, Aaron Moorhead, Gregg Bishop, USA, Spain
Greater Filmadelphia
Presented by Philadelphia Gas Works: Featuring work from some of our finest homegrown filmmakers, this category brings our city and its talent to the big screen.
Crescendo! The Power of Music, Director Jamie Bernstein, USA
Happy Valley, Director Amir Bar-Lev, USA
Listen Up Philip, Director Alex Ross Perry, USA
Love and Terror on the Howling Plains of Nowhere, Director Dave Jannetta, USA
Teacher of the Year, Director Jason Strouse, USA
Tomorrow We Disappear, Director Jimmy Goldblum, Adam Weber, USA
Masters of Cinema
Presented by Comcast: These new films exemplify the masterful work of world-renowned filmmakers as they continue to thrill and inspire audiences with cutting-edge features.
Clouds of Sils Maria, Director Olivier Assayas, France, USA
Goodbye to Language 3D, Director Jean-Luc Godard, France
Mommy, Director Xavier Dolan, Canada
Two Days, One Night, Director Luc Dardenne, Jean-Pierre Dardenne, Belgium, France
Winter Sleep, Director Nuri Bilge Ceylan, Turkey, France, Germany
New French Films
The birthplace of cinema, France continues to produce some of the best movies in the world with films that are funny, daring, sexy and uniquely French.
Breathe, Director Mélanie Laurent, France
Girlhood, Director Céline Sciamma, France
Hippocrates, Director Thomas Lilti, France
Love at First Fight, Director Thomas Cailley, France
This Is My Land, Director Tamara Erde, France
Sight and Soundtrack
Presented by Sweat Fitness: Featuring rockumentaries, musician biopics and films that are centered on the unifying power of music.
Beyond the Lights, Director Gina Prince-Bythewood, USA
Deep City: The Birth of the Miami Sound, Director Dennis Scholl, Marlon Johnson, Chad Tingle, USA
The Last Five Years, Director Richard LaGravenese, USA
Someone You Love, Director Pernille Fischer Christensen, Denmark, Sweden
Song One, Director Kate Barker-Froyland, USA
Traitors, Director Sean Gullette, Morocco
Tu Dors Nicole, Director Stéphane Lafleur, Canada
Spanish Language Stories
Presented by Southwest Airlines: Offering gripping stories and unique perspectives, these Spanish-language films explore a multitude of subjects ranging from the culturally specific to the universal.
10,000 Km, Director Carlos Marques-Marcet, Spain, USA
Güeros, Director Alonso Ruizpalacios, Mexico
Los Ángeles, Director Damian John Harper, Mexico, Germany
Manos Sucias, Director Josef Wladyka, USA, Colombia
Spotlights
Presented by Philadelphia Magazine: Highly-anticipated movies from some of the biggest names in the industry, these films shine a spotlight on top talent from around the world.
Big Hero 6, Director Don Hall, Chris Williams, USA
Creep, Director Patrick Brice, USA
Escobar: Paradise Lost, Director Andrea Di Stefano, France, Spain, Belgium
Faults, Director Riley Stearns, USA
Gabriel, Director Lou Howe, USA
Life Partners, Director Susanna Fogel, USA
Love, Rosie, Director Christian Ditter, UK, Germany
World Narratives
Presented by 6ABC: Explore the world through film with this diverse selection of international cinema that features distinct perspectives and images from around the globe.
Beloved Sisters, Director Dominik Graf, Germany, Austria
Cracks in Concrete, Director Umut Dağ, Austria
The Duke of Burgundy, Director Peter Strickland, UK
Force Majeure, Director Ruben Östlund, Sweden
Gett, the Trial of Viviane Amsalem, Director Ronit Elkabetz, Shlomi, Elkabetz, Israel, France, Germany
Human Capital, Director Paolo Virzì, Italy
Run, Director Philippe Lacôte, Ivory Coast, France
Stations of the Cross, Director Dietrich Brüggemann, Germany, France
The Tale of Princess Kaguya, Director Isao Takahata, Japan
Titli, Director Kanu Behl, India
The Tribe, Director Myroslav Slaboshpytskiy, Ukraine
Villa Touma, Director Suha Arraf, Palestine
The Way He Looks, Director Daniel Ribeiro, Brazil
When Animals Dream, Director Jonas Alexander Arnby, Denmark
Xenia, Director Panos H. Koutras, Greece, France, Belgium
Short Films
12 Years of DFA: Too Old To Be New, Too New To Be Classic, Director Max Joseph, USA
130919 * A Portrait of Marina Abramović, Director Matthu Placek, USA
8 Bullets, Director Frank Ternier, France
After School, Director Guillaume Renusson, France
Astigmatismo, Director Nicolai Troshinsky, Spain
The Chaperone, Director Fraser Munden, Neil Rathbone, Canada
Chevette 83, Director Luis Oliva, Canada
The Cut, Director Geneviève Dulude-De Celles, Canada
High Ground, Director Geoff Bailey, USA
Inside the Mind of Colin Furze, Director David Beazley, UK
Marilyn Myller, Director Mikey Please, USA, UK
Me + Her, Director Joseph Oxford, USA
The Obvious Child, Director Stephen Irwin, UK
Port Nasty, Director Rob Zywietz, UK
Tim and Susan Have Matching Handguns, Director Joe Callander, USA
A Town Called Panic: The Christmas Log, Director Stéphane Aubier, Vincent Patar, France, Belgium
The Video Dating Tape of Desmondo Ray, Aged 33 & 3/4, Director Steve Baker, Australia
Watch Out, Director Joshua Stewart, USA
The Way, Director Max Ksjonda, Ukraine
Yearbook, Director Bernardo Britto, USA