Pasolini Film Series Hits San Francisco This Weekend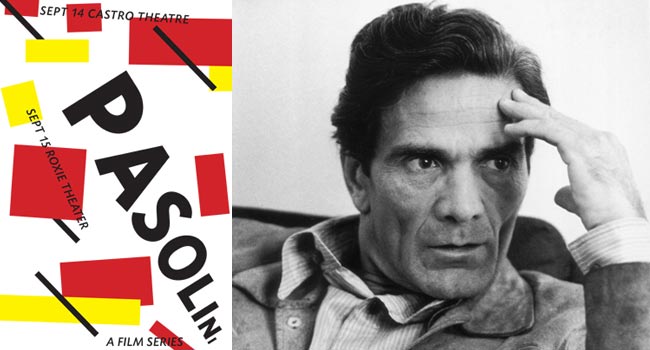 This weekend in San Francisco, a retrospective of one of cinema's greatest, most controversial, and visionary minds will take place in two of the city's oldest movie houses; the magnificent Castro Theatre and arthouse haven Roxie Theater. Part of a sweeping nationwide tour, a selection of Italian director Pier Paolo Pasolini's boundary-pushing films, which not only changed cinema, but challenged the way people thought and shattered the artistic limitations of the time, will be presented like all great films should be; in a dark room full of strangers willing to surrender themselves to the light of a projector.
The films selected for the San Francisco Pasolini film series are as follows:
Saturday, September 14th at the Castro Theatre
4:00pm—Mamma Roma
6:30pm—Medea
9:30pm—Il Decameron
Sunday, September 15th at the Roxie Theater
2:00pm—Saló, or the 120 Days of Sodom
4:30pm—Arabian Nights
7:15pm—The Cantrbury Tales
9:45pm—Salo, or the 120 Days of Sodom
Most of the controversy surrounding Pasolini stemmed from his unblinking fascination with stories that featured acts of unadulterated sexuality. He didn't shy away from presenting sex truthfully and realistically, which earned him myriad detractors and skeptics. Films like Arabian Nights and The Canterbury Tales feature unfiltered nudity and coitus in abundance, but they were Benjamin Franklin kites in the sky compared to the gargantuan lightning rod that was his most infamously revolting work, Saló, or the 120 Days of Sodom. Depicting the most harrowing acts of sadism, sexual debauchery, and ultra-violent torture, the film is banned in several countries to this day. There's a provocative exploration of political corruption, fascism, and perversion operating underneath the parade of repulsive acts (which are hard to watch even for modern audiences), which has earned it high praise from film critics and filmmakers. The vicious tidal wave of criticism and hatred the heroically uncompromising Pasolini incited through his system-shocking oeuvre eventually took his life; he was murdered just before Salo was released.
The artistic brilliance and purity of Pasolini rests in his willingness to embrace and express the ugly truth that life can be shit. His films are seldom easy to stomach, capturing the darkest sides of humanity and the unrelenting cruelty of the world we inhabit that inevitably consumes and dusts us into nothing. Saló and Mamma Roma, a tale of a prostitute mother (unquestionably taboo at the time of its release), twist and turn morality inside out and upside down, prodding our precious principles violently until we emerge bruised, but wiser nonetheless.
It'll be a privilege for everyone in attendance this weekend to experience Pasolini's work in the most ideal of environments, in gorgeous 35mm. To make the exhibition extra special, Ninetto Davoli, who was discovered by Pasolini, starred in many of his films, (The Decameron, The Canterbury Tales, Arabian Nights) and had a close relationship with the director, will be in attendance to introduce some of the films and participate in a Q&A after the screening of Arabian Nights. Whether you're a Pasolini appreciator or total newbie and you live in the Bay Area, you'd be cheating yourself to miss out on such a special experience.
For more info on the Pasolini film series, visit www.pasolinifilm.com