MVFF37 Day 6: Whiplash, Gett: The Trial of Viviane Amsalem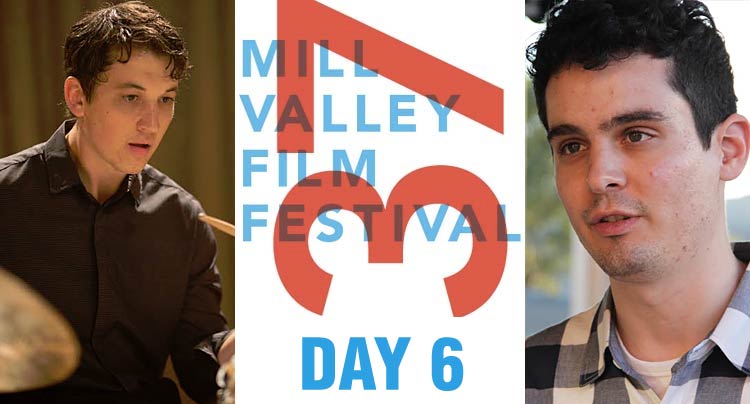 After five days of the typical film festival arthouse heartbreakers and soul-shakers, I began to feel a bit of emotional fatigue as I reached the halfway point of MVFF37. Mr. Turner, The Homesman, Clouds of Sils Maria–all fine films, but how much misery must a poor man endure! I've only so much to give! All jokes aside, I love a good understated film with slow-paced storytelling framed by painterly vistas, but after watching several of them in a row, I needed a good kick in the gut to wake me up. A jumpstart of sorts. That, my friends, is where Whiplash came to my rescue.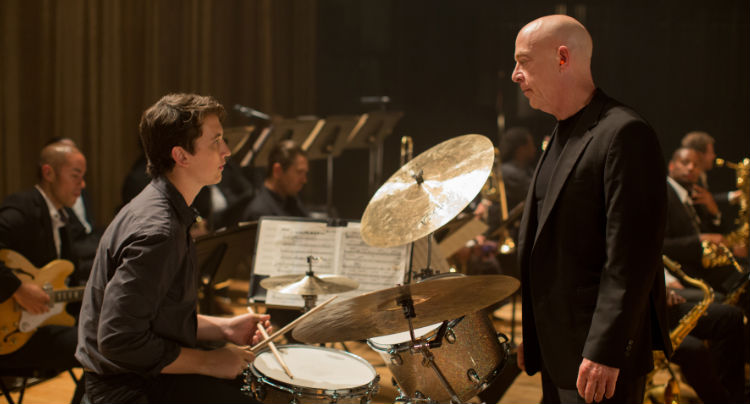 The Bald Meanie
Like I said, my gas tank was running on low on day 6 of the festival, but as I pulled up to Century Cinemas in Corte Madera, a few miles down highway 101 from Mill Valley, I knew I had a treat waiting for me inside the massive 600-seat theater. I'd seen Damien Chazelle's Whiplash–starring Miles Teller and J.K. Simmons–a couple weeks prior and was getting pretty pumped up about watching the intense (I mean, intense) movie about a drummer's devotion once again.
Chazelle was in attendance, posing humbly on the red carpet in front of the theater, as was Metallica drummer Lars Ulrich, who chose to present the film as his selection in the festival's Artists In Residence program starring he and his fellow bandmates. As Ulrich took the stage in front of the buzzing sea of eager festival-goers, he clarified once and for all that he didn't choose to present Whiplash because it was a "drumming movie", but because it was "a fucking good movie that happens to be about drumming!"
This slideshow requires JavaScript.
Right he is. The staggeringly cinematic film follows a student jazz drummer named Andrew (Teller) as he gets bullied and berated at the country's most prestigious music school by its most notoriously brutal instructor, Fletcher (Simmons). Is Fletcher's unrelenting, savage style of teaching meant to help Andrew achieve his dreams, or is he trying to make his life a living nightmare for the hell of it? Andrew's pushed beyond his limits as he fights to keep his spot on the jazz ensemble, sacrificing blood, sweat, and tears on his single-minded quest for greatness.
A large portion of Whiplash unfolds in the practice rooms at Shafer, an intimate space where musicians are simply practicing music. But Chazelle and his team use dizzying, breathtaking camerawork and editing to make these scenes as intense and brutal as any horror or action movie you'll see all year. Simmons' frightening presence and Teller's blazing musical performance (he did about 90% of the on-screen drumming), combined with Chazelle's bravura filmmaking, make for a film whose intensity level is ungodly high. The film's finale is so electrifying I forgot to breathe.
Help Me To Understand…
At the end of the day, I guess I am a glutton for punishment. Whiplash was a blast, but now I think it's time to talk about a film that pushed my buttons and wound me up so much I could hardly bear it. Gett: The Trial of Viviane Amsalem takes place in modern day Israel, a place where there is no such thing as civil divorce. In order for a divorce to proceed, the man must give the final approval; the wife has no say. There are thousands of unhappy wives living in Israel today waiting for this law–which allows their husbands to essentially hold them hostage–to be amended.
Directed by siblings Shlomi and Ronit Elkabetz, who also stars as Viviane alongside Simon Abkarian in the role of her husband, Elisha, the film's premise is simple: Viviane wants a divorce, Elisha says no. Almost the entire film takes place in a small court room in separate hearings that span five years, a brilliant device that engages the imagination (we never see their home life) and enrages to no end. Despite Viviane's pleas and Elisha's admittance to their marriage being unfulfilling, Viviane and the judges' hands are tied by Elisha, whose refusals to grant divorce papers persist. The moral absurdity at play is infuriating, and with luck, Gett will help make change in Israels divorce policy. Fine performances and clever camerawork help to get across the important message at the film's core.