Hot Docs 2014: Joy of Man's Desiring, Harmontown, No Lullaby, Before The Last Curtain Falls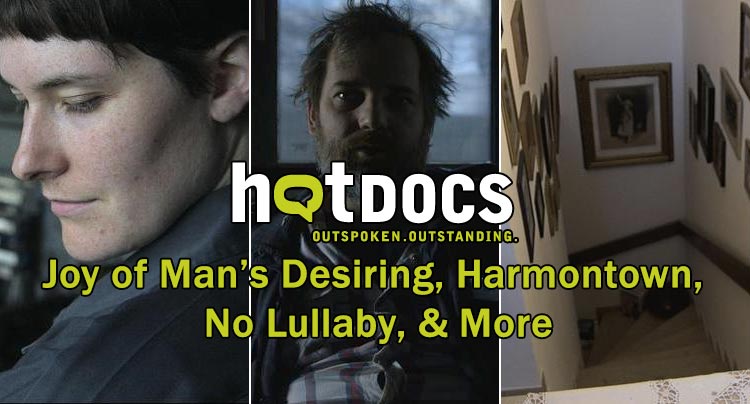 With almost 200 documentaries playing at Hot Docs, the amount of variety on display is quite staggering. Social issues, personal stories, biographies, abstract docs and true crime stories are some examples of the plethora of topics regularly seen at the festival every year. This group of four films highlight the vast differences and fundamental similarities between the many films presented to audiences over the next two weeks. These four docs (a meditation on labour, a writer touring across America, a tragic story of injustice, a group of outcasts  uniting together to entertain) look different on the surface, but all of them focus on human stories.
The Hot Docs Film Festival runs from April 24 to May 4 in Toronto, Ontario, Canada. To find out more information about what's playing or buy tickets, go to www.hotdocs.ca
Joy of Man's Desiring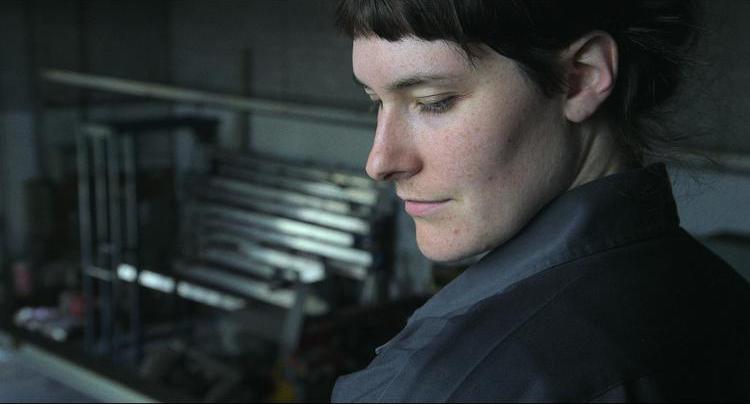 Denis Côté's latest film opens with a close-up of a woman speaking to someone off camera. "Be polite, respectful, honest. Or I'll destroy you if I want to," she says calmly. What follows is 70 minutes of mostly wordless footage of industrial workers at their jobs, with the exception of some fictional conversations between workers (actually actors) toward the end.
Côté addresses plenty of big, rich ideas throughout Joy of Man's Desiring. The relationship between man and machine, the kind of non-stop, repetitive tasks that come with working, and how humans try to find accomplishment or happiness through their mundane work are some of the more interesting topics brought up in the film. Côté doesn't do much with his film's themes though, seemingly content with just bringing them up rather than exploring them.
While Côté's substance lacks depth, his style seriously impresses. His precise framing, combined with Nicholas Roy's editing along with terrific sound design by Frédéric Cloutier & Clovis Gouaillie, makes Joy of Man's Desiring an aesthetically pleasing experience. It's an  interesting docu/fiction hybrid, but a minor work nonethless.
Harmontown
Dan Harmon, the creator of Community, is also the host of a podcast that Harmontown gets its title from. Harmon is known for being completely honest with people, and when he got a little too honest about behind the scenes drama on Community NBC fired him. Harmon used his unemployment as an opportunity to take his podcast on a live tour across America, taking co-host Jeff Davis, "Dungeon Master" Spencer and girlfriend Erin McGathy along. Director Neil Berkeley has made a funny, raw and enjoyable documentary that can appeal to fans of Harmon as well as people unfamiliar with his work.
The point Berkeley makes throughout his film is how Harmon's openness about his problems (at one point he brings an audience member on stage to mediate a serious argument between him and his girlfriend; another time he dedicates his show to discussing depression with audience members), along with his ability to bring humour into these serious topics, has a therapeutic effect on people. Different people tell Harmon how Community helped get them through personal traumas or finally gave them confidence to do things they wouldn't normally do (one woman says she would have been "too chickenshit" to meet Harmon if it wasn't for his show). This message is best exemplified through Spencer, an introverted Dungeons and Dragons fan who went from an audience member at a taping to a fan favourite on the podcast.
Before Harmontown slips into praising its subject too highly, Berkeley steps back a bit to show how self-destructive and self-hating Harmon can be. At first he's taken aback by the generosity of his fans, amazed that they're happy to just watch him be himself, but eventually he starts to hate being seen as a hero. Most of Harmontown's last act goes into much darker territory than one would anticipate, and that decision is what elevates this beyond a boring road trip doc. Harmontown may not be a very memorable documentary, but it's funny and entertaining enough to earn a recommendation for Harmon fans (not that they need one).
No Lullaby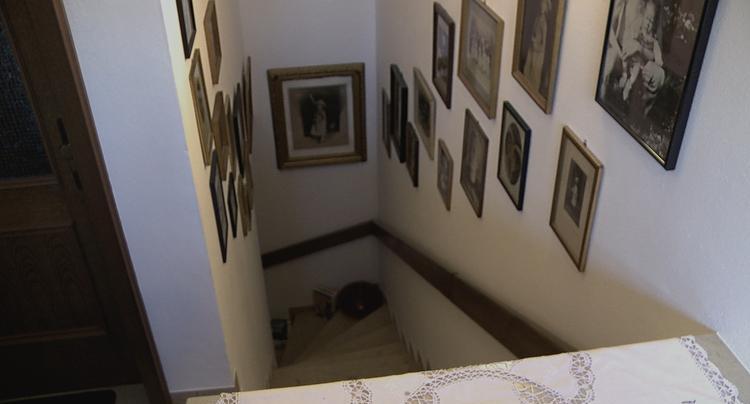 No Lullaby is a powerful documentary, but an incredibly tough one to sit through. Director Helen Simon films Tina Reuther, a woman now in her late 50s dealing with the suicide of her daughter Floh. Tina was sexually abused by her father as a child, and for years she repressed those memories while trying to make her own family. It wasn't until Floh was in her early 20s that she admitted Tina's father also sexually abused her since the age of 5, and Floh's decision to take her grandfather to court leads to devastating consequences.
Interviews with Tina and one of Floh's friends are intercut with a narrator monotonously reading transcripts of the trial. The sterile quality of the narration, combined with Simon's stark footage accompanying it, make Floh and Tina's graphic testimonies hit like a gut punch. The tactic is extremely effective, and by the time the jury reaches its verdict it's hard not to feel numb from how much injustice is on display.
Viewers willing to handle the tough material should watch No Lullaby, as its impact is undeniably strong. Through her simple and artistic approach, Simon handles Tina's story respectfully, putting the emphasis on how much society failed Tina and Floh. The implication that Tina stayed alive because of her silence might be the most disturbing aspect of No Lullaby; stories like hers are necessary reminders of how much the systems meant to help victims can end up hurting them even more.
Stay tuned to our Hot Docs 2014 coverage for an interview with No Lullaby director Helen Simon.
Before The Last Curtain Falls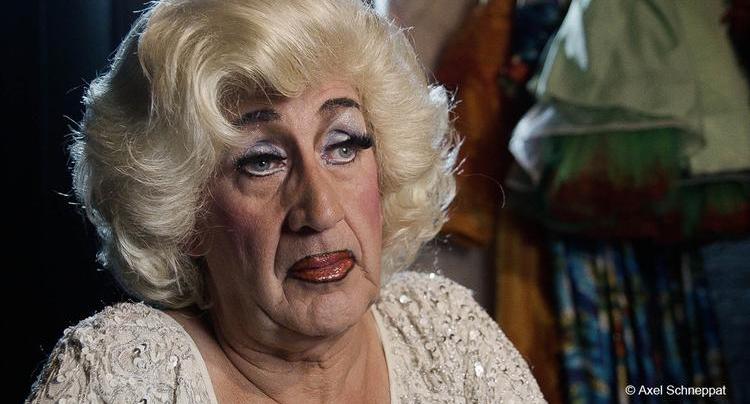 "Gardenia" was a stage show made up of transsexuals and drag queens in their 60s and 70s performing pieces based on their lives. The show became a surprise hit, and its performers spent two years travelling the world doing shows. Before The Last Curtain Falls starts as the "Gardenia" cast come back to their hometown of Ghent, Belgium, to put on their final show.
Thomas Wallner combines performances from "Gardenia" with profiles of several cast members, getting a sense of their lives as they get ready to end their two-year journey. The cast make for an expectedly eclectic bunch: Danilo works full-time as a janitor at a brothel; Richard is a nurse who left his job to follow his passion of performing in the show; Gerrit used to be known as Sylvia, but in his older years has gone back to living as a man in order to work.
A portrait begins to emerge of this group of people as constant fighters, and amazingly their strength doesn't appear to have weakened one bit. They've all led difficult lives, but even in "the autumn of their lives" (as the opening titles state) they're still looking for love and happiness. There's a level of defiance and individuality to "Gardenia's" cast that's admirable all on its own.
And when Wallner does film everyone together on stage the results are excellent. The cinematography is gorgeous, and some moments in "Gardenia" are moving when combined with the terrific camerawork. The repetitive, meandering final act feels like the film is desperately looking for an ending before giving up, but it's "Gardenia" and its cast that makes Before The Last Curtain Falls worth seeking out.