Toronto International Film Festival 2012 Lineup Revealed: Midnight Madness, Documentaries & More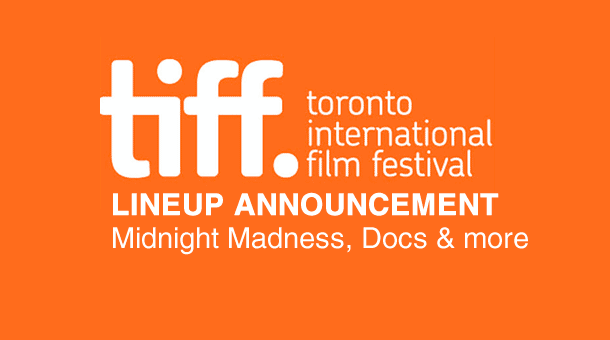 The Toronto International Film Festival has announced more titles today in six of their programmes. After last week's announcement of Galas and Special Presentations, TIFF has revealed the line-ups for TIFF Docs, City to City, Midnight Madness, TIFF Kids, TIFF Cinematheque, and Vanguard today.
The Midnight Madness programme is dedicated to showing off some of the world's wildest new films. This year's selections include opening film Dredd 3D starring Karl Urban, Seven Psychopaths starring Colin Farrell and The ABCs of Death, the anthology horror film with 26 directors each making a short about a letter of the alphabet. This is also the first year Midnight Madness will have at least one of their films in 3D.
The City to City program was created in 2009 to profile cities around the world with new, exciting filmmakers. This year's selection is Mumbai which joins the list of other cities chosen for the program including Tel Aviv, Istanbul and Buenos Aires.
TIFF Docs, formerly caled Real to Reel, focuses on documentaries from around the world. Plenty of major documentaries have premiered at TIFF including last year's Best Documentary winner Undefeated. This year some of the documentaries playing include new works by Ken Burns and Alex Gibney. The festival also revealed documentaries that will be playing in their Wavelengths and Masters programmes.
The Vanguard programme focuses on new, original, provocative and boundary-pushing films. Some titles included in the Vanguard line-up this year include the remake of Nicolas Winding Refn`s Pusher and Sightseers, director Ben Wheatley`s (Kill List, Down Terrace) new film.
TIFF Kids is dedicated to programming children`s films at the festival. Two of the more high-profile titles playing this year are Finding Nemo 3D and Hotel Transylvania.
TIFF Cinematheque is a new programme this year that shows classic films restores. Titles this year include Alfred Hitchcock`s Dial M for Murder and a new 4K restoration of Roman Polanski`s Tess.
The list of all the titles announced today are below. Way Too Indie will be covering the Toronto International Film Festival this year which runs from September 6 – 16th. To find out more information about the festival go to www.tiff.net/thefestival
Midnight Madness:
Dredd 3D – (Pete Travis) (Opening Film)
Seven Psychopaths – (Martin McDonagh)
No One Lives – (Ryuhei Kitamura)
Hellbenders 3D – (JT Petty)
The Lords of Salem – (Rob Zombie)
Aftershock – (Nicolas Lopez)
The Bay – (Barry Levinson)
Come Out and Play – (Makinov)
The ABCs of Death – (Various)
John Dies at the End – (Don Coscarelli)
City to City:
The Bright Day – (Mohit Takalkar)
Gangs of Wasseypur – Part One – (Anurag Kashyap)
Gangs of Wasseypur – Part Two – (Anurag Kashyap)
Ishaqzaade – (Habib Faisal)
Miss Lovely – (Ashim Ahluwalia)
Mumbai's King – (Manjeet Singh)
Peddlers – (Vasan Bala)
Shahid – (Hansal Mehta)
Shanghai – (Dibakar Banerjee)
Ship of Theseus – (Anand Gandhi)
TIFF Documentaries:
9.79* – (Daniel Gordon)
Artifact – (Bartholomew Cubbins)
A World Not Ours – (Mahdi Fleifel)
The Act of Killing – (Joshua Oppenheimer)
As if We Were Catching a Cobra – (Hala Alabdalla)
Camp 14 — Total Control Zone – (Marc Wiese)
The Central Park Five – (Ken Burns, David McMahon and Sarah Burns)
Far Out Isn't Far Enough: The Tomi Ungerer Story – (Brad Bernstein)
Fidaï – (Damien Ounouri)
First Comes Love – (Nina Davenport)
The Gatekeepers – (Dror Moreh)
The Girl from the South – (José Luis García)
How to Make Money Selling Drugs – (Matthew Cooke)
Iceberg Slim: Portrait of a Pimp – (Jorge Hinojosa)
London – The Modern Babylon – (Julien Temple)
Lunarcy! – (Simon Ennis)
Mea Maxima Culpa: Silence in the House of God – (Alex Gibney)
Men At Lunch – (Seán Ó Cualáin)
More Than Honey – (Markus Imhoof)
No Place on Earth – (Janet Tobias)
Reincarnated – (Andrew Capper)
Roman Polanski: Odd Man Out – (Marina Zenovich)
The Secret Disco Revolution – (Jamie Kastner)
Shepard & Dark – (Treva Wurmfeld)
Show Stopper: The Theatrical Life of Garth Drabinsky – (Barry Avrich)
State 194 – (Dan Setton)
Storm Surfers 3D – (Christopher Nelius and Justin McMillan)
The Walls of Dakar – (Abdoul Aziz Cissé)
Wavelengths:
Bestiaire – (Denis Côté)
Masters:
The End of Time – (Peter Mettler)
TIFF Kids:
Ernest & Célestine – (Benjamin Renner, Vincent Patar, Stéphane Aubier)
Finding Nemo 3D – (Andrew Stanton, Lee Unkrich)
Hotel Transylvania – (Genndy Tartakovsky)
Igor & the Cranes' Journey – (Evgeny Ruman)
TIFF Cinematheque:
The Bitter Ash – (Larry Kentz)
The Cloud Capped Star – (Ritwik Ghatak)
Dial M for Murder – (Alfred Hitchcock)
Loin du Viêtnam – (Joris Ivens, William Klein, Claude Lelouch, Agnès Varda, Jean-Luc Godard, Chris Marker, Alain Resnais)
Stromboli – (Roberto Rossellini)
Tess – (Roman Polanski)
TIFF Vanguard:
90 Minutes – (Eva Sørhaug)
Beijing Flickers – (Zhang Yuan)
Berberian Sound Studio – (Peter Strickland)
Blondie – (Jesper Ganslandt)
Here Comes the Devil – (Adrian Garcia Bogliano)
iLL Manors – (Ben Drew)
Motorway – (Soi Cheang)
Painless – (Juan Carlos Medina)
Peaches Does Herself – (Peaches)
Pusher – (Luis Prieto)
Room 237 – (Rodney Ascher)
Sightseers – (Ben Wheatley)
Thale – (Aleksander Nordaas)
The We and the I – (Michel Gondry)