New York Film Festival Reveals 2012 Main Slate Lineup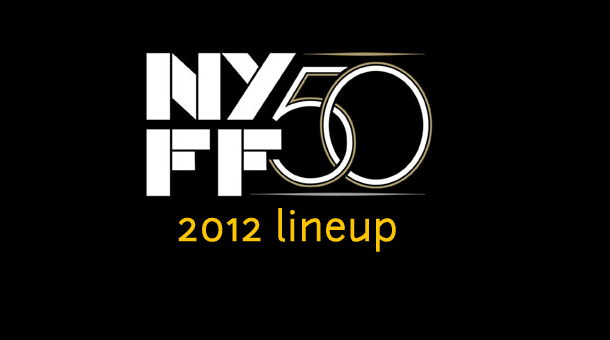 While Toronto and Venice might take up the spotlight throughout September, New York also has its own film festival that runs from the end of September to October. The line-up for NYFF's main slate has been revealed today, showing 32 titles that will play at the festival come September 28th.
Most of the fest's biggest gets were revealed earlier, with Ang Lee's Life of Pi opening the festivities and Robert Zemeckis' Flight serving as the closing film. David Chase's Not Fade Away will also be premiering as the Centerpiece selection.
While the line-up has plenty of big names attached, it's mostly made up of films that have already been announced or played at various film festivals around the world. Michael Haneke's Amour will certainly be one of the more anticipated films after it won the Palme D'Or at Cannes, while other Cannes titles like Holy Motors, No, Beyond The Hills, Like Someone in Love and You Ain't Seen Nothing Yet are also part of the main slate.
The rest of the line-up can be seen below. For those who can't make it out to Toronto, Venice or any of the other major film festivals, it looks like NYFF will cover a fair amount of the more high-profile titles to come out of the festival circuit this year. The 50th New York Film Festival will run from September 28th to October 14th.
2012 Main Slate Lineup:
Amour (Michael Haneke, Austria/France/Germany)
Michael Haneke's Palme d'Or winner of Cannes 2012 is a merciless and compassionate masterpiece about an elderly couple dealing with the ravages of old age. A Sony Pictures Classics release.
Araf—Somewhere In Between (Yeşim Ustaoğlu, Turkey/France/Germany)
Director Yesim Ustaoglu depicts with empathy and uncompromising honesty the fate of a teenaged girl when she becomes sexually obsessed with a long-distance trucker and the promise of freedom that he embodies.
Barbara (Christian Petzold, Germany)
Christian Petzold's perfectly calibrated Cold War thriller features the incomparable Nina Hoss as a physician planning to defect while exiled to a small town in East Germany. An Adopt Films release.
Beyond the Hills/După dealuri (Cristian Mungiu, Romania)
4 Months, 3 Weeks and 2 Days director Cristian Mungiu returns with a harrowing, visually stunning drama set in a remote Romanian monastery. Winner, Best Actress and Best Screenplay, 2012 Cannes Film Festival. A Sundance Selects release.
Bwakaw (Jun Robles Lana, The Philippines)
A moving and funny surprise from the Philippines starring the great Eddie Garcia—and a truly unforgettable dog—in the story of an elderly loner going where he's never dared venture before.
Camille Rewinds/Camille Redouble (Noémie Lvovsky, France)
Noemie Lvovsky directs and stars in an ebullient comedy of remarriage that gives Francis Ford Coppola's Peggy Sue Got Married a sophisticated, personal, and decidedly French twist.
Caesar Must Die/Cesare deve morire (Paolo Taviani, Vittorio Taviani, Italy)
Convicted felons stage a production of Julius Caesar in this surprising new triumph for the Taviani Brothers, winner of the Golden Bear at this year's Berlin Film Festival. An Adopt Films release.
The Dead Man and Being Happy/El muerto y ser feliz (Javier Rebollo, Spain/Argentina)
A dying hitman and a mysterious femme fatale set off on an oddball journey through Argentina's interior in this playful and unexpectedly moving reverie on love, death and the open road.
Fill the Void/Lemale et ha'chalal (Rama Burshtein, Israel)
With her first dramatic feature, writer-director Rama Burshtein has made a compelling, disconcerting view of Israel's orthodox Hassidic community from the inside.
First Cousin Once Removed (Alan Berliner, USA)
Alan Berliner creates a compelling, heartfelt chronicle of poet and translator Edwin Honig's loss of memory, language and his past due to the onslaught of Alzheimer's. An HBO Documentary Films release. World Premiere.
Flight (Robert Zemeckis, USA)
Denzel Washington and Robert Zemeckis team on this tense dramatic thriller about an airline pilot who pulls off a miraculous crash landing…while flying under the influence. A Paramount Pictures release. Closing Night. World Premiere.
Frances Ha (Noah Baumbach, USA)
Lightning-in-a-bottle, Noah Baumbach's love poem to his star and screenwriter Greta Gerwig recalls Godard's early celebrations of Anna Karina, but, as a New York movie, it's beautiful in a brand new way.
The Gatekeepers/Shomerei Ha'saf (Dror Moreh, Israel/France/Germany/Belgium)
Six former heads of Israel's internal security agency, the Shin Bet, discuss their nation's past, present and future, in what will surely be one of the most hotly discussed films of the year. A Sony Pictures Classics release.
Ginger and Rosa (Sally Potter, UK)
Sally Potter's riveting coming-of-age story, set in London in 1962, centers on two teenage best friends (played by the revelatory Elle Fanning and talented newcomer Alice Englert) who are driven apart by a scandalous betrayal.
Here and There/Aquí y Allá (Antonio Méndez Esparza, Spain/US/Mexico)
After years in the U.S., Pedro returns home to his family in Mexico, but the lure of the north remains as strong as ever. A most impressive feature debut by Antonio Mendez Esparza.
Holy Motors (Léos Carax, France)
Leos Carax's unclassifiable, breathtaking, expansive movie—his first in 13 years—stars the great Denis Lavant as a man named Oscar who inhabits 11 different identities over a single day in Paris. An Indomina Releasing release.
Hyde Park on Hudson (Roger Michell, USA/UK)
Bill Murray caps his career with a wily turn as FDR in this captivating comedy-drama about the President's relationship with his cousin Margaret "Daisy" Suckley (Laura Linney). A Focus Features release.
Kinshasa Kids (Marc-Henri Wajnberg, Belgium/France)
Perhaps the most ebullient "musical" you'll see this year, Marc-Henri Wajnberg's singular documentary/fiction hybrid follows a group of street children in the Congolese capital.
The Last Time I Saw Macao/A Última Vez Que Vi Macau (João Pedro Rodrigues)
This stunning amalgam of film noir and Chris Marker cine-essay poetically explores the psychic pull of the titular former Portuguese colony.
Leviathan (Lucien Castaing-Taylor, Véréna Paravel, USA)
NYFF alumni Lucien Castaing-Taylor (Sweetgrass) and Véréna Paravel (Foreign Parts) team for another singular anthropological excavation, this time set inside the commercial fishing industry.
Life of Pi (Ang Lee, USA)
Ang Lee's superb 3D adaptation of the great bestseller resembles no other film. A 20th Century Fox release. Opening Night. World Premiere.
Like Someone in Love (Abbas Kiarostami, Japan/Iran/France)
Master Iranian filmmaker Abbas Kiarostmi ventures to Japan for this mysterious beautiful romantic drama about the brief encounter between an elderly professor and a young student. A Sundance Selects release.
Lines of Wellington/Linhas de Wellington (Valeria Sarmiento, France/Portugal)
Passionate romance, brutal treachery, and selfless nobility are set against the background of Napoleon's 1810 invasion of Portugal in Valeria Sarmiento's intimate epic.
Memories Look at Me/Ji Yi Wang Zhe Wo (Song Fang, China)
Song Fang's remarkable first feature, in which she travels from Beijing to Nanjing for a visit with her family, perfectly captures the rhythms of brief sojourns home.
Night Across the Street/La Noche de enfrente (Raul Ruiz, Chile/France)
A final masterpiece from one of the cinema's most magical artists, this chronicle of the final months of one Don Celso allows the late Raul Ruiz the chance to explore the thin line between fact and fiction, the living and the dead. A Cinema Guild release.
No (Pablo Larrain, Chile/USA)
Gael Garcia Bernal stars as a Chilean adman trying to organize a campaign to unseat Pinochet in Pablo Larrain's smart, engrossing political thriller. A Sony Pictures Classics release.
Not Fade Away (David Chase, USA)
The debut feature from The Sopranos creator David Chase is a wise, tender and richly atmospheric portrait of a group of friends trying to start a rock band in 1960s suburban New Jersey. A Paramount Vantage release. Centerpiece. World premiere.
Our Children/À perdre la raison (Joachim Lafosse, Belgium)
Belgian director Joachim LaFosse turns a lurid European news story about a mad housewife into a classical tragedy. Émilie Dequenne more than fulfills the promise of her award-winning performance in Rosetta.
Passion (Brian de Palma, France/Germany)
Brian De Palma brings great panache and a diabolical mastery of surprise to a classic tale of female competition and revenge. Noomi Rapace and Rachel McAdams are super-cool and oh so mean.
Something in the Air/Après Mai (Olivier Assayas, France)
Too young to have been on the May '68 barricades, a group of young people explore their options for continuing the political struggle in Olivier Assayas' incisive portrait of a generation. A Sundance Selects release.
Tabu (Miguel Gomes, Portugal)
An exquisite, absurdist entry in the canon of surrealist cinema, Tabu is movie-as-dream—an evocation of irrational desires, extravagant coincidences, and cheesy nostalgia grounded in serious feeling and beliefs. An Adopt Films release.
You Ain't Seen Nothin' Yet/Vous n'avez encore rien vu (Alain Resnais, France)
The latest from 90-year-old Alain Resnais is a wry, wistful and always surprising valentine to actors and the art of performance starring a who's-who of French acting royalty.