List of 2013 Cannes Film Festival trailers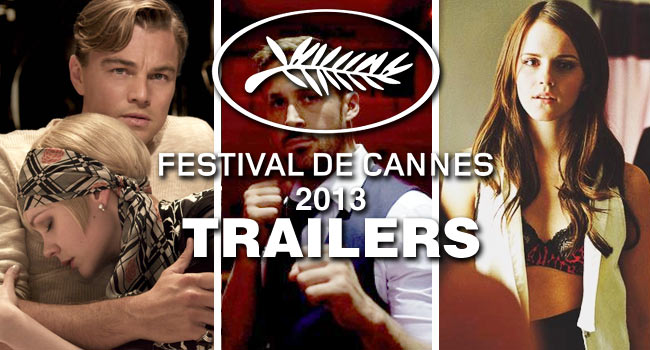 So far only a handful of films that will be playing at this year's Cannes Film Festival actually have trailers available. But as we begin to get closer to the start of the festival, more and more trailers being to emerge. We will be updating this page when new trailers are released, so check back regularly.
The Great Gatsby
Director: Baz Luhrmann
A Midwestern war veteran finds himself drawn to the past and lifestyle of his millionaire neighbor.
The Bling Ring
Director: Sofia Coppola
Inspired by actual events, a group of fame-obsessed teenagers use the internet to track celebrities' whereabouts in order to rob their homes.
Only God Forgives
Nicolas Winding Refn
Julian, a drug-smuggler thriving in Bangkok's criminal underworld, sees his life get even more complicated when his mother compels him to find and kill whoever is responsible for his brother's recent death.
Inside Llewyn Davis
Directors: Ethan and Joel Coen
A singer-songwriter navigates New York's folk music scene during the 1960s.
As I Lay Dying
Director: James Franco
Based on the 1930 classic by Faulkner, it is the story of the death of Addie Bundren and her family's quest to honor her wish to be buried in the nearby town of Jefferson.
The Past
Director: Asghar Farhadi
Behind the Candelabra
Director: Steven Soderbergh
Based on the autobiographical novel, the tempestuous 6-year relationship between Liberace and his (much younger) lover, Scott Thorson, is recounted.
Jeune & Jolie
Director: François Ozon
The portrait of a 17 years-old girl, in 4 seasons and 4 songs.
Sarah Would Rather Run
Director: Chloe Robichaud
The Great Beauty
Director: Paolo Sorrentino
The story of an aging writer who bitterly recollects his passionate, lost youth. A portrait of today's Rome.
Blind Detective
Director: Johnnie To
A cop is forced into early retirement due to retinal damage. But after witnessing a bank robbery along with a female inspector – who believes he has acute senses – they team up in hope to solve the case.