Cannes Day #3: Like Father Like Son & Ain't Them Bodies Saints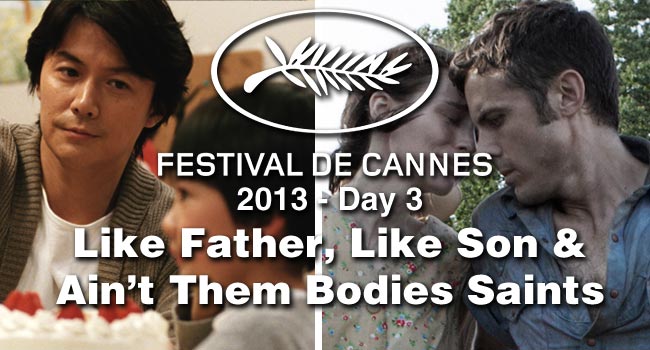 My third day at the Cannes Film Festival brought both my favorite and least favorite films of the festival so far. After hearing some positive buzz around the Japanese film, Soshite chichi ni naru (Like Father, Like Son), I decided to give the film a chance. And I am glad that I did. It was the first film that I have seen here that was able to take a simple narrative and make it into something complex and organized. It is definitely going to be hard to top Like Father, Like Son. Then I headed over to the Miramar theater to catch my first International Critics' Week film, Ain't Them Bodies Saints. The film was picked up by IFC Films right after it won a couple awards after it premiered at the Sundance Film Festival. Ain't Them Bodies Saints's director David Lowery came on stage alongside the leads Casey Affleck and Rooney Mara, to introduce his film to a packed theater for its first foreign screening of the film. My third and final film of the day ended up being the biggest bust at Cannes so far for me. I stood in line for nearly 1 and a half hours for the French film, Tip Top, only to realize that I apparently do not get French "humor". Reactions from a primarily French audience received a lot of laughs, just none from me and a few others that were not able to make it all the way through the film.
Outside of the Miramar Theater in Cannes for Ain't Them Bodies Saints

Like Father, Like Son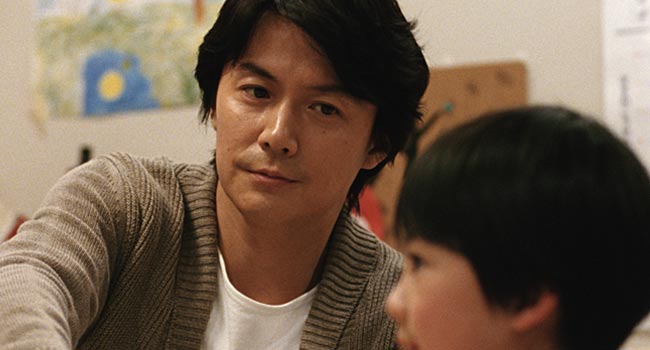 Like Father, Like Son gracefully touches on social class issues, nature versus nurture, and the "right" way to raise a child. After finding out that their six-year-old child got switched at birth, the main focus of the film is the decision to choose bloodlines or the six important years of parenting and bonding with a child, Like Father, Like Son continuously develops its story. The film shows its cards almost right away but it remains intriguing long after you think it has played its hand. As a whole, the film is an excellent display of storytelling as it takes a rather basic premise and turns it into the emotionally complex film that it is.
RATING: 8.9
Ain't Them Bodies Saints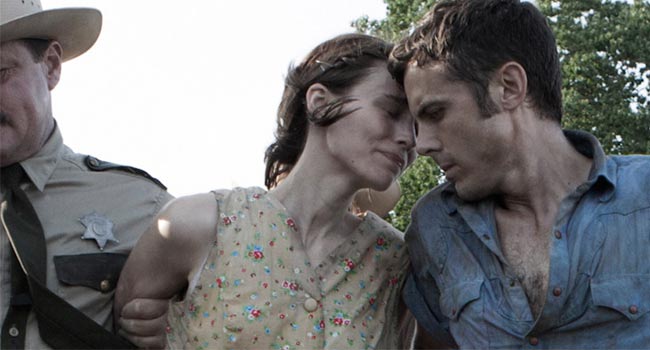 Ain't Them Bodies Saints is set in the sun-filled landscapes of Texas where Bob Muldoon (Casey Affleck) and his recently pregnant wife Ruth Guthrie (Rooney Mara) are on the run from cops after a string of robberies. Only a few scenes into the film, the shootout between them and the police ends with Bob being hauled off to prison where he is sentenced to stay for the next 25 years. However, Bob would only stay there four years before busting out in order get back to his family. This sends a local sheriff Patrick Wheeler (Ben Foster) on the case to track him down. Ain't Them Bodies Saints ends up being more about the love between Bob and Ruth than it is about the action, which makes for some pacing issues.
However, biggest fault of the film is not investing enough into the one thing that is chose to focus on; the relationship between the couple. Because of this, Bob's fate feels inevitably doomed but I found myself not caring if he ever makes it back to his wife or daughter. Affleck does dominate the screen when he appears and makes a good case for one of his better roles as an actor, which makes it all the more sad that his character is underwritten. Ain't Them Bodies Saints takes a risk by starting the film with one of it's only action-packed scenes instead of spending a little more time setting up its characters. By the end, the film loses too much of its initial steam that results for an unsatisfying ending.
RATING: 6.7