2013 CAAMFest: The Reluctant Fundamentalist & Midnight's Children
This past Sunday, I saw a pair of fantastic adaptations of prize-winning books: Deepa Mehta's adaptation of Salman Rushdie's epic Midnight's Children, and Mira Nair's take on Mohsin Hamid's cultural drama, The Reluctant Fundamentalist, starring Riz Ahmed, Liev Schreiber, Kate Hudson, and Keifer Sutherland. The screenings were held at San Francisco's beautiful Castro Theater, which is one of my favorites in the Bay Area.
After the screening of The Reluctant Fundamentalist, the red carpet was rolled out for two of the stars of Midnight's Children, Satya Bhabha (Scott Pilgrim vs. The World, The New Girl), and Samrat Chakrabarti (The Waiting City). After the red carpet, I moved up to the mezzanine for a pre-screening party with amazing Indian food and delicious sweets from Jade Chocolates. Following the screening of their film, Bhabha and Chakrabarti answered a few questions in a fun and engaging Q&A. This was the strongest day of the festival so far, and I highly recommend both films.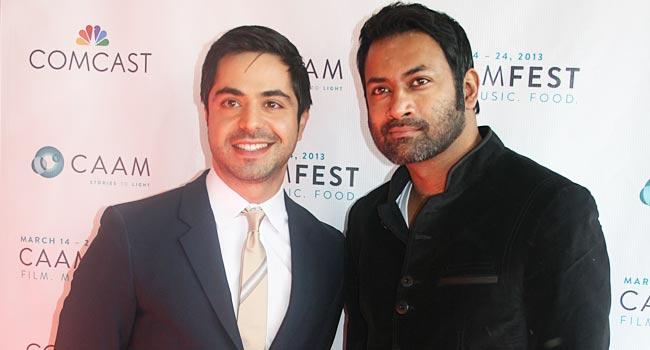 (Satya Bhabha & Samrat Chakrabarti)
The Reluctant Fundamentalist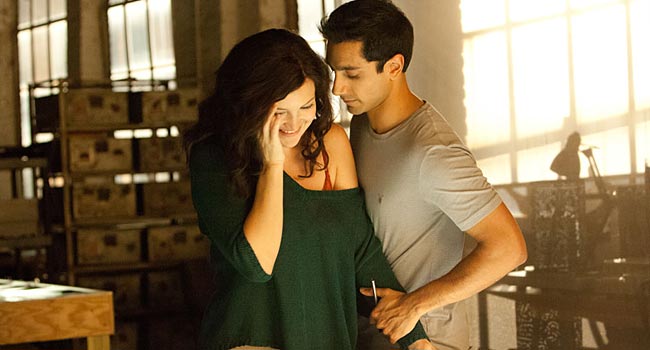 An adaptation of Mohsin Hamid's bestselling novel, Mira Nair's The Reluctant Fundamentalist follows Changez Khan (Riz Ahmed), a Pakistani pulled in two directions by his American dream and his devotion to his native Pakistan. It's a startling commentary on the dangerous fundamentalism that is shared—frighteningly—by both terrorists and anti-terrorists.
The story begins in Lahore, Pakistan in 2011. The city is in a state of unrest due to the the American military presence. Changez—deemed a 'person of interest' by the CIA—is interviewed by an American reporter (Liev Schreiber) about his life from 2001 leading up to the present: He graduated college, made a name for himself on Wall Street, and found a beautiful American girlfriend. He was a man living out the American dream. However, after the terrorist attacks of 9/11, the the country he had learned to love ridiculed and reduced him to his fundamental form: a Pakistani. A foreigner. His American dream was ripped away in an instant. The United States turned its back on him and he endured emasculating interrogations and hateful accusations. It's this dismissal of humanity, of the individual, that Changez aims to combat.
Nair does a good job of getting the message across, but the story is a little indulgent and hits the nail on the head too hard. Ahmed's performance is impressively subdued and paints the picture of cultural divide better than the script does. The difficult and uncomfortable situations he is put in speak a little too loudly, but he sells them like a pro. The rest of the cast are excellent as well, with Keifer Sutherland being the standout as Changez's omnipotent boss and mentor on Wall Street. Declan Quinn's lush cinematography looks absolutely slick but gets dirty when it needs to. The ending is disappointingly trite and doesn't resonate emotionally, but the film hits a good pace leading up to that point, which is difficult for such a weighty two-hour drama.
RATING: 7.7
Midnight's Children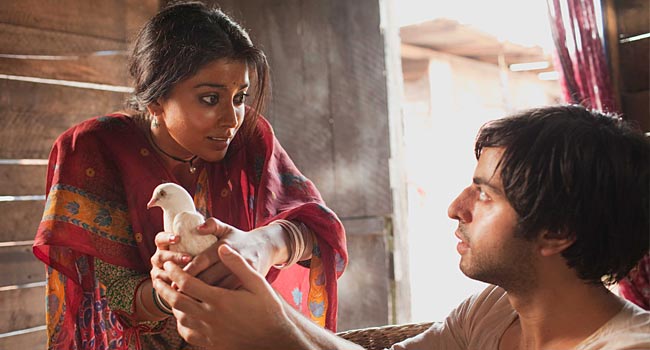 Deepa Mehta and Salman Rushdie give us a lot to digest in their adaptation of Rushdie's award winning novel, Midnight's Children. Maybe a little too much; this film is DENSE. Themes, images, symbolism, plot points, and new characters are thrown at us at such a speed that by the end of the film, it's hard to remember it all. The good news? Everything presented is wonderful; the film is visually breathtaking, deeply moving, epic, and joyously whimsical. Watching Midnight's Children is like trying to eat a huge bowl of ice cream as fast as you can; it'll all be a blur, it'll give you a headache, and you'll wish you could have taken your time, but it's also delicious and incredibly fun, and you'll look back on the experience fondly.
We follow Saleem (Satya Bhabha), who was born at the stroke of midnight at the precise moment India gained its independence in 1947. As he grows older, he discovers two extraordinary things: he can telepathically gather every other child born at the moment he was (hence the title) for pow-wows in his bedroom, and secondly, his life story is somehow linked to the political trajectory of India and its people. Saleem finds himself in a dangerous love triangle with two other Midnight's Children, the kind, diplomatic Parvati (Shriya Saran), and the bull-headed Shiva (Siddharth), who was switched with Saleem at birth.
Rushdie wrote the screenplay himself, which is apparent in how caught up he gets in the details of the narrative. It's obvious that he couldn't help but try to cram in as many moments from the book as he could. That's common fault in book-to-film adaptations. However, the essence and spirit of the book remain intact, so the script's density far from a deal-breaker. The hopeful tone of the film feels just right, and there are several powerful moments throughout that are guaranteed to rouse and inspire you. Rushdie narrates the film himself, which provides a nice thread to tie the branching narrative together, but is otherwise unnecessary.
Mehta's visuals are intoxicating, a rush of color and life that you won't be able to take your eyes off of. Everything looks magical while representing India with sincerity and love. An exhilarating bit involving a low sweeping camera and Saleem dancing the twist in glistening sunlight comes to mind. This is eye candy on the highest level.
The cast is excellent across the board, delivering the exuberant dialog with flair. Bhabha couldn't have done a better job. He gives his all in every scene and is irresistibly likable and sympathetic. Midnight's Children is a sprawling epic that feels slightly bloated, but constantly excites the senses in a way that will keep you enchanted from beginning to end.
RATING: 8.2