'Dheepan' One Of Many Shocking Wins At Cannes 2015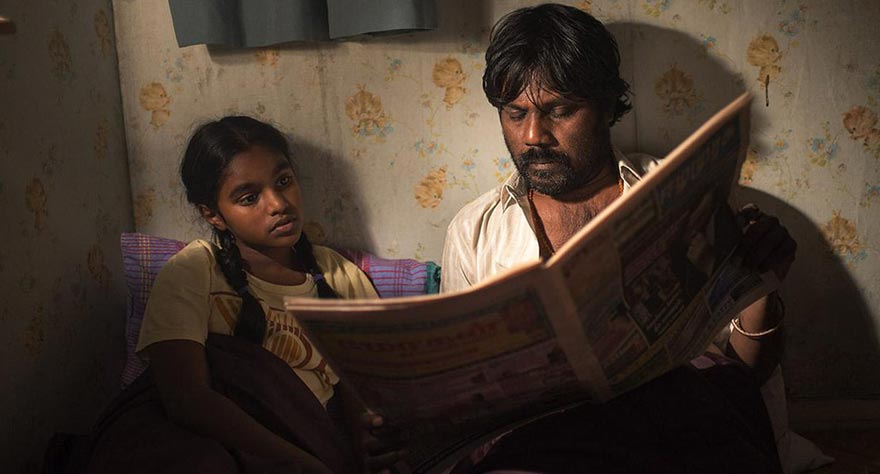 It's been a tumultuous year at Cannes, and today's surprising awards ceremony certainly made for a fitting ending to this year's festivities. Festival head Thierry Fremaux got lots of criticism thrown at him for his picks this year, which went heavy on French films, but this year's festival jury—headed by Joel and Ethan Coen—had lots of love for the French selections. Best Actor went to Vincent Lindon for The Measure Of a Man, and Emmanuelle Bercot got a shared Best Actress prize for her turn in Maiwenn's Mon Roi.
But the biggest surprise came when Jacques Audiard's Dheepan was announced as the winner of the Palme D'Or. Audiard is a fine director (many of us here are fans of A Prophet, which got him the Grand Prix back in 2009), but critics were mostly sour on Dheepan, criticizing it for a startling turn in the final act that didn't work for most people. And people were shocked that the two critically adored films in this year's competition, Todd Haynes' Carol and Hou Hsaio-hsien's The Assassin, didn't wind up taking home the big prizes; Hsaio-hsien won Best Director (considering how much of the film was praised for its gorgeous visuals, this sounds pretty deserving), and Carol got a Best Actress prize for Rooney Mara. But with Carol receiving a nice, Oscar-friendly release date in December from Harvey Weinstein, and The Assassin already bought up for US distribution, this certainly won't be the last we'll hear of these two films.
The only predictable outcome this year was Son of Saul winning the Grand Prix, which people assumed would be taking home a prize after it screened to a strong reception. It's an impressive win, considering this is director Laszlo Nemes' first feature, and it should have a nice tour around the festival circuit for the rest of the year. Another slight shocker was Michel Franco winning Best Screenplay for Chronic, but that might only come as a shock to anyone who's seen his previous films; he's a filmmaker known more for his directorial skills, and it sounds like critics were baffled by his win.
Read on below for the full list of winners, and expect to see a good chunk of these films get some sort of release throughout 2015 and 2016. While we only got the chance to see a few films this year, including Jury Prize winner The Lobster, we're eager to check all these winners out once they play closer to home. Until then, all we can do is wait until we do it all over again next May.
2015 Cannes Winners
Camera D'Or (Best First Feature): La Tierra Y La Sombra
Best Screenplay: Chronic
Best Actress: Rooney Mara, Carol; Emmanuelle Bercot, Mon Roi
Jury Prize: The Lobster
Best Actor: Vincent London, The Measure Of A Man
Best Director: Hou Hsiao-hsien, The Assassin
Grand Jury Prize: Son Of Saul
Palme D'Or: Dheepan