Beasts of the Southern Wild on Blu-ray & DVD December 4th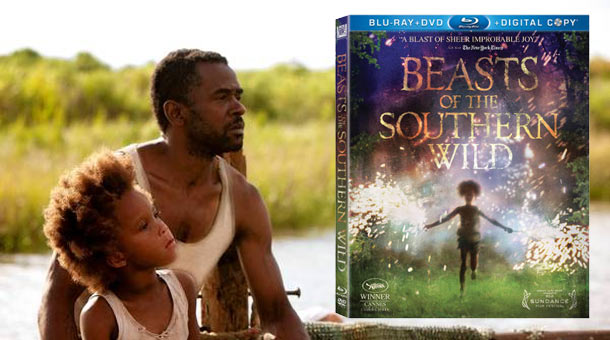 The best film I have seen all year so far, Beasts of the Southern Wild (read my review), just got a released date from Fox Home Entertainment. Beasts of the Southern Wild will be on Blu-ray and DVD on December 4th, 2012. Along with the release date they also provided the DVD cover and Special Feature details. Special Features that will be on the Blu-ray edition sound especially interesting as it will contain some of the auditions of the main characters, including the powerful performance from the young Quvenzhané Wallis.
Beasts of the Southern Wild Synopsis:
Teeming with magic, beauty and pure joy, this crowd-pleasing winner at the Sundance Film Festival has emerged as one of the year's most acclaimed films. Newcomer Quvenzhané Wallis delivers an "Oscar®-worthy performance" (Philadelphia Daily News) as Hushpuppy, the six-year-old force of nature in an isolated bayou community. When her tough but loving father Wink (Dwight Henry) succumbs to a mysterious malady, the fierce and determined girl bravely sets out on a journey to the outside world. But Hushpuppy's quest is hindered by a "busted" universe that melts the ice caps and unleashes an army of prehistoric beasts.
DVD & Blu-ray Special Features:
DVD:
The Making of Beasts of the Southern Wild
Theatrical Trailer
Sneak Peek

Stoker Theatrical Trailer
The Blu-ray Experience
Fox World Cinema
The Sessions
Blu-ray Exclusive Special Features:
Deleted Scenes with Commentary by Director Benh Zeitlin
Auditions

Quvenzhané Wallis
Dwight Henry
Quvenzhané Wallis and Dwight Henry

Glory at Sea
Music
The Aurochs
Specs:
BEASTS OF THE SOUTHERN WILD Blu-ray & DVD
Street Date: December 4, 2012
Prebook Date: November 7, 2012
Screen Format: 16:9 (1.85:1)
Audio: English 5.1 DTS-HD-MA / English 5.1 DD DVD
Spanish 5.1 DD / 2.0 Surround DD DVD
Other Language Audio Feature 5.1 DD
Subtitles: English & Spanish
U.S. Rating: PG-13
Total Run Time: 04:44:69 / 03:48:70 DVD
Closed Captioned: Yes