2014 Spirit Award Nominations Announced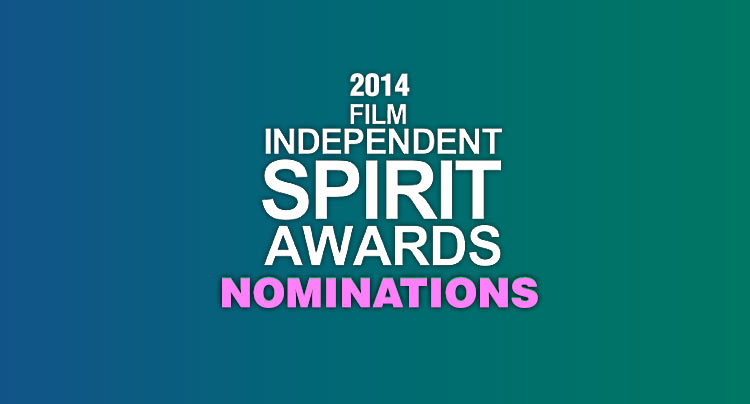 Nominations for the Film Independent Spirit Awards were announced this morning by Octavia Spencer, who was probably happy to announce that Fruitvale Station (a film she is in) picked up 3 nominations. But the film with the most nominations unsurprisingly went to Steve McQueen's 12 Years A Slave, which picked up a total of 7 nominations; Best Feature, Director, Actor, Supporting Actor, Supporting Actress, Screenplay, and Cinematography. The biggest shock was indie darling Greta Gerwig getting snubbed for a nomination for Best Actress in Frances Ha, a film that only picked up three noms (though one was for Best Feature).
The strongest category in my opinion goes to the Best International Film category that is comprised of; A Touch Of Sin, Blue Is The Warmest Color, Gloria, The Great Beauty, and The Hunt, all of which are amazing films. It is especially nice to see Blue Is The Warmest Color make that list as the film will not qualify for an Oscar nomination the following night because of a technicality in the rules that states a film must open in its home country on or before September 30th. Though it is likely a favorite to win here.
Also announced today was the new category of Best Editing, a welcoming addition that is surprising the awards show went so long without. We look forward to watching Patton Oswalt handling the hosting duties this year, in what should be a great show filled with a ton of indie talent. The winners will be announced at the 29th annual Film Independent Spirit Awards on March 1st and the broadcast will air at 10 p.m. ET/PT on IFC.
Read: Our 2014 Spirit Award predictions
List of 2014 Independent Spirit Award Nominations:
Best Feature:
12 Years A Slave
All Is Lost
Frances Ha
Inside Llewyn Davis
Nebraska
Best Director:
Shane Carruth – Upstream Color
J.C. Chandor – All Is Lost
Steve McQueen – 12 Years A Slave
Jeff Nichols – Mud
Alexander Payne – Nebraska
Best First Feature:
Blue Caprice
Concussion
Fruitvale Station
Una Noche
Wadjda
Best Male Lead:
Bruce Dern – Nebraska
Chiwetel Ejiofor – 12 Years A Slave
Oscar Isaac – Inside Llewyn Davis
Michael B. Jordan – Fruitvale Station
Matthew McConaughey – Dallas Buyers Club
Robert Redford – All Is Lost
Best Female Lead:
Cate Blanchett – Blue Jasmine
Julie Delpy – Before Midnight
Gaby Hoffmann – Crystal Fairy
Brie Larson – Short Term 12
Shailene Woodley – The Spectacular Now
Best Supporting Male:
Michael Fassbender – 12 Years A Slave
Will Forte – Nebraska
James Gandolfini – Enough Said
Jared Leto – Dallas Buyers Club
Keith Stanfield – Short Term 12
Best Supporting Female:
Melonie Diaz – Fruitvale Station
Sally Hawkins – Blue Jasmine
Lupita Nyong'o – 12 Years A Slave
Yolanda Ross – Go For Sisters
June Squibb – Nebraska
Best International Film:
(Award given to the director)
A Touch of Sin (China)
Blue is the Warmest Color (France)
Gloria (Chile)
The Great Beauty (Italy)
The Hunt (Denmark)
Best Cinematography:
Sean Bobbitt – 12 Years a Slave
Benoit Debie – Spring Breakers
Bruno Delbonnel – Inside Llewyn Davis
Frank G. Demarco – All Is Lost
Matthias Grunsky – Computer Chess
Best Documentary:
The Act Of Killing
After Tiller
Gideon's Army
The Square
Twenty Feet From Stardom
John Cassavetes Award:
(Given to the best feature made for under $500,000; award given to the writer, director, and producer)
Computer Chess – Andrew Bujalski
Crystal Fairy – Sebastian Silva
Museum Hours – Jem Cohen
Pit Stop – Yen Tan
This Is Martin Bonner – Chad Hartigan
Best Editing:
Shane Carruth & David Lowery – Upstream Color
Jem Cohen & Marc Vives – Museum Hours
Jennifer Lame – Frances Ha
Cindy Lee – Una Noche
Nat Sanders – Short Term 12
Best Screenplay:
Woody Allen – Blue Jasmine
Julie Delpy, Ethan Hawke, Richard Linklater – Before Midnight
Nicole Holofcener – Enough Said
Scott Neustadter & Michael H. Weber – The Spectacular Now
John Ridley – 12 Years a Slave
Best First Screenplay:
Lake Bell – In A World
Joseph Gordon-Levitt – Don Jon
Bob Nelson – Nebraska
Jill Soloway – Afternoon Delight
Michael Starburry – The Inevitable Defeat Of Mister & Pete
Robert Altman Award:
(Given to one film's director, casting director, and its ensemble cast)
Mud
Director: Jeff Nichols
Casting Director: Francine Maisler
Ensemble Cast: Joe Don Baker, Jacob Lofland, Matthew McConaughey, Ray McKinnon, Sarah Paulson, Michael Shannon, Sam Shepard, Tye Sheridan, Paul Sparks, Bonnie Sturdivant, Reese Witherspoon
Piaget Producers Award:
(Award given to a producer)
Toby Halbrooks & James M. Johnson
Jacob Jaffke
Andrea Roa
Ferderick Thornton
Truer Than Fiction Award:
(Award given to the director)
Kalyanee Mam – A River Changes Course
Jason Osder – Let The Fire Burn
Stephanie Spray & Pancho Valez – Manakamana
Someone to Watch Award:
(Award given to the director)
Aaron Douglas Johnston – My Sister's Quinceanera
Shaka King – Newlyweeds
Madeleine Olnek – The Foxy Merkins